To gain access to the site, Rotarians must register on the database. Rotarians are only asked to provide their names, club name and email address - they can also provide a photo of themselves and additional information later, if they wish, to help everyone know "who's who".
Rotarian's EMAIL ADDRESSES ARE NOT DISPLAYED IN ANY OF THE PUBLIC AREAS OF THE SITE. Each member chooses their own unique username & password combination, so they can log in to their Club/District section (as applicable)
NB - the picture below shows the full depth of a particular page - you would need to scoll down the home page to see all this!.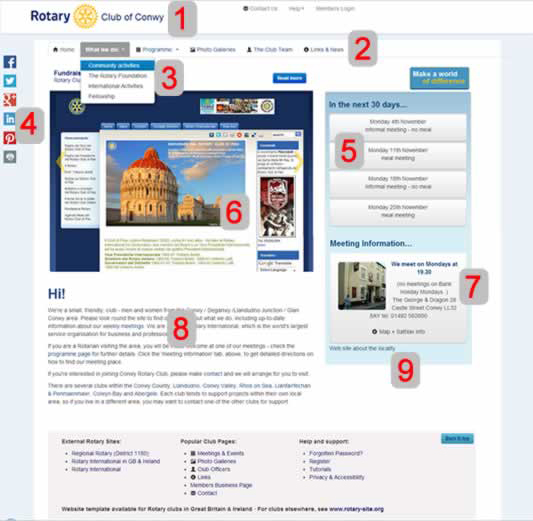 Your own club space - link your own domain name to your home page, like www.conwyrotary.org
easy to use tabs - useful for members and the general public.
Create your own menu showing club activities.
Use social media to share information
At a glance info about what's happening soon.
Choose your own pages that you want to highlight on your home page (optional layout - a carousel of images or thumbnails)
meeting Information - with a drop-down map with sat-nav co-ordinates (if added by the club)
Create your own content for the home page.
(not shown, but you can also integrate your Facebook/Twitter feed)
It is easy to use! Each club site can be administered by club members. No technical knowledge of web design is needed - anyone with a computer and Internet connection can easily maintain the site.
Clubs do not need to use all the facilities - pick and choose to suit your club; you may prefer to keep things simple to begin with.