650 MGs line the Long Walk entrance to Windsor Castle, 25th April 2009
The Duke of Edinburgh, Hon Rotarian of the Rotary Club of Windsor & Eton, viewed a parade of MG cars driving around the Quadrangle of Windsor Castle, to mark the 85th Anniversary of the vehicle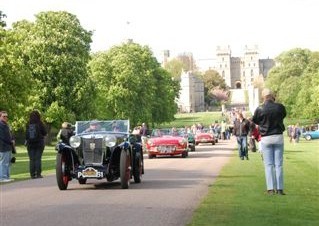 The cavalcade was made up of over 250 MG models covering the 85 years of production. The oldest MG on the parade was the 1925 Super Sports four-seater (registered PP3256) which is the oldest surviving MG in the world. The newest model, a Longbridge built MGTF 85th Anniversary model, was also driven through the castle. Among the 68 pre-war MGs on parade were the two surviving 1930 six-cylinder MG Tigress models.
Following the parade through the castle, the MGs travelled to Frogmore Parade Ground off the Long Walk via Park Street where they were on public display. All profits from the event will go to the Prince Philip Trust Fund for the Royal Borough of Windsor and Maidenhead and Rotary Charities.
It is the third occasion that a parade of historic British cars has been driven through Windsor Castle in aid of the Prince Philip Fund. In 2002 the Queen and the Duke of Edinburgh reviewed a parade of Bentleys and Rolls Royces, and in and 2005, a parade of Aston Martins.
Rotarian HRH Prince Philip planting an English Cherry tree at the MG Rally. HRH The Duke of Edinburgh received a TF 500 black MG for auction to raise funds for the Prince Philip Trust Fund & Rotary Charities.
Mr He Xiaoqing Chairman of MG Motor UK (now Chinese-owned by Saic, producing 1.8 million cars a year worldwide) based in Longbridge, Birmingham, presented the MG Car to HRH Prince Philip and also planted a Chinese Cherry to commemorate the event. Six trees were planted to help carbon footprint and the environment which both Rotary and HRH Prince Philip are keen to promote.
The televised event saw 250 MGs cars taking part in the main parade and 650 MGs also lined the Long Walk entrance to Windsor Castle. The Event should raise over