220 mile cycle in aid of Motor Neurone Disease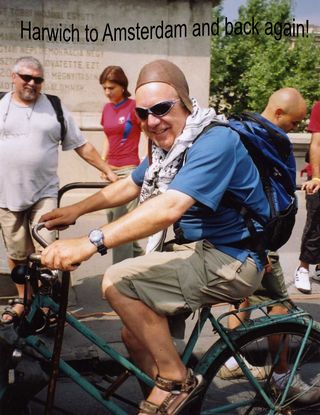 Robert Lear, a friend of one of Jordans and District RC members, offered to do a sponsored ride from the Hook of Holland to Amsterdam and back to the Hook via Rotterdam in aid of Motor Neurone Disease. He raised over £300 in sponsorship.
This is his account of the trip.
Day One: Set out late Monday evening in order to catch the overnight boat to the Hook of Holland. Despite the cloudy night skies it was a very smooth crossing.
Day Two: Breakfasted on board boat. Forgot to stop at customs on way out - not a good idea. Having gained entry into the Netherlands set of on the first leg of the journey taking the coastal route to Noordwijk - 40 miles incorporating a slight detour in land to Leiden. Weather not overly brilliant, occasional rain but turning out sunny by afternoon. They said the hostel where we were staying was close to the beach. I suppose a two-mile walk (only way to get to it) was closer than 3 miles! But the beech was superb. Spaghetti bolognaise for dinner.
Day Three: Travelled in land towards Heemskirk a further 40 miles. Weather much improved and the journey quite pleasant and no sore bottoms yet! Spaghetti bolognaise for dinner again!
Day Four: Turned and headed back on the other coastal side towards Amsterdam a mere 35 miles via Edam and a boat ride from Volendam to Marken Weather very hot and required to stop several times to sample local brew. Was also becoming an expert on Dutch apple cake (with cream) but guess what was for dinner - meatballs in a rich tomato sauce with pasta, which was very similar to, yes you, guessed it Spaghetti bolognaise!
Day Five: Day of complete rest. Did a little sight seeing, lots to see including coffee Bars that sell more then just coffee! Caught up on my washing and went out in the evening for a proper meal! Weather remained hot.
Day Six: This was the big one all the way to Rotterdam - 60 miles. Got off to an early start so by mid day had done 30 miles, only problem we were lost! So stopped for refreshments. Managed to pick up the route again and just arrive in Rotterdam before the rain set in. Sampled the local bottled beers starting with one which was 12% ALC, slept soundly that night!
Day Seven: Final leg of the journey back to the Hook of Holland via Delft picking up the coast once more at Den Haag - 45 miles. Arrived in plenty of time to catch the 10.00 pm boat back to Harwich so went in search of a restaurant. Found a really nice place so locked up the bikes and had an enjoyable meal. Afterwards my cycling partner couldn't find the key to unlock the bikes: eventually got hold of a spare and cycled as fast as possible to the boat. I think we were the last ones to arrive!
Overall completed 220 miles, great fun and hopefully raised some funds for charity!