Report on DG Tony Bacon's Conference
The 2008 Annual District 1090 Conference took place in Bournemouth International Centre (BIC) from the 4th to the 6th of April. The first event was the Inner Wheel talk given by Sarah Lenton of the ROH and ENO, on 18th and 19th Century theatre. We learned that in those days, actors tended to own their own costumes. Stages were none too clean, so if any character had to die, it became the custom that a stagehand would first walk onto the stage and lay down a piece of green carpet. The actor then "died" onto the clean carpet rather than the bare stage!
After the opening addresses we heard talks on Foundation Educational Programmes and the proposal to seek a District Ambassadorial Scholar in 2009. The GSE for 2009 will be with District 5040 in Western Canada. The afternoon concluded with an entertaining talk by rally driver Paddy Hopkirk about his life in motor sport.
In the evening there were "Fellowship Dinners" in the various hotels, then back to the BIC to be entertained by Alvin Printwhistle as "Elvis".
Saturday kicked into life with a talk by District Rotoract Chairman, Andrew Gordon, which was followed by presentations by the incoming GSE Team from Romania and the Republic of Moldova, and our outgoing team leaving later in April.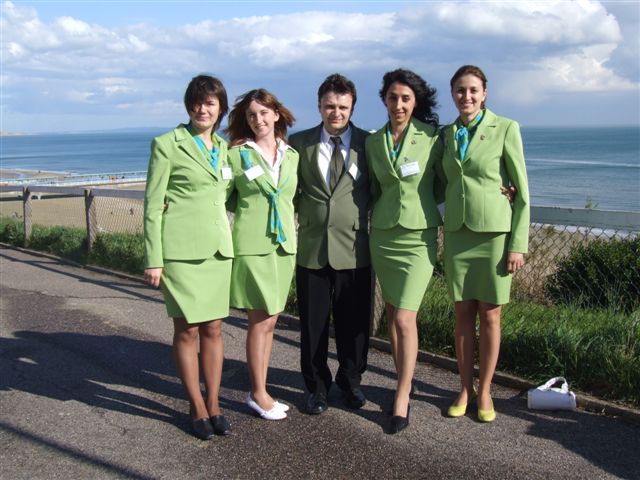 Highlight of this morning's session was the musical performance by a group of young people with various disabilities, including one using a speech synthesiser, from the Orpheus Centre in Godstone, who were led by Richard Stilgoe. These young people performed a number of pieces, and received a standing ovation form the audience. The morning session finished with a talk by the former labour MP Lord Roy Hattersley on life in England between the wars.
In the afternoon the Foundation session evolved into a lively debate on the role of Foundation and its relationship to Club charity contributions - and indeed to District or RIBI "preferred Charities".
Saturday evening saw the gala dinner and dance in the BIC. The Dinner and Dance entertainment included a pair of tenors who sang operatic works as they wandered around the hall. Afterwards, dancing to the Joe Loss Orchestra continued to midnight.
Sunday morning began with the service accompanied by a Salvation Army band and singers. Speakers included Lynn Faulds Wood with warnings on the challenges and warning signs of bowel cancer, followed by an inspirational talk by Mike Brace, OBE on perspectives of disability.
The "official" photographer in attendance for the event was Rowan White, and his pictures are available on his web site. http://www.rowanwhite.co.uk