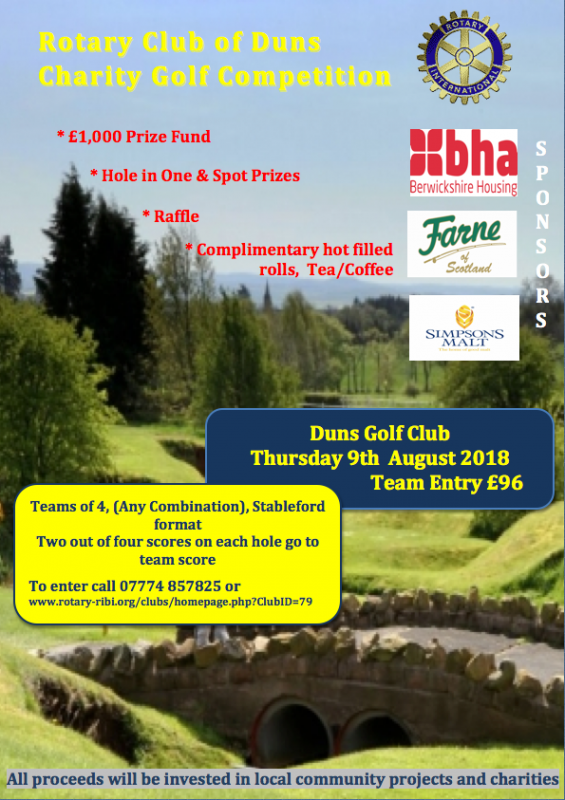 Yes it's that time of year again! The Club invite teams to participate in a great day of golf at Duns Golf Club, Hardens Road, Duns
Duns Rotary Club's annual Charity Golf Competition dates from 1998 and over the years has raised more than £62,500. This year we are hoping to contribute a further substantial sum to various good causes. The Club is grateful for the support of our sponsors,

Berwickshire Housing Association, Farne of Scotland, Simpsons Malt
This year's competition is being held on 9th August at Duns Golf Club.
The format for the competition promotes a good social day as well as good golf, i.e.:
· Teams of Four (Gents, Ladies, Mixed)
· All four players play the round together
· The two best Stableford scores at each hole will count
Full details of the Entry Conditions can be viewed and downloaded here Golf_Entry_Conditions.pdf every team wishing to to take part in this charity day should complete an entry form available here Golf_Entry_Form.pdf
This year teams will be competing for a share of the £1000 prize fund. The winning team will receive £400 in vouchers to spend on golfing goods. We are also offering a chance for you to win £5000 at the Par 3, 4th hole and cash prizes at other Par 3's. There will also be spot prizes at a number of holes for nearest the pin and some great raffle prizes,
All in all we hope you will find it an enjoyable and rewarding day of golf, as well as having the knowledge that your financial contributions will help to support some significant community projects.
You can support the event not just by entering a team but also, if you feel it appropriate, becoming a competition sponsor. All sponsorships are gratefully received and publicly acknowledged and make a valuable contribution to the success of the day.
In addition to supporting this event by participation or sponsorship you may also if you wish support Rotary's work by making a personal donation at any time. If you do so you can maximise it by completing a Gift Aid declaration which of course allows us to reclaim tax for the amount gifted. The form for this is here Golf-Gift_Aid.pdf and we would be grateful to receive it with your donation.
If you would like to discuss any aspect of this with us please fill in the Contact Form below and we will get back to you very quickly.
Thank you for your support and enjoy your golf!
No. SC042502. All charitable donations to the Rotary Club of Duns are paid into the Rotary Club of Duns Trust Fund, a Scottish Charity
---
Contact David McLuckie about this page: