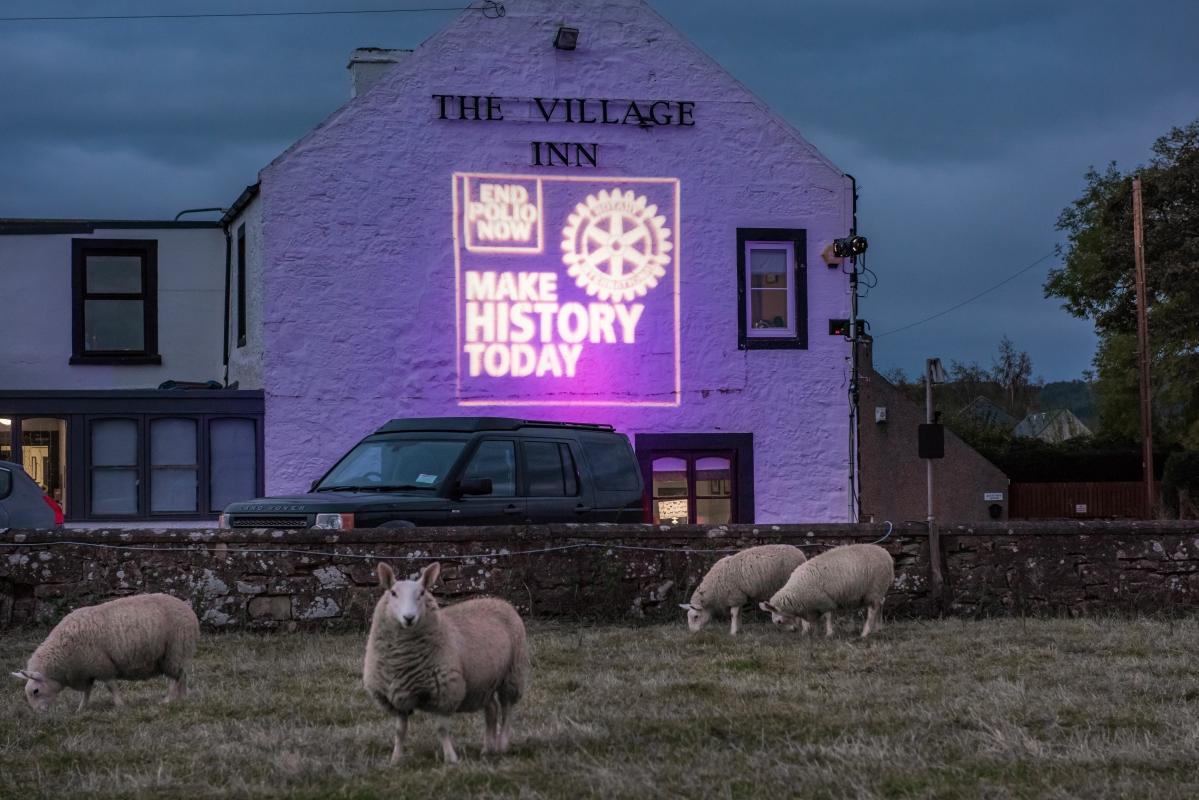 World Polio Day this year is October 24. This observance was established by nongovernmental organization Rotary International in order to commemorate the birth of Jonas Salk, the developer of a vaccine against polio.
Bill Gates extends partnership with Rotary
When wrestling superstar John Cena introduced Bill Gates as the Atlanta Convention's keynote speaker, more than 20,000 Rotarians leaped to their feet to applaud the philanthropist. They stood to cheer again when Gates began his speech by announcing that his foundation will extend its 2-to-1 funding match for the next three years. With Rotary committed to raising $50 million per year over three years, that will translate to $450 million for polio eradication efforts.
During his address, Gates touched on many topics. He talked about Rotary's leadership in the fight to end polio. He addressed the importance of continued surveillance and detection of not only polio, but also other infectious diseases. He gave statistics about the global and long-term impact of eradication efforts, and as he described each achievement, a section of the convention arena was lighted by LED bracelets worn by attendees.
Read more about Gates' KEYNOTE ADDRESS, see VIDEOS from the event, and watch his "Today" show interview with Cena.
A doctor greets a Syrian child in a refugee camp, where children are vaccinated against polio and other diseases. Photo: WHO
In recent years, the global drive to eradicate polio has seen the virus cornered in fewer places than ever before. Yet polio's final strongholds are some of the most complicated places in the world to deliver vaccination campaigns. Insecurity and conflict are some of the challenges to delivering vaccines, as well as populations on the move, testing terrain and weather, and weak health systems.
In 2013, polio outbreaks in Central Africa, the Horn of Africa and the Middle East paralysed hundreds of children. The Global Polio Eradication Initiative (GPEI) developed strategies to deliver vaccines and stop the virus, even when access seemed impossible. All three of these outbreaks were put to an end just a year later, by not letting the complexity of the situation undermine the quality of vaccination campaigns.
The valuable lessons learned by the GPEI in tackling these outbreaks are now being used to end polio in the final polio endemic countries – Afghanistan, Nigeria and Pakistan – as well as to stop a newly-detected circulating vaccine-derived polio outbreak in Syria.
The discovery of the poliovirus in Nigeria last summer shocked eradication efforts. Here's how Rotary is making sure it doesn't happen again
By Erin Biba Photos by Andrew Esiebo
For a 13-month-old boy whose family lives in northeastern Nigeria, escaping Boko Haram was only the beginning of a long, difficult journey.
When his family finally arrived at the Muna Garage camp for internally displaced people (IDP), they had walked more than 130 miles in three days. They were starving, and the camp was only a temporary setup with inadequate facilities, housing more than 15,000 people. But the worst news was yet to come. Health officials in the camp determined the baby had polio.
"It was heartbreaking," says Tunji Funsho, chair of the Nigeria PolioPlus Committee and a member of the Rotary Club of Lekki Phase I. Funsho met the boy on a trip he took in August to three of the country's IDP camps. "At least (the family was) able to escape Boko Haram. The child was able to walk but with a limp, and was quite malnourished."
If it weren't for the polio surveillance system that the World Health Organization (WHO) has in place at every one of Nigeria's IDP camps, Funsho says, the boy's polio could have easily gone unnoticed. In fact, it was a shock to the entire polio eradication effort in the country that a case existed at all.
Nigeria isn't the only area of the world that has regions with limited access. The GPEI has begun an extensive analysis of surveillance in other countries to ensure that the Nigerian "blind spot" isn't a problem elsewhere. "Boko Haram makes many parts of the area virtually inaccessible. Depending on where Boko Haram is, that can be inclusive of bordering countries," Pallansch says. "It will take some time to gather information and analyze it properly. But at a first pass it's not quite as worrying as some may think, except in those areas we already know are problems. In places like South Sudan and parts of the Horn of Africa, the border of Afghanistan and Pakistan, we're intensifying our efforts.
"In a sense, the situation in Borno is a good comparison to the global situation," Pallansch says. "Ninety-nine percent of Nigeria is polio-free. But unless you eradicate the disease completely, the rest of the country will remain at risk. The same holds true globally: 99 percent of the world is polio-free. But all countries remain at risk until we finish the job everywhere."
A surge in vaccinations
Through genetic testing of stool samples taken from the new polio patients, the GPEI traced the poliovirus to a strain that emerged in Chad almost five years ago and circulated through Chad and parts of Nigeria. It had been eliminated from accessible areas, but it turns out that it never left parts of northern Nigeria.
The discovery triggered an increase in vaccinations in other countries that have similarly inaccessible areas. In Nigeria alone, more than 850,000 children were vaccinated in the first five days after the cases were discovered, according to the country's health minister. And Nigerian border countries coordinated efforts to increase protection of their own polio-free status.
• Erin Biba is a science journalist whose work regularly appears in Newsweek, Scientific American, and BBC.com.
Polio vaccinations have surged in Nigeria and surrounding countries since the discovery of the cases
Contact James Storrar about this page: