District Governor 2017 - 2018
Alan and Anne Hudson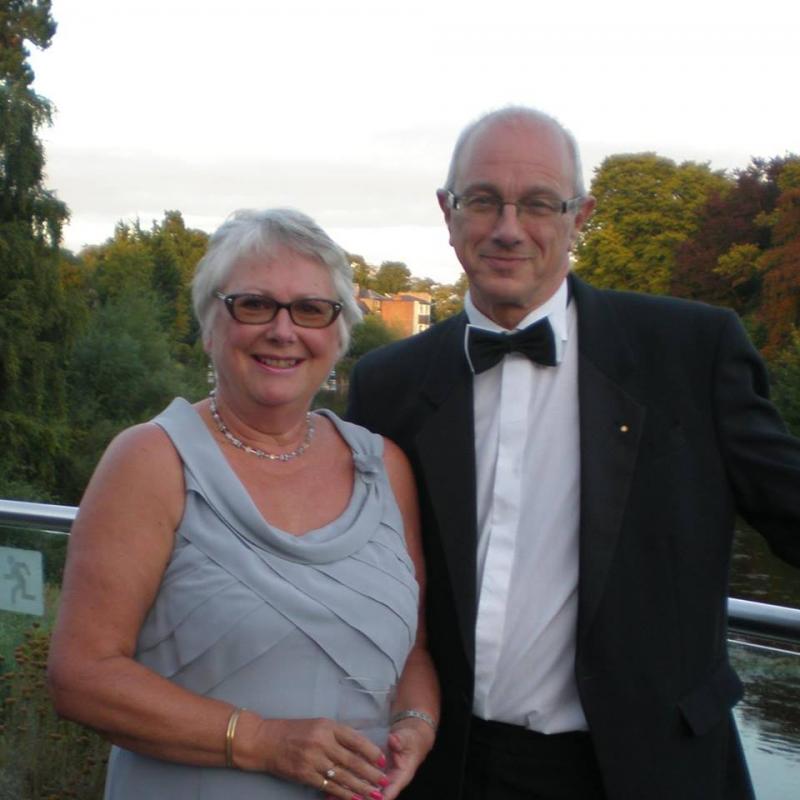 Alan and Anne Hudson
Alan and Anne Hudson have been married since 2000.
Our children are: Robert (born 1973, deceased 1996), Rebecca born 1975 – I.T. Manager, Katie born 1984 – Fashion Designer and Alec born 1992, Bar Manager.
Rebecca has provided us with 2 grandchildren: Jazmin born 1996 (Studying Drama at University) and Jack born 2008, who has mild autism, but who attends a standard state school and is doing very well.
We live in rural Herefordshire, an area of the UK which specializes in agriculture, growing apples for Cider, chickens for the table, along with arable crops such as wheat, barley, oil seed and potatoes but which also is home to the famous Hereford Cattle breed (not so many of them left in Herefordshire now though).
Alan was born into, and has worked in, the agricultural industry, all his life, recently retiring as a franchisee of the National Farmers Union Mutual Insurance Society. He has been fortunate enough to take part in prize winners' conventions in Dublin, Ireland; The Grosvener House Hotel in London; Dubai; and Stockholm.
Anne lived and worked in Norway during the 1970's, for 5 years in Tromso, in the far north of Norway and for 2 years near Stavanger and is fluent in Norwegian.
Alan joined Rotary in 1999 in Shrewsbury Darwin (District 1210 – UK) and transferred to Hereford Wye Valley in 2006. Anne is a keen member of Inner Wheel (Rotary and Inner Wheel work closely together, particularly in rural areas).
Alan has been President of both clubs and has held most club offices (except for Treasurer) as well as District Conference Chair(2010) and Assistant District Governor. During his year as President of Hereford Wye Valley he spearheaded a project on the island of Dominica in the Eastern Caribbean to bring improved training and education in the treatment of Diabetes (in particular treatment of the feet). We visited Dominica after the training was complete (in 2013) and were very pleased to meet senior medical staff and Rotarians to discuss the benefits of the work we had sponsored (with the benefit of a Rotary Global Grant)
In 1983 Alan had been a Group Study Exchange participant, visiting several islands in the Eastern Caribbean (Trinidad, Tobago, Barbados, Martinique, Guadeloupe and Antigua) and was very glad to "repay" some of the good fortune he had by spearheading the project mentioned in the earlier paragraph.
Alan was District Conference Chair in 2010 and became an Assistant District Governor in 2013.