News From Around The District
Latest News From Around The District
Orpington go to Germany
Orpington Rotary visit Wuppertal, Germany
Members of the Rotary Club of Orpington and their partners have just returned from a wonderful weekend in Wuppertal, Germany.
This was an international meeting of three clubs, and proved to be a great weekend of fun, food and fellowship with friends from Maubeuge, France and hosts Wuppertal, Germany.
During the weeknd visit Orpington members travelled on the famous Schwebebahn railway, visited the Junior University Wuppertal and had lunch at Wasserburg Dussel village.
The Saturday evening was a tripartite dinner with President Nigel giving an excellent address on behalf of the Orpington club.
---
Congratulations to Scott
Congratulations go to Scott Reeve, member of the Rotary Club of Faversham, who was awarded a Paul Harris Fellowship at the District Council meeting on Thursday 17th May 2018. The award was given to Scott by DG Carol Vizzard for his work with RYLA over many years.
---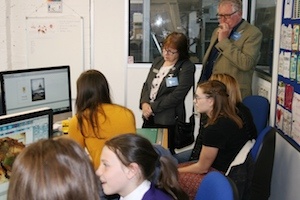 Herne Bay Photographic Competition Winners
Herne Bay Photographic Winners 2018
Yesterday afternoon, 14th May 2018, the winners of the Rotary Club of Herne Bay's Photographic Competition 2018 visited the Noel Tatt Group to see their entries turned in to cards.
Lucy Barton was winner of the Senior Category, and True Rainbow was winner in the Junior Category.
We were also joined by Carol Vizzard, District Governor and Stewart Neame, Youth and Community Chairman in Herne Bay.
(Report by Jane Furnival & photo byTony Furnival )
---
Yellowmen of Kadongdong's Knickers Project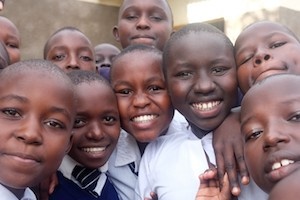 Girls of Kadongdong, Kenya
As part of a medical team initiative in West Pokot, Kenya, our Yellowmen nurses produced a presentation on menstruation designed to educate girls in what was happening to their own bodies. they also produced a tool to get local teachers and medics to help change the lack of support for girls suffering from painful periods and lack of basic knowledge.
Sufficient sanitary towels were also taken to supply each girl attending one of the presentations with a month's supply.
In the follow up talks with local nurses and teachers it transpired that not only was there a lack of sanitary towels that the girls could afford, they often couldn't even afford sufficient pants to keep them supplied during their periods.
Once this became apparent, the Yellowmen ladies went into action and the Knickers Project was born. So far sufficient money has been raised to purchase 1500 pairs of pants to be given out to girls when they receive their free sanitary towels during the September 2018 Yellowmen visit.
1500 pairs of knickers may not be sufficient but it is a start and the knickers project is a bit 'elastic' in that it will grow as more money is collected. If you would like to help by making a Knickers donation please look at our contact details on our web site. Donations, made payable to the "Rotary Club of Senlac", may be sent to The Yellowmen Knickers Project c/o The Cottage, Crowhurst, Battle, East Sussex, TN33 9AS.
To find out more about the Yellowmen follow the link on the Senlac Rotary's website www.senlacrotary.org.uk or see www.Yellowmen.org
(Photo and report from Eddie McCall of Rotary Club of Senlac)
---
ANZAC Centenery Commemoration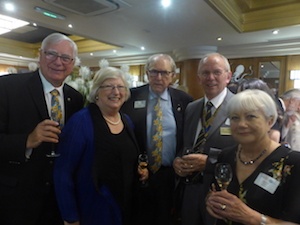 RI President Ian Riseley with President Steve Parkin
Four members, and their partners, of the Rotary Club of Ashford were recently privileged to be invited to attend the Anzac Centenary Commemorations at the Australian National Memorial (ANM) in Villers-Bretonneux, northern France on 25th April 2018.
The commemoration was also attended by HRH the Prince of Wales, the Prime Ministers of France and Australia and Rotary International President Ian Riseley.
Ashford Club President, Steve Parkin, commented "the visit was a great success. We were humbled and honoured to know that we were some of the very few English people to be invited to the Australian Commemorations.
The Club's whole visit actually lasted three days and took in the French Rotary District 1520 conference, meetings and celebrations with their twin club of Amiens, the RI President, Ian Riseley and other French and Australian Rotarians.
---
Technology Tournament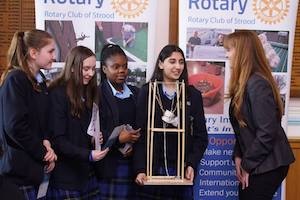 Rotary Club of Strood's Technology Tournament
Congratulations to the RC Strood for putting on a Technology Tournament for local schools!
On Friday 16th March 2018, Strood Rotary Club organised a Technology Tournament at The Royal Engineers Museum as part of British Science Week.
Westlands School won the Advanced competition, Rochester Grammar School won the Intermediate competition and Northfleet School for Girls (year 7) won the Foundation level competition..
A special thanks must go to local Rotarians who also provided help on the day, and to local MP and honorary member of Rotary Club of Strood, Kelly Tolhurst, who presented the certificates on the day!


(Report by Eddie McCall of Rotary Club of Senlac)
---
Bromley Young Musicians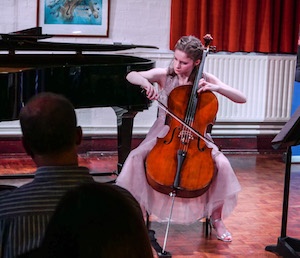 Sophie Oliver
An audience in Bromley was treated to inspirational performances by young musicians from the Bromley Youth Music Trust last Saturday 27th January 2018 at the Rotary Trotman Final, held in the Bromley Youth Music Trust's performance space.
The winner of the Trotman trophy, and £150 to further her musical studies from Rotary in Bromley, was Sophie Oliver who played the cello.
Eight talented young musicians each played for 10 minutes demonstrating amazing skill and technique, as well as a laudable empathy with the pieces of music that they had chosen to play. Cellists Anna Crawford and Sophie Oliver, french horn players Isabella Ward-Ackland and Leo Glenister, trombonist Emma Mitchell, violinist Lisa Archontides-Tsaldaraki, trumpet player Ed Sykes and pianist Arul Gupta, entertained and impressed the large audience with their playing.
The Adjudicator, Murray McClachlan, was extremely impressed and gave very positive and encouraging feedback to the young and very gifted performers. The Adjudicator amused the audience by commenting on the use of music scores by the contestants. Some had the scores on music stands and others played by memory.
A memorable evening celebrating the wealth of talent of the young people of Bromley.
Sophie Oliver, Rotary Trotman Winner, and Joe Davies. the BYMT Classical Singer of the Year for 2017, will represent Bromley Borough at the Rotary South East District Young Musician Final on February 10th at the Invicta Grammar School, Maidstone.
Rotary in the Borough of Bromley are proud to be partners with Bromley Youth Music Trust and to sponsor this event.
(Report by Mike Martineau)
---
Young Chef Competition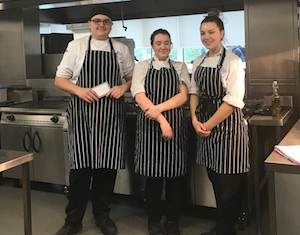 James, Amber and Casey
The Rotary Club of Darrent Valley held their annual competition at the Longfield Academy on 13 December 2018.
Each contestant prepared a three Course meal for two persons in 2 hours. All the meals were produced to time and budget and were judged by Rotarians Josie Morgan, Ricky Pristernik and Stewart Grainger.
The standards were high and it was a close run competition. The winner was James Bishop from New Ash Green and he was presented with the prize of a Bluewater Gift Card for £50. James will now go onto the District Competition to be held in Maidstone in January 2018.
(Photo & report from Stewart Grainger)
---
Visiting Rotary Scholars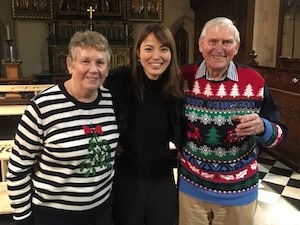 Sheila, Makiko and Stewart
The Rotary Club of Darent Valley had the pleasure of hosting a Global Scholar, Makiko from Japan, and a Peace Scholar, Jessica from the USA.
Sheila and Stewart Grainger enjoyed some early Christmas cheer with Makiko when she appeared in the university choir singing in both latin and English.
Sheila and Stewart also enjoyed an early Christmas dinner with Jessica and Makiko and her partner in the Crusting Pipe, Covent Garden.
(Photo & report by Stewart Grainger - nice jumper Stewart)
---
Tree-mendous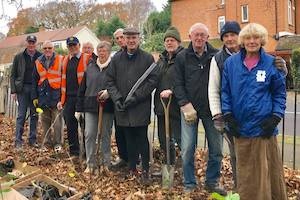 Langley Park & Beckenham members planting trees
Members of Langley Park and Beckenham Clubs put on their wellies and joined forces to plant 120 trees in South Hill Park near Bromley on Wednesday 6th December 2017.
Both clubs were determined to meet a worldwide Rotary goal, set by Rotary International President Ian Riseley, where every Rotary member plants at least one tree each and change the environment for the better by Earth Day on 22nd April 2018.
A tree-mendous effort by these two clubs.
(Photo: Mike Martineau of RC of Langley Park)
---
70 years of Tenterden Rotary Club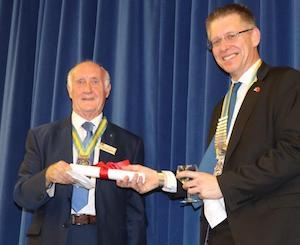 Mike Springett & President Chris Milne
At a meeting attended by 54 members and guests the Rotary Club of Tenterden celebrated 70 years of service to the community.
The club was chartered in 1947 and a meeting was held on Tuesday 7th November 2017 in Tenterden town hall; at the same venue and time as that original meeting.
President Chris Milne outlined some of the history of the club and said that since its inception it has raised about three quarters of a million pounds for charities in addition to organising events and sponsoring youth activities.
One founder member of the club, Robert Cruttenden, a former Mayor of Tenterden is no longer alive but his portrait in the corner of the room seemed to be smiling in approval.
Pic (left to right) Mike Springett (Assistant District Governor) presents Chris Milne (President TRC) with a commemorative scroll (Report by Phil Auden of Tenterden Rotary Club)
---
Canterbury Cathedral Goes Purple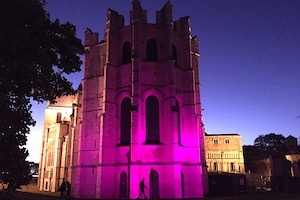 Canterbury Cathedral on World Polio Day
Canterbury Cathedral turned purple on Tuesday, 24 October, 2017 - WorldPolio Day.
The Corona at the east end of the Cathedral joined many of the important buildings around the World when it glowed purple to mark World Polio Day.
When children are immunized against poliomyelitis a little finger is dipped in purple ink. This colour has now been carried World-wide as a symbol of the battle to finally eradicate polio.
Rotary in the South East asked The Chapter of Cathedral for their support and are delighted that such an iconic place has embraced this World-wide gesture.
Though polio may seem distant in this country there are still around 100,000 people here being treated for post polio syndrome from the epidemics of the 1950s and 60s.
"We are so very close," said Rotary District Governor Carol Vizzard. "There are just two countries now where polio has been found and only 12 cases so far this year. This compares with over 300,000 thirty years ago.
"But to end polio there are still millions of children being vaccinated. Rotary has been for 30 years and still is at the forefront of this battle with our partners such as the Bill and Melinda Gates Foundation, the World Health Organisation and National Governments including the UK Government who recently pledged £100 million in the fight to eradicate polio"
---
New Borehole for Malawi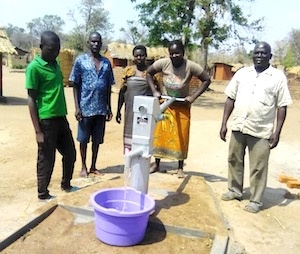 New borehole in Malawi
In August 2016, Tenterden Rotary Club set out to help a village in Malawi build a new water borehole for a community centre comprising a school and five surrounding dependent villages (circa 1,200 population).
With the help of a District Grant and the pledge of funds from the club the estimated cost of around £2000 was covered. We also enlisted the help of Water Aid (a charity that provides advice, technical guidance and local knowledge) who confirmed that the project was viable.
With the significant help of a local charity, Starfish Malawi, the project was initiated and in June 2017 the site for the borehole was chosen and the necessary equipment was purchased.
The borehole was started in late September. It is quite amazing that they still do this by hand!!! - or should I say many hands!!!!
Everyone celebrated the completion of the borehole on 2nd October 2017. The water was rather brown at first but cleared during the following few days.
What a difference this will make to this community who will no longer have to walk nearly half a mile to get their water - 8-10 times a day!!!! (Report by Phil Auden of Tenterden Rotary Club)
---
Clubs Collecting for Disaster Relief Aid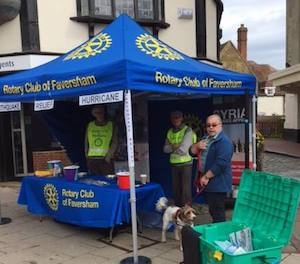 Collecting for Shelterbox in Faversham
Clubs throughout Rotary South East have been out and about recently collecting money to support disaster relief aid in the wake of recent hurricanes across the Caribbean.
On Saturday 23 September 2017, the Rotary Club of Faversham responded to assist people in distress around the world from recent natural disasters and conflict by raising money for Shelterbox.
Club members took their stand and a Shelterbox to the market square, and raised over £230 thanks to the generosity of the people of Faversham.
The Rotary Club of Faversham now intends to sponsor a complete Shelter Box, which can provide the much needed basics for a family to survive when sudden disaster strikes.
---
Tonbridge Dragon Boat Race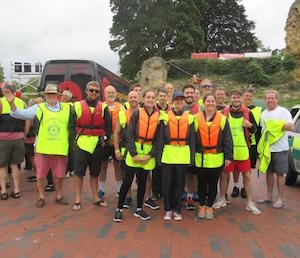 Tonbridge Go Rotary Team
The Fifth Annual Dragon Boat Races organised by Tonbridge Town Team was held on the River Medway on Sunday 10th September 2017. This was also the third year that Tonbridge Rotary Club has taken part with their Go Rotary Team.
The Tonbridge Go Rotary crew consisted of 16 rowers including two Past Presidents, the current President, a future President and many members of their families.
President Robert Greenhalgh was also the boat drummer who kept the paddlers in unison by beating time on his drum! Fortunately all teams had a professional helmsperson in the stern to guide the boats.
23 teams competed - the largest number ever for Tonbridge. The Tonbridge Go Rotary team managed a very impressive 6th place. Well done Go Rotary. (Report by Janet Sergison of Tonbridge Rotary Club)
---
End Polio Now Tea Party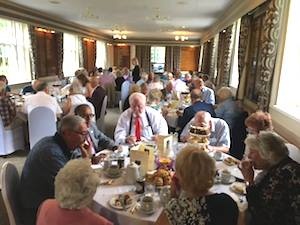 End Polio Now Tea Party
An End Polio Tea Party at Addington Palace GC on Sunday 20th August 2017 was attended by over 100 Rotarians from 12 local Rotary Clubs and from 2 Rotary Districts.
Great food, great entertainment and close to £5k raised was raised (including Bill Gates effect).
The event was well organised by 4 Clubs from the Borough of Bromley. Great collaboration. Attended by District Governor Carol, DGE Brenda and last year's DG Peter.
(Report by Mike Martineau)
---
Ravesbourne is Born!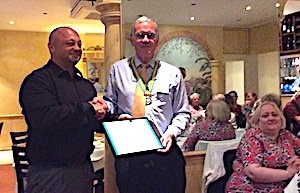 Ravensbourne Charter Night
Ravensbourne became the newest club in Rotary South East on Wednesday 19th July 2017.
Dickon Bowden, first President of Rotary Club of Ravensbourne, received the club's Rotary Charter from Assistant Governor Mike Martineau.
Messages of congratulations were received from RI President Ian Riseley, RIBI President Denis Spiller, DG Carol Vizzard and DGE Brenda Parsons.
Note: The Rotary Clubs of Catford and Bromley-Bickley ceased on 30th June 2017 and members merged to form the new Rotary Club of Ravensbourne,
---
Strood Technology Tournament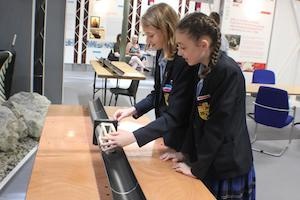 Strood Technology Tournament
Strood Rotary Club organised a Technology Tournament on 7th July at the Royal Engineers Museum.
Rotarians helped from Strood, Chatham, Rochester, Medway, Medwayp Sunlight, Maidstone Dawn Patrol, Maidstone Riverside and Sittingbourne Invicta clubs.
Contestants were asked to build a pipeline vehicle and were scored regarding construction, planning and portfolio.
The winners were:
Foundation: Rochester Grammar
Intermediate: Rochester Grammar
Advanced: Leigh UTC (Dartford)
Rotary District Govenor Carol Vizzard was present through-out the day and the event was also attended by the Deputy Major for Medway Gloria Opara. The next Technology Tournament has been arranged for Friday 16th March 2018.
---
Winning Young Photographers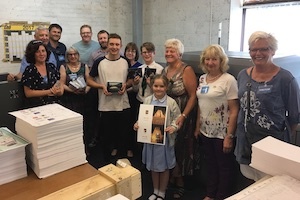 Young photographers with their cards
The Rotary Club of Herne Bay have, for several years, been running the Rotary Young Photographer Competition awarding prizes to the winners in each age category.
A team of local experts has been used to judge the photographs, bringing their own skills to the competition.
The entrants' photographs have been displayed at Beach Creative in Herne Bay, and the exhibition has been open to the public for several days culminating in an award evening attended by the entrants and their parents.
This year the winners in each category were generously offered the chance to have their photographs turned into cards, with amazing results.
Herne Bay will be running the competition again next year with the added twist of allowing the entrants to mount their own photographs and organise their own display area.
---
Douai to Gouda the Hard Way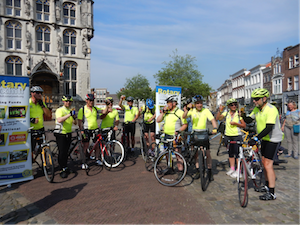 The finish line in Gouda
The idea came from the President of the Rotary Club of Bexhill on Sea, Geoff Longmire, who earlier this year suggested that a team from the Club should cycle from Douai in France to Gouda in the Netherlands; both towns having Rotary clubs who are also contact Clubs for Bexhill.
So on 25th May 2017 ten riders from Bexhill and Chris Barnett tarvelled to Douai via Dover. where they met members of the Rotary Club of Douai for dinner. Day one of the ride followed the next day, and the riders soon left the cobbled streets of Douai and picked up the river tow path.
After a night stopover in Oudenaarde, the riders set off once again and were in Ghent by lunchtime, and then cycled in 32oC heat on to Antwerp for another overnight stop. The riders woke on day 3 to torrential rain, but luckily this had cleared by the time they set off again. A few punctures later the team arrived in Breda and coincided with the final day of Breda's international jazz festival.
On the morning of 29th May 2017 the riders had just 50 more miles to go, and were joined for the last 10 miles by three Rotarians from Gouda. The end came with a sweep around the square in Gouda, and across the finish line between two Bexhill pop up displays. We were greeted by our partners, Gouda Rotarians and friends and a tray of thirteen glasses of cool beer!
(Report from Chris Barnett & photo by Rotary Club of Bexhill)
---
New Bus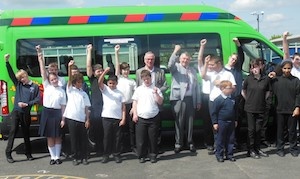 Bradfields Academy - New Bus
DG Peter West, PDG Martin Williams and President Chris Bunting of RC Sittingbourne Invicta were present for the handover of a bus at Bradfields Academy, Chatham on 24 May 2017.
The bus was given in aid of the PDG Martin Williams charity Lord's Taverners. £16k was raised by Rotary South East, which is roughly half the total.
The Lord's Taverners were represented by Tom Warner, the Regional Development Manager .
---
On Your Bike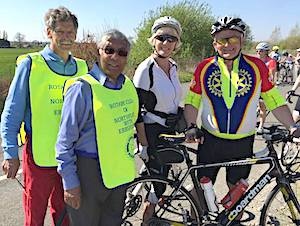 On Your Bike - Gravesend 2017
Sunday 9th April 2017 - My first bike event of the year; Gravesend Rotary Club's annual event in aid of Elenor Hospice and other charities.
Thirty glorious miles through North Kent countryside in stunning weather. A couple of challenging, cramp inducing hills; one just under two miles we were told. Joined by training buddy Jenny Olpin.
My sixth ride with them so now have a set of six slate coasters. For Gravesend, their thirty first!
Congratulations to RC of Gravesend for a safe and well organised event.
Now rehydrating with a cool G&T!
(Report from Chris Barnett & photo from Himansu Basu)
---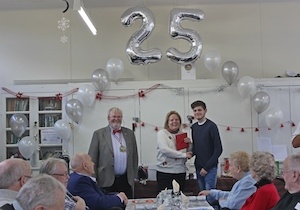 Christmas Dinners in Sittingbourne
25 Years of Christmas Dinners
Companionship at Christmas recently celebrated 25 years of providing Christmas dinners to those on their own in Sittingbourne.
Over Christmas Day and Boxing Day, 120 people enjoyed each others company over the festive season. There was lots of laughter, music, balloons and a special cake marking the 25 years. Everyone enjoyed the truly excellent cooking from the volunteers who gave up their own time over the Christmas period.
Companionship at Christmas is a charity supported by the Rotary Club of Sittingbourne Invicta and club member Pamela Prescott helped hand out dinners and presented a cheque for £200 as the club's contribution to this years event.
---
Goodbye Crowborough
It is with regret that we announce the closure of the Rotary Club of Crowborough at the end of December 2016 with a loss of 14 club members.
This club has been engaged in much active service in Crowborough since it was chartered 64 years ago, and will be a great loss to the town.
---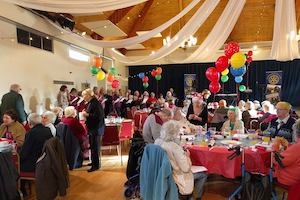 Faversham fish n chip lunch
Fish 'n Chips in Faversham
On Monday 5th December 2016 the Rotary Club of Faversham hosted over 120 senior citizens to a Christmas Fish and Chip lunch in the Alexander Centre.
Music, Christmas Carols and plenty of cheer were heard on what was a memorable occasion.
---
Medway's Santa Fun Run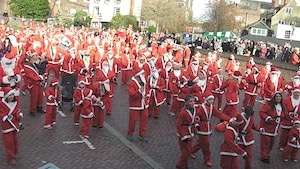 Charity Santa Fun Run
The Rotary Club of Medway held it's annual SantaFunRun in Rochester High Street on November 19th 2016, attracting well over 800 red clad Santa's.
The spectacle was a stirring event that raised over £8,000 towards next years Rotary Children's Hospice Family Holiday, that will be the 9th year the Club have hosted 6 families from Demelza and Ellenor Children's Hospices.
---
Rotary Halloween Event
Halloween
Ghosts and ghouls have raised £1,200 for charity in Pevensey.
A Halloween night at The Smugglers Inn saw 76 members of the Rotary Club of Sovereign Harbour, along with their friends and family attend a dinner for the Children With Cancer Fund in Polegate.
During the evening there was live entertainment, a raffle and a special cake to help notch up the funds.
Plenty of weird looking Rotarians too!
---
Standing Ovation For Ade Adepitan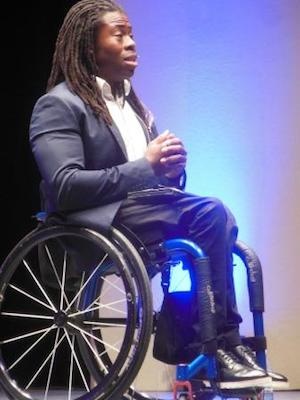 Ade Adepitan at Conference
It was very much Ade's day at the Rotary South East conference on Saturday 29th October 2016.
Born in Nigeria, Ade contracted polio aged two that affected both his legs, and his parents made decision to move to UK when he was three. He went to school in Plaistow, East London, and was recognised by his school-mates as a 'tryer'; especially in sports.
Ade was spotted by two physios with an 'East End Project' while being pushed on a sponsored supermarket trolley race, and he was persuaded to become involved in the programme. Thanks to that, Frank Bruno raised money to buy him a lightweight self-propelled wheelchair.
Ade completed in a scratch paralympic basketball team in Cyprus that beat the favourites (the Germans), and has never looked back. He has now become a Rotary polio ambassador, and advocates for the the polio eradication endgame.
He so richly deserved the standing ovation the hall gave him following his conference appearance. Ade also donated his appearance fee to the fight to eradicate polio.
---
World Polio Day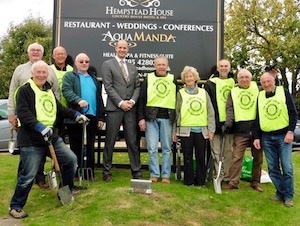 World Polio Day
Monday 24th October was World Polio Day, and to mark the event a group of Rotarians from the Sittingbourne Invicta and Sittingbourne & Milton clubs met at Hempstead House Hotel to plant 5,000 purple crocus corms.
Purple crocuses are the international symbol of the campaign to eliminate this dreadful disease from the world. Initiated by Rotary International and supported by other organisations, this campaign is at the point of total elimination of the disease.
In 2016 to 30 October there have been only 30 cases of polio, compared to 74 in the same period of 2015, and 350,000 cases in 1985 when Rotary's campaign began. Despite this success, $1bn per year will need to be spent on vaccinating children for the next few years until we have two years without a case and a polio-free world can be celebrated.
The corms have been planted on the bank outside the hotel, and will provide a spectacular display in the early spring of 2017 and subsequent years. The picture shows the team from the two clubs with Mike Wood, Manager of Hempstead House Hotel.
---
Victory for Invicta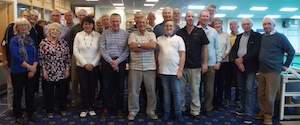 Invicta vs Sheppey
Thirty people from The Rotary Clubs of Sittingbourne Invicta and The Isle of Sheppey met at the Swale Indoor Bowls Club on Wednesday 19th October 2016. This has become an annual get together to renew friendships, but it is also a serious bowls challenge competition.
The 24 players had training at the start of the evening, followed by bowl practice and then a buffet supper before the competition got underway.
Four teams then spent over 2 hours bowling. With Sheppey winning previous years, it was good to see Invicta as overall winners on the night with all matches won. Total: Invicta 46, Sheppey 23.
---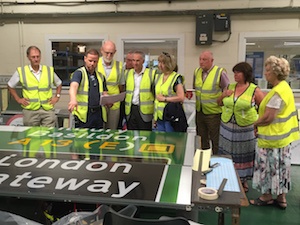 Inspecting signs made by RBLI
Visit to RBLI
22 Sittingbourne Invicta Rotarians and partners visited Royal British Legion Industries (RBLI) in Aylesford on Monday 25 July 2016.
This was an alternative meeting to our normal evening meeting. Geoff Streetley, Director of Commercial Operations, gave a presentatation in the boardroom about RBLI; covering its aims, assests, products, services and funding.
Club members were then split into two groups for a tour of the factory, which took us through the sign-making area where we were shown their state of the art printer. The tour then went into the Connect area where workers were making display models for shops. We were also shown the pallet making and pallet recycling facility.
Finally, we all enjoyed a lunch back in the boardroom. Everyone said they enjoyed the visit, and thanked Geoff for making the visit possible.
---
Maasai Warriors in Bexhill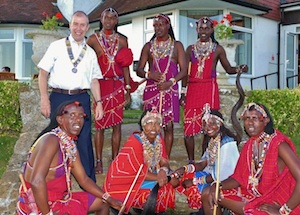 Maasai Warriors dance for Bexhill
At the beginning of July, Bexhill Rotary Club heralded a new president, Geoff Longmire, and it was at his first full meeting in charge at Cooden Beach Golf Club on Tuesday 19th Julythat he was 'invaded' by a troupe of Maasai Warriors who performed authentic Maasai tribal dance.
The Osiligi Maasai Warriors, to give them their full title, come from the village of Oleopolos and surrounding communities in southern Kenya and are currently on their fourth tour of England.
The Warriors, resplendent in traditional costume, gave a stirring display of song and dance, which included the famous Maasai jumping – at one point President Geoff Longmire was hauled on to the dance floor by one of the Warriors and he gamely set about giving a reasonable impression of a Maasai Warrior even including one or two impressive jumps, much no doubt to his surprise and certainly to the surprise of the assembled Rotarians and their guests.
Not only were the Rotarians and guests treated to tribal dancing but also to the history of the Maasai. The Maasai used to rely on their warriors fighting other tribes, quite often for the possession of cows (the Massai consider all cows in the world belong to them), but nowadays the warriors swear by the pen in one hand and a book in the other, instead of a spear and a shield. Respect was also strong in the Maasai, respect for others and respect in particular for ones elders, as well as respect for the land and other living things.
---