AM/AM Charity Golf
Our major fund raising event in support of President John's chosen charity, Scottish Disability Sport.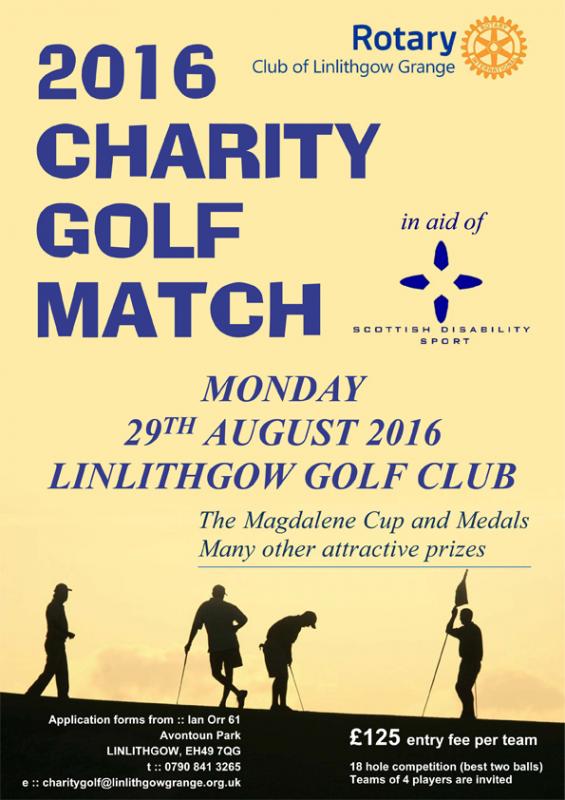 The Rotary Club of Linlithgow Grange's major fund raising event of the year.
Please come along and support the Club and in doing so help raise funds to go to Scottish Disability Sport.
Play for the Magdalene Cup and many other prizes. 18 hole competition, best two balls.
£125 entry fee per team of four, which also includes a 'yellow ball' - will your team get it all the way round the course? - and a two course meal for each player.
Want to advertise your business? Tee or green sponsorship is available at £50.
Want to donate a competition/raffle prize? Please contact Ian Orr, Charity Golf Convenor.
Following our requests to businesses, family and friends, over 40 teams have entered and 30 tees and greens have been sponsored. Prizes and gifts have also been donated.

The Rotary Club of Linlithgow Grange wishes to sincerely thank the following for their generosity and support for our annual Charity Golf Tournament.
Tees and Green Sponsors sponsored by
Mill Garden Centre, Alan Steel Asset Management, Linlithgow Sports Podiatry & Chiropody Clinic, Signum Consulting, Whittle & Co., Wren Sterling, SDM Toyota, Green Thumb, Exception, Acorn Services, Linlithgow Physio, Aquarius Thermal, MB Electrics, Gowans Fish, MiniFigure Trading, Cameron's Tea Room, West Lothian Youth Foundation, Alistair Rennie, Regent Motors, Mannerstons, Thompson Therapy
Prize Draw Gifts generously donated by
Kingsfield Golf Centre, Linlithgow Sports Podiatry & Chiropody Clinic, Exception, Whittle & Co., Lily Blanche, Tartan Twist
Should you wish to contact any of the above who have provided contact details, please find them listed below;
Alan Steel Asset Management
T: 01506 845858; E: info@alansteel.com W: www.alansteel.com
Linlithgow Sports Podiatry & Chiropody
M: 07596 954189: E: m.g.podiatry@gmail.com; W: www.podiatryscotland.co.uk
SDM Toyota
T: 01324 635935; W: www.sdm.toyota.co.uk
Green Thumb
T: 01506 439666; E: falkirk@greenthumb.co.uk
Aquarius Thermal Systems
M: 07971 237810; E: enquiries@aquariusthermalsystems.co.uk; W: www.aquariusthermalsystems.co.uk
MB Electrics
T: 01324 875399; E: michaelbrash@hotmail.com
Regent Motors
T: 01506 847788; E: info@regentmotorslinlithgow.co.uk
Mannerstons
T: 01506 834949 E: info@mannerstons.co.uk
Thompson Therapy
T: 01324 664066 E: thomsontherapy@btconnect.com; W: www.thomsontherapy.co.uk
Kingsfield Golf Centre
T: 01506 671607; E: info@kingsfieldgolf.com; W: www.kingsfieldgolf.com
Lily Blanche - Jewellery
T: 01786 464251; E: hello@lilyblanche.com; W: www.lilyblanche.com
Tartan Twist – Scottish Jewellery & Gifts
T: 01786 464251; E: morag@tartantwist.com; W: www.etsy.com/uk/shop/TartanTwistScotland