North American Student Concert
Three student groups from North America, with some 90 musicians performing a varied, high energy and exciting programme.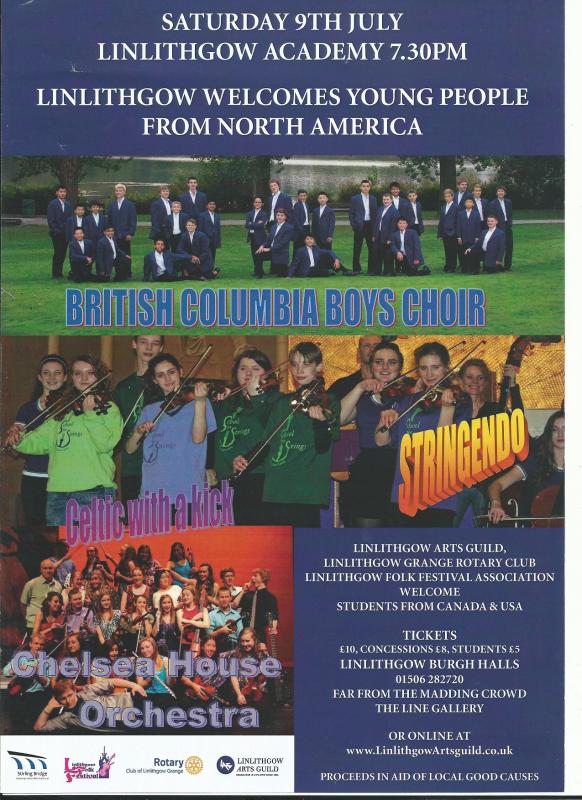 In only one of four venues in Scotland, the North American students will perform at Linlithgow Academy in an event that is being staged by Linlithgow Arts Guild in association with the Rotary Club of Linlithgow Grange and Linlithgow Folk Festival Association. This is expected to be a high standard of performance and tickets will be eagerly sought.
Our visitors are:
The British Columbia Boys Choir, Canada - of around 35 performers, have won international acclaim and have a range of music from Medieval through classical and popular to contemporary pieces.
Stringendo Fiddle Club, Michigan USA - of around 16 performers - American fiddle group playing all manner of types of tunes. Dynamic and full of fun programme including bluegrass, western swing, blues and jazz.
Chelsea House Orchestra, Michigan USA - of around 40 performers - "Celtic with a kick"! Music features Scottish and Irish traditions, Celtic renditions of American folk songs, with a bit of Rock and Roll thrown in for fun.
Ticket prices are : Adult £10, Concession £8, Student £5
Outlets: The Line Gallery, Linlithgow; Far From The Madding Crowd, Linlithgow; Linlithgow Burgh Halls; on-line through Linlithgow Arts Guild web site - www.LinlithgowArtsGuild.co.uk ; Linlithgow Grange Rotary Club members.