Oxford Peace Conference and Pre-Conference Dinner
This third Oxford Peace Conference will showcase the Rotary Foundation's work for World Peace and Conflict Prevention & Resolution through it"™s Peace Fellowships and partnership with others involved in the peaceful settlement of conflict.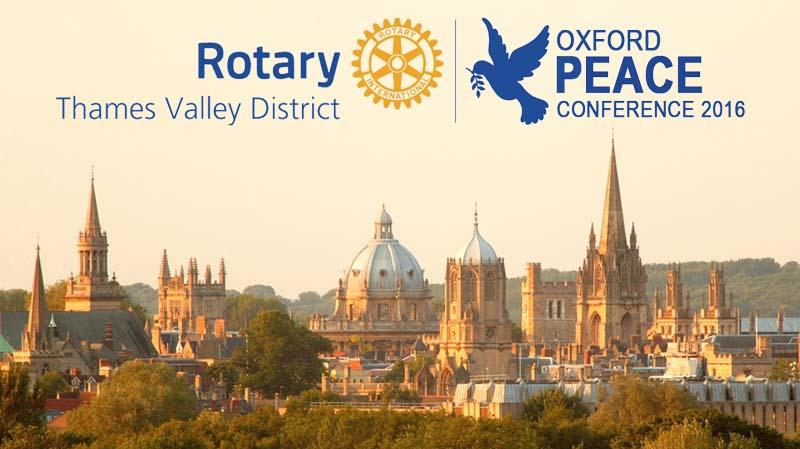 The Malcolm Boddington Memorial Peace Conference

Peace through Understanding
Nelson Mandela Lecture Theatre, Saïd Business School, University of Oxford, Park End Street, Oxford OX1 1HP

Saturday 10 September 2016 9.00 for 9.30am

This event, in memory of Malcolm Boddington who brought the first Rotary Peace Conference to Oxford, is the third Peace Conference to be held in this Rotary District and is an excellent opportunity to discover what The Rotary Foundation does towards World Peace and Conflict Prevention & Resolution through it's Peace Fellowship Programme and by partnering other organisations involved in the Peaceful Settlement of Conflict
Speakers will include Neil Cooper of the Peace Studies Department of the University of Bradford, one of the six Rotary Peace Centres situated in universties throughout the world; Gabrielle Rifkind of the Oxford Research Group and Roger Griffin of Oxford Brookes University, together with Jo Berry and Pat Magee both of 'Building Bridges for Peace' who will demonstrate the power of empathy and the importance of dialogue; Melhem Mansour, the first Syrian Rotary Peace Fellow and Dawn Chatty, Emeritus Professor and former Director of the Refugee Studies Centre in the University of Oxford who will speak on the refugee situation in Turkey and Syria.

Tickets: £35 (student concessions £25) to include morning coffee, buffet lunch and afternoon tea

Pre-Conference Dinner

The Queen's College, High Street, Oxford

Friday 9 September 6.45 for 7.30pm
Our speaker at the Pre-Conference Dinner will be Barbara Winton who will speak about her father, the late Sir Nicholas Winton, recently hailed as 'one of the great humanitarians of our times' for his part in bringing 669 endangered Czech children to safety in 1939

Tickets: £65 to include reception drinks, three course dinner, wine and coffee
Early booking is advised as numbers are limited. Overnight accommodation is available, see details.

For full details: Download Information Leaflet and Booking Form

Organiser: Philip Bobby