District Governor 2016 - 2017
Richard and Helen Purdon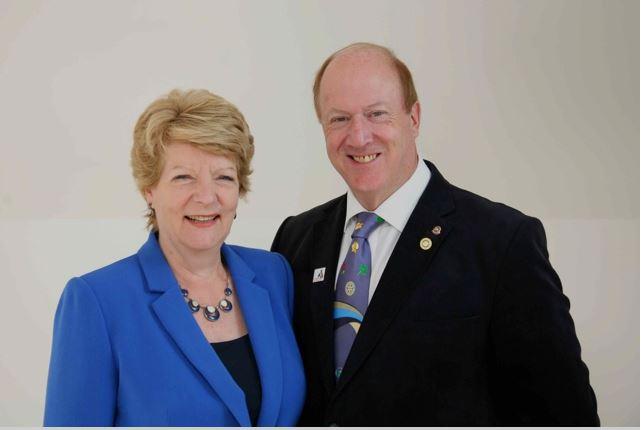 Richard and Helen Purdon
Richard Purdon District Governor 2016/17

Rotary

I joined the Rotary Club of Sid Valley in Devon in 2003, as a founder member. In 2006/7, having been Social Chairman, served as the International Chair. In 2007/8 transferred to the Rotary Club of Cheltenham North - President in 2010/11. I was elected AG for North Gloucestershire in 2012/13, and served for 2 years. I was also Club Visioning Chair for 3 years from 2012/13. And now up to District Governor for 2016/17.

I believe that Rotary is potentially an outstanding Service organisation, doing exceptional good in the World. I also realise that we have to "regroup" in RIBI to maintain our focus and relevance to our local Communities.

My hopes for 2016/17 within Rotary

To have great fun with most of my Rotary.

To encourage Clubs to have a real look at their programme for their members, and to prepare for the next 5 years of their Rotary service.

To encourage Clubs to put more back into their local Community, where they live and operate. And to have a focus on those less fortunate than themselves.

To run a highly enjoyable Conference in Torquay in March 2017.

To represent our District 1100, professionally, at the RIBI General Council, and to encourage them to be more outward facing.
Professional Background
I worked in Industry in major companies. I started in Cadburys, Unigate, Northern Foods, Booker Group, Kerry Foods, Hazlewood Foods , and Key Country Foods. I was promoted in this time to Divisional Managing Director and Chief Executive. After numerous takeovers and redundancies (I became an expert of closing factories), I went into business privately. This was either as an Investor, Consultant, Board Director or Business owner

Personal Life I have been happily married to Helen, since 1972. She, too, was working at Cadburys, when we met. We have 3 grown children and now 7 grandchildren – ranging from the eldest at 8 down to 2, at less than 1 year ago. So half terms are very busy as all the parents are working!I am a clockwinder at the local Church, and a School Governor at a Special Needs School.

We all enjoy travel and extended family holidays abroad, although these will be put on hold until after our year as DG.