The Thames Valley Four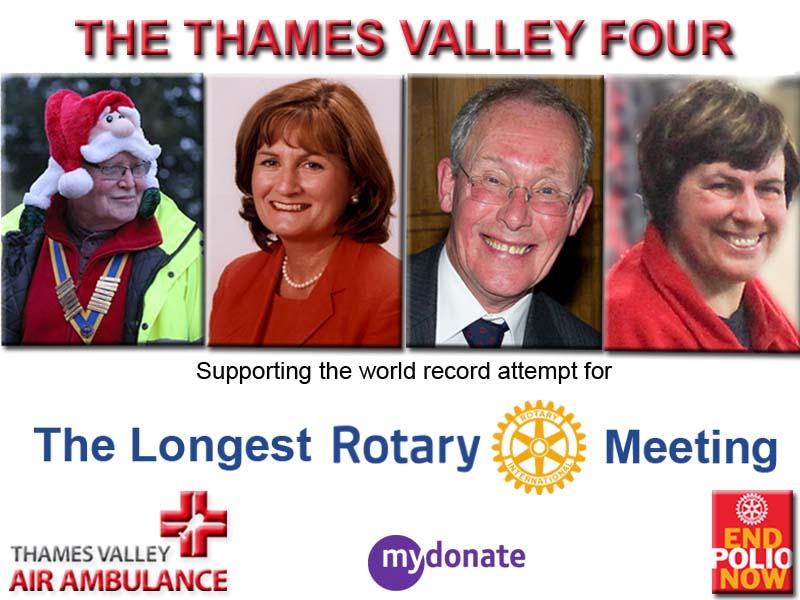 Raising funds for Thames Valley Air Ambulance and End Polio Now by attending the entire duration of The Longest Rotary Meeting on 2 March 2016.
The Rotary Club of Misbourne Matins is celebrating its eighteenth birthday on 2 March by attempting to break the world record for the Longest Rotary Cub Meeting and raising funds for the Thames Valley Air Ambulance and End Polio Now in the process. There is a fine selection of excellent speakers lined up and proceedings will start at 6.00am on Wednesday 2 March, finishing 18 hours later as midnight strikes. Meals and light refreshments will be served by the host venue of Gerrards Cross Golf Club. The idea is that visitors will book a time to come and hear speakers and join in the fun. To whet your appetite, see some of these speakers at the foot of this page. Click on the image below for full details on booking a place at a time to suit you

The Thames Valley Four are very special friends of the club and the only people brave enough to commit to the entire meeting but there is no expectation that other visitors will stay longer than one or two of the 2 hour time slots. By attending all 18 hours of the Meeting, the TV4 will not only be contributing to the general interest of the meeting, but are offering those unable to attend an opportunity to raise additional funds for the two very worthy causes by inviting sponsorship for their endurance feat.

Please be generous to these 2 excellent charities and click the button here to donate safely and securely.

So, who are the Thames Valley Four?
Put simply, four very hardworking and dedicated Rotarians who stand out from the crowd..........

Brian Jonson: former President of Marlow Rotary Club who became affectionately known as 'Mr Ebola' when he and some colleagues decided something must urgently be done about the Ebola crisis sweeping West Africa, when others who should have known better were still fast asleep. Working in partnership with the Rotary Club of Monrovia, Liberia, he set about raising worldwide awareness of the importance of health education in containing this shocking disease, raising funds and sending vital equipment to address locally identified needs. It was no coincidence that Liberia was the first of the 3 worst affected countries to be declared 'Ebola-free'. He is currently busy with a Rotary Global Grant, again in partnership with RC Monrovia, to tackle the aftermath of the outbreak and Liberia's seriously damaged health infra-structure. He's also pretty impressive at Santa Fun Runs.
Judith Diment: former president at Windsor St George, past District Governor and tireless advocate for End Polio Now. When she's not hobnobbing with government ministers and health officials worldwide in her official capacity as one of Rotary's leading End Polio advocates, she's out in Delhi supporting health workers giving polio drops on National Immunisation Days to ensure that India remains Poio-free. Not surprisingly she has earned Rotary's highest accolade of a Service Above Self Award and will be one of the main speakers at The Longest Rotary Meeting giving all the latest news on ending polio.

Niall Blair: Another Marlow past President and an extremely popular former District Governor whose invariably cheery presence kept all his troops happy and motivated. Customising his Ford Ka with End Polio branding and a fine portrait of celebrated Olympic rowing champion Sir Steve Redgrave telling the world that we are 'This Close' to ending polio, he travelled around the Thames Valley District, visiting clubs and attending events, in his truly uplifting 'Poliomobile'. A man of unbounded talents, yet delightful modesty, Niall was founder of Marlow's Santa Fun Run and most recently has been elected Hon Treasurer for Rotary in Britain and Ireland. Dispeller of all Pythonesque myths about accountants.

Gillian Pearce: A fun-loving registered midwife who celebrated being president of Elthorne Hillingdon Rotary Club by running the London Marathon with a large tap on her head, raising funds for WaterAid. More recently she has led a very successful Vocational Training Team of health professionals to Kamuli, Uganda in addition to raising awareness of other overseas issues as Chairman of the District International Cttee. With Rotary running deep in her family genes she is now an Assistant District Governor and has been nominated to be Thames Valley's District Governor 2018/19. As a Cornish lass, she's also an active Shelterbox supporter.

Speakers booked for the World's Longest Rotary Meeting on 2 March include: