An Evening with Tyler Jack Smith and Paul Herrington on his Electronic Keyboard
Tyler Jack Smith and Paul Herrington will be in Concert at the Methodist Church, Filey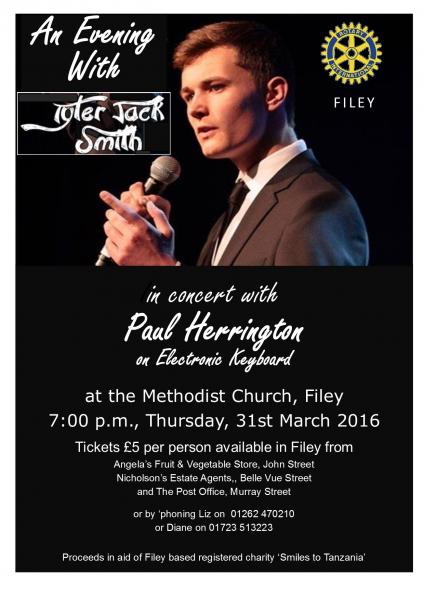 This promises to be a real musical treat. In addition to Filey born singing star, Jack Tyler Smith, we are delighted to have electronic keyboard vituoso Paual Herrington in the programme.
Tickets at £5 each are on sale from 1st February at the following outlets in Filey
Angela's Fruit and Vegetable Store, John Street
Nicholson's Estate Agency, Belle Vue Street
The Post Office, Murray Street
Tickets are also available by calling Liz on 01262 470210, or Diane on 01723 513223
Proceeds from the concert will go to support the work of Filey based registered charity, Smiles for Tanzania.
Click here to see Tyler in action
Contact Liz Butler about this page: