Afternoon Tea Walk for End Polio Now
Robert Jacksons Walk for "End Polio Now".
The Rotary Club of Birstall Luddites.
Afternoon Tea to End Polio
Luddite Rotarian Robert organised and led
this walk, the latest in a series he has organised. The walk blessed with a fine day raised £80-00 for our Club's
"End Polio Now" initiative and will help the world wide effort to eradicate this dreadful disease,
Robert thanks everyone for their support
Robert describes the walk -
"On the 10th of April 2016, we passed the Star Inn at Roberttown where in April 1812 two of the Rawfolds Mill luddites croppers attackers died of the wounds received in that affray, later being buried @ midnight near the graveyard of Hartshead church it is said. The views were far reaching, fellowship great, weather hot & sunny, we15 wanderers completed our walk after an hour, then enjoyed afternoon tea @ the Coffee Lounge, Liversedge where we were joined by Jackie, President Margaret and Nigel. The birthplace of two of the Bronte children, who died before the remaining family moved eventually to Haworth & fame, is nearby on Halifax Road".
Big thanks to Robert for organising the walk and all who supported the event.

Thursday Robert went back to the Coffee Lounge in Liversedge & presented the framed "thank you" note we all signed on Sunday ~below is a picture of Robert with Amanda Bennet owner of the coffee lounge.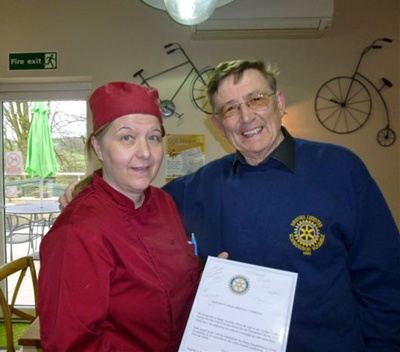 ---
Contact Robert Jackson about this page: