KIRKHAM ROTARY CHRISTMAS PARTY.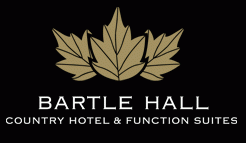 Bartle Hall, Lea Lane, Preston, PR4 0HA. Set in 16 acres of grounds this country house from 1730 offers a comfortable welcome.
Christmas is only just over a month away now and your Administration Committee together with the 41 Club Committee have been working on and succeeded in bringing together a great Christmas Party for you. We have an attractive tasty meal, a DJ to provide the type of music to suite all tastes, all in pleasant surroundings.
The details are as follows:
Date:
Thursday 10th December 2015
Venue:
The Balmoral Suite, Bartle Hall
Time:
7.00 for 7.30pm
Carriages:
Midnight
Dress:
Lounge Suites (for men)
Menu:
A choice of three starters, four main courses and three sweets.
Starters:
Pressed Ham Hock, Tarragon Piccalilli and Rosemary Focaccia
Chicken Liver Pate, Cranberry Relish with Toasted Ciabatta
Leek & Potato Soup with Deep Fried Leek
Main Courses:
Roast Breast of Tomlinson Turkey Carved from a Crown, Chipolatas, Stuffing and Roasties (Don't ask which Tomlinson has supplied the turkey)
Baked Salmon Fillet, Chive Mash, Fine Beans, Scorched Leeks with Lemon Butter
Braised Blade of Beef, Horseradish Mash, Fine Beans, Red White Jus with Shallots
Tomato Tart Tatin, Puff Pastry, Rocket Pesto with Crispy Goats
Cheese
Sweets:
Blackstick's Blue & Creamy Lancashire Cheese with Chutney and Crackers
Lemon Tart with Clotted Cream
Christmas Pudding with Brandy Sauce
Wine:
Bartle Hall have agreed to offer their House Wine at £15 per bottle
DJ:
Robbie Maddison
Special music requests: Give some thought to any particular records you wish to be played and bring your suggestions with you.
Cost:
£25 per person which is the same as last year. (How do we do it?)
Payment:
Payment is required on the night by cash or cheque. Cheques should be made payable to "Bartle Hall". Envelopes will be provided on the tables for your payments.
Guests:
The Balmoral Suite is capable of holding a sizeable party and guests will be welcome.
Booking in:
Please book in with Nick Reid-Craft by Friday 4th December preferably by e-mail, and include the name(s) of your guests and with whom you would prefer to share your table.
Contact Nick Reid-Craft about this page: