Pacific paradise of Vanuatu counts the awful cost of Cyclone Pam
UK disaster relief agency ShelterBox is mobilising aid and a response team as the Pacific paradise of Vanuatu counts the awful cost of Cyclone Pam.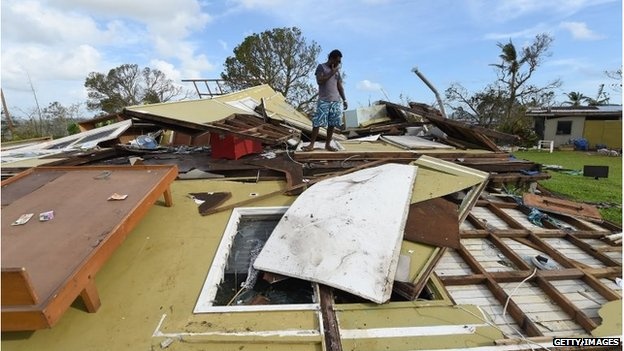 Quarter of a million could be homeless across Vanuatu after 'monster' cyclone - ShelterBox mobilising 1,000 kits to help rebuild

Recommend donations to Shelterbox, and/or other "Box" projects (eg Aquabox, Water Survival Box, Disaster Aid, Life straw etc)
---
VANUATU FINAL UPDATE

News from Vanuatu is that in most areas the water supply has been reinstated and the need for purification kits has reduced considerably with only some of the smaller Islands having to use filter systems.

ShelterBox has advised that whilst they are not shipping Shelter Boxes from the UK, they have sent a shipment of blankets, solar lamps, mosquito nets and midi tents to their teams and partners on the Islands.

Because there is a restriction on the use of chlorine tablets on the Islands Aquabox has a consignment of their community filters on standby and are just awaiting instructions to fly these out.

Rotary New Zealand World Community Service is still working in the area and will do so for months to come.

The RIBI International Committee would like to thank all Clubs and Districts who have responded so quickly to help the people of Vanuatu and for future updates we would ask you to refer to the websites of the Rotary Box Schemes and RNZWCS.

2nd April 2015

---
Rotary New Zealand World Community Service (RNWCS) is working hard to deliver both short and long term help to the islands. Their objectives state: "When our Pacific neighbours require immediate assistance following a cyclone, tsunami or earthquake, we distribute Emergency Response Kits. Once the initial response has passed, we help local people rebuild their lives. This might involve repairing homes, schools and hospitals, restoring water supplies and sanitation, and so on."
They would therefore welcome donations to help with the immediate need but more importantly the rebuilding of communities over the coming months. This can be sent as follows:
To Westpac Banking Corporation Wellington
IBAN 03 1702 ACCOUNT NO. 0192208 01 Swift Code WPACNZ2W
Account Name RNZWCS Limited (Rotary New Zealand);
Or Cheques to:
RNZWCS Limited (Rotary New Zealand)
PO Box 20309
CHRISTCHURCH 8543, NEW ZEALAND
Visit their website: www.rnzwcs.org
Email: stuart.batty@rnzwcs.org
We would like to thank Clubs who have been so quick responding to this disaster and hope this information will help you to decide where to send your money. The RIBI International Committee 25th March 2015
---
Cyclone PAM causes devastation in VANUATU
Rotary now in action but needs your support.
Within days of Cyclone PAM hitting the archipelago of Vanuatu the Rotary Box Schemes have gone into action to help deliver shelter, water filters and humanitarian aid to the islands.
News today (Tuesday) is that only military flights are allowed in at the moment with all commercial flights on hold.
Box Scheme updates.
SHELTERBOX
Working with the New Zealand and Australian Air force they have 1000 kits ready for dispatch and teams are ready to be deployed. Communication is improving and once a clearer picture is available more kits will be sent either by air or sea freight from Malaysia where they are holding stocks.
AQUABOX
Working with World Vision, 300 Aqua Gold's and 20 Community Filters are ready for dispatch from the Cromford depot to go by air once commercial flights are cleared for landing. Aquabox Australia is working with the military to get boxes in from Australia and if they request assistance from Aquabox UK this will be given.
DISASTER AID UK AND IRELAND
All their Sawyer Water Filters are being made available for dispatch and more will be ordered from their supplier as funds become available. During the coming weeks they will be reviewing the longer term needs of the communities.
Disaster Aid International based in Australia is already in contact with the Islands and will be sending aid direct.
WATER SURVIVAL BOX
Contact has been made with Humanity First, an aid agency they have worked with in other parts of the world and once a clear picture is available they will be arranging for both types of boxes to be made available for immediate dispatch.
ROTARY IN THE AREA
Rotary in the surrounding countries are being contacted and more information is expected shortly.
One known fundraiser highlighted by PDG Roger Heath, is Lindsay Ford, District Governor 2012-2013, District 9910 Vanuatu Projects/Partnerships Chair from Rotary Club of Norfolk Island via
Here
– The International Committee would highlight however the costs involved in international money transfers.
PLEASE SUPPORT THESE BOX SCHEMES WHO ARE WORKING WITH THEIR TEAMS AND AGENTS TO BRING HELP TO THE PEOPLE OF VANUATU.
A further update will be issued when more information is available.
If your Club or District have contact with Rotary in the region please let the RIBI International Committee know of their activities.
Contacts:
Gordon McGlone
Mike Parry
This statement is issued by the RIBI International Committee - 17th March 2015