Marlow RC's Newsletter and other latest news on how money raised has been spent and how we can all continue to help in the crisis that is sweeping west Africa
Beating Ebola
How the funds you help raise are being used

A Rotary Global Grant has been approved for the Rotary Clubs of Monrovia and Marlow in partnership with others for sustainable projects in both medical and social arenas to address the long-term effects of the Ebola Crisis. See latest news in December 2015 Newsletter

The good news is that the rate of Ebola reinfection has slowed significantly in Liberia giving hope that the outbreak is now being contained. This is due in no small measure to the vigorous support the Rotary Club of Monrovia and their Rotaractors have given to the education and prevention programme. They are deeply grateful for the support shown by clubs and Rotarians throughout the UK and further afield. Just before Christmas the Marlow fund had reached almost £80K, with more promised. Money and goods in kind are sent as the need arises, but it is now possible to more actively consider projects for the longer term future of the country. The already fragile infrastructure has been further weakened due to the disease, with trade seriously down through travel restrictions. Key people have died and there are many orphans.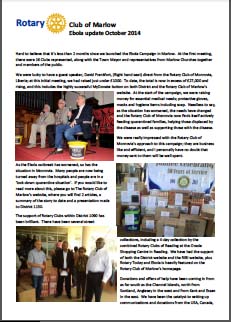 The Rotary Club of Morovia and its networks have proved excellent partners, getting help to where it is most needed quickly and at very low cost. Read Brian Jonson's latest Newsletters for further information on how long term sustainable help could be achieved. Every penny you send will be very well used as overheads are minimal.
Download the July Newsletter here
Download Marlow's December Newsletter

Download Marlow's November Newsletter
Download Marlow's October Newsletter
Find the Rotary Club of Monrovia on Facebook
This crisis is huge and the economic future of all countries affected is seriously at risk. The Rotarians in Liberia are informed and efficient at responding to needs of their communities. They are working tirelessly to address the situation as it develops. The possibility of a Global Grant to repair the shattered infrastructure is being vigorously pursued.
Please continue to support these efforts in whatever way you can. Your generosity is greatly appreciated.

Donate here