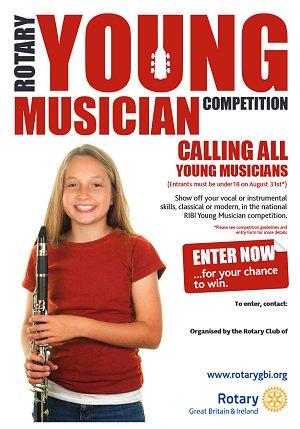 Young Musician Competition 2016-17
Calling all young musicians.
Music is an international language and Great Britain and Ireland is home to some of the most talented young instrumentalists and vocalists in the world. The RIBI Young Musician competition encourages this talent by providing an opportunity for the thousands of young people who enter each year, to demonstrate their musical skills.
The competition is a celebration of the talent of young musicians who have progressed through local club competitions, district competitions and regional finals to reach the national final. There they compete to take home the prestigious title of RIBI Young Musician.
The organisers of the YMOY competition in D1020 is the Rotary Club of Currie Balerno.

Please note that the YMOY contact person within the Currie Balerno Club will be John Wilson whose contact details are as follows:-

E-mail – jib4wilson@gmail.com
Telephone – 0131- 449 - 4383
Information
View or Download Young Musician of The Year - District Entry form
here
An information pack for 2016 - 2017 can be found
here
.
Area Finals
The
City & East Area
organiser is Alan Young Rotary Club of Currie Balerno.
email: jaamy@blueyonder.co.uk Tel: 0131-538 1771
The City & East Area Area Final will be held at Heriot Watt University on
Wednesday 15th February 2017
.
The
Central & West Area
organiser is John Gray, Rotary Club of Coatbridge, Airdrie and Monklands
email: johnmgray@castlewynd.fsnet.co.uk Tel: 01698-853277
The Central & West Area Area Final is in Aidrie Town Hall
on Thursday 16th February 2017
The
South West Area
organisers are Joyce Wylie & Jamie Brand of the Rotary Club of Annan.
email: jbrand759@ea.dumgal.sch.uk Tel: 01461-202954 and Joyce Wylie email: joycewylie2@hotmail.co.uk
The South West Final
TBC
The
Borders Area
organisers are Edith Scott and Paul Tomlinson of the Rotary club of Selkirk contact:
edithscott51@yahoo.co.uk (tel:07718786841) or pptjet@hotmail.com (tel: 07815137411 )
The Borders Area Final is
17th February 2017
in the music room of Selkirk High School, 6.30pm for 7pm
Clubs who intend to participate should intimate that intention to their area organiser at the earliest opportunity.
District Final
The District Final will be held on
Sunday 12th March 2017
at James Watt Centre, Heriot Watt University, Edinburgh.
Regional Final
The Scotland and North of England Regional Final wil be held on
Saturday 1st April 2017
in the James Watt Centre, Heriot Watt University, Edinburgh.
National Grand Final
The National Grand Final Will take place on
Saturday 6th May 2017
at The Welsh College of Music, Cardiff.
2016 competition
On Saturday 30th April 2016 the RIBI Young Musician Final took place at Abraham Darby Academy hosted by Rotary District 1210.
The winning instrumentalist was violinist Xander Croft, sponsored by the Rotary Club of The City of St Asaph and the winning vocalist was Iasbel Irvine sponsored by the Rotary Clubs of Lodden Vale and Reading Maiden. District 1020 had considerable success, with vocalist Marcus Swietlicki Sponsored by the Rotary Club of Penicuik and Pianist Anna Michels sponsored by the Rotary Club of Falkirk, coming third in their respective categories.
Anyone who knows of any talented young musicians in their schools, youth clubs or local communities, should contact their local Rotary club for further details.
Clubs and districts which are organising competitions can visit the RIBI Youth Service Committee web pages for more information, guidance and marketing materials (which may require modification for our district 1020 competitions).