Challenge Enterprise 2017
Challenge Enterprise is a weekend programme organised by Rotary District 1020 and is designed for 16-18 year olds in S5 and S6 of secondary education who have the ability and desire to become the next generation of business leaders. Candidates for Challenge Enterprise require the formal backing of their school/college and are subject to a selection interview by their sponsoring Rotary Club.
What is the Objective of our weekend?
To expose, explore, and spur imagination on the whole subject of business and private enterprise.

In providing the young people with a broad view of professional, business and management careers, the program presents business and management as challenging positions offering enormous personal satisfaction while allowing them to exercise maximum creativity and sets challenges which will help develop their confidence and business knowledge.

Challenge Enterprise 2017 will commence at 11am on Friday 3rd November and end following lunch on Sunday 5th November, and will be held at Carronvale House, Larbert.

The weekend will consist of a mixture of the following:
short lectures/talks from leading figures from many areas of the business world
group challenges relevant to the business world, most stemming from the lectures/talks
business simulation challenges
debates
preparation and delivery of group presentations by the delegates on a business theme
plenty of opportunities to socialise!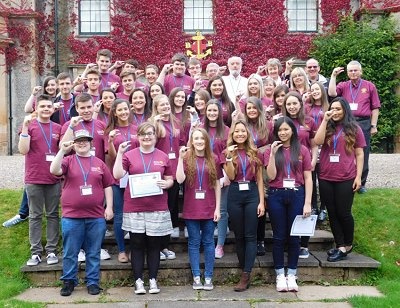 Challenge Enterprise 2017 is limited to 50 delegates. Places will be allocated on a first come first served basis on receipt of the form below requesting one or more places, along with a deposit of £50.00 for each place requested.

All accommodation, meals and materials are included in the cost of £160.00 per delegate - all you have to do is select and fund one or more suitable candidates and get them to and from the Challenge Enterprise weekend, and we will do the rest!

Downloads

View or download Information for Clubs here
View or download information for Schools here

View or download Candidate Form here
View or download the Student Guidelines here
View or download the Challenge Enterprise Leaflet here
Contact James Bruce about this page: