Information from the District Public Image Committee
The District Public Image committee works closely with RI Public Image Co-ordinators and the RIBI Public Image committe in order to co-ordinate the implementation of RI and RIBI strategies and to provide resources, guidance and support to clubs in our District.
During this Rotary year the Public Image committe along with Membership will be working and developing joint programmes and events for clubs in our district.
After many years of absence the Public Image committee has now re-established District 1020 presence on Facebook and introduced for the first time new accounts on Twitter, Youtube, LinkedIn, & Pinterest
Public Image committee are responsible for the publication of the new outward facing District newspaper "Rotary News" published bi-monthly and supported by a "Rotary News" website, facebook page and twitter account and also available online as an electronic copy.
It's YOUR Rotary and District, Public Image and RIBI need YOUR HELP to keep everyone informed and up to date with what's happening in our District.
Our Website, Newspaper and Social Media pages and channels can only be a success and of interest with YOUR help so please make sure you send us all your Pictures, Videos, Stories and Articles

Any club interested in a visit from members of the Public Image committee team should contact the following:
Public Image Chairman / PR : Peter Croan | email: peter.croan@gmail.com | Tel: 01896 754257
District Editor : Peter Croan | email: editor@rotary1020.org Tel:01896 754257
Webmaster : Callan Dick | email: rotary@callandick.com | Tel: 01698 881528
Social Media : Jenny Glover | email: lilyrowan@gmail.com | Tel: 07961 446 904

USEFUL LINKS
District 1020 Website here District 1020 Facebook here District 1020 Twitter here
District 1020 Youtube here District 1020 LinkedIn here District 1020 Pinterest here
Social Media Guidance on Facebook here
Social Media Guidance Rotarian Paul Wilson here
RIBI latest news here RI latest news here
Rotary promotional items, Pull-ups, Banners, Flags and Large Promotional Product etc
Available to purchase via the RotaryGBI Shop / online catalogue or direct from Rotary's preferred supplier "RotaStore" are a range of Rotary promotional items to help District and Clubs raise awareness of Rotary and promote the Rotary name, brand and image.
If your looking for items to promote Rotary at an upcoming Event?
Want to stand out from the crowd?
Look no further than "RotaStore", Rotary's preferred supplier and independent non-profit making web store run by Rotarians for Rotarians who are here to help. There is a huge variety of items available in every price range from customizable Pull-ups, Banners, Pop-up Kiosks, Mark of Excellence, Gazebos, Trailers and much more, all designed to make a lasting impact at any event.
Please click here to view all items available for purchase (the store will open in a new window) .
Rotary District 1020 Keyring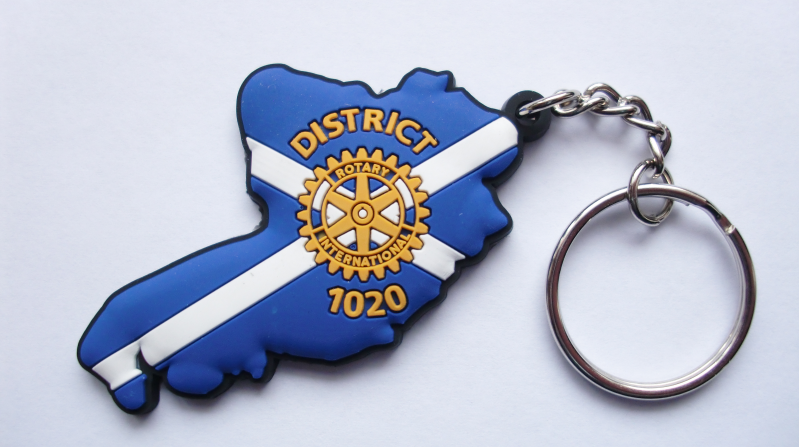 For full details contact
Public Image Chairman Peter Croan
email: peter.croan@gmail.com | tel: 01896 754257
OR
Zone 17 Asst Rotary Public Image Coordinator
Archie M Ralston
email: archie@rotastore.co.uk | tel: 01555 770709