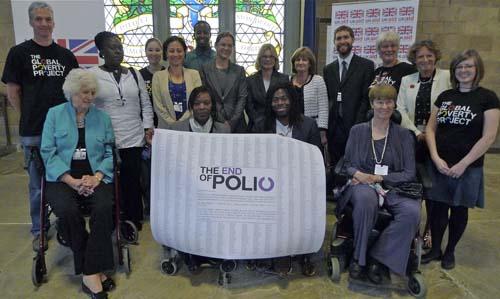 Former Paralympic GB athletes Ade Adepitan and Anne Wafula-Strike met with the new Secretary of State for International Development Justine Greening to show support for ending polio.
1090 District Governor Judith Diment joined the two paralympians, who have both been affected by polio, other survivors and charity campaigners from across the UK to hand over a petition in support of the End of Polio campaign.

International Development Secretary, Justine Greening, said:
"We have all been inspired by Paralympics GB this summer and it is great how they have teamed up with Global Poverty Project and Rotary International to lend their support to such a worthy cause.
"Parents in this country no longer have to worry that their children will contract polio, which was eradicated in Britain many years ago. We are now on the verge of eradicating it across the world. Thanks to the UK's doubling of support, we helped to vaccinate 45 million children and halve the number of polio cases recorded last year.
"It is vitally important other donors join us to support these global efforts and protect those who are still vulnerable."
Download full press release here