The parachute is very important for the saving
Sir Nicholas Winton celebrates his 103rd birthday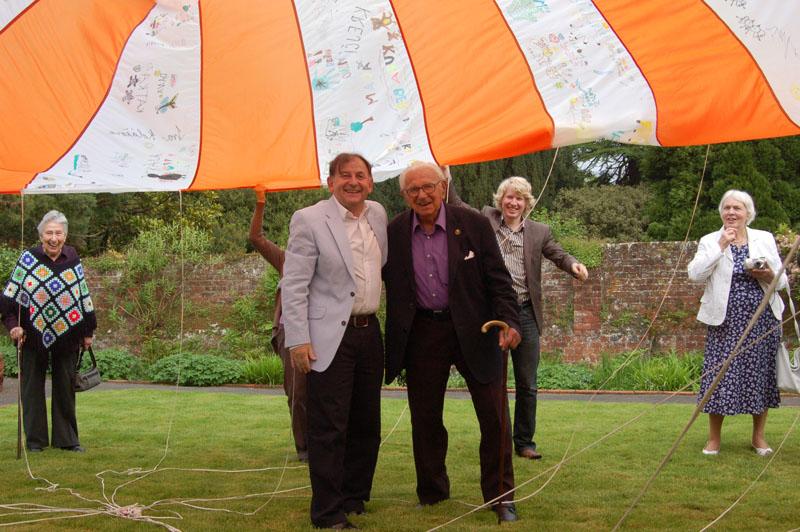 Nicky Winton's 103rd Birthday
On the afternoon of Saturday 19 May around 70 people dropped in on Nicky Winton to wish him well on his 103rd birthday. This included six of the 669 children that he rescued from Prague in 1939, as well as his own family.
Birthday good wishes were conveyed from District Assembly, which took place the same morning.
The Czech Ambassador, Michael Zantovsky brought a delicious two layer chocolate, marzipan and cream cake, and there was a parachute signed by all the children and staff at the Basic School of Sir Nicholas Winton, which is at Kunzak in the Czech Republic.
The Kunzak children sent the following letter with the parachute:
Dear Sir Nicholas Winton
We send you many greetings from Kunzak. We wish Happy Birthday to you. We wish you lots of health, verve and luck
We send you a present for your birthday. We are sending a parachute. We know you were a pilot and so you know the parachute is very important for the saving. You saved many children too. Our parachute is a symbol of saving. There are signatures of all children and adults of our school on this parachute. Children wrote their names and drawen some pictures too. When we were doing it we thought of you. There was a fantastic atmosphere. We are sending photos of this doing.
When you will celebrate your birthday, on 18th May we will run relay race 103 meters around our your school. All children will run. All teachers will run too. We hope we will all be winners.
Miss Ruth Halova will visit our school and she and her dogs will run with us too. She was at our school in March. We love her, she is famous woman. She told us about you.
We will take the photos of this day and we will send you them.
We remember your visit in our school in 2008 and our last meeting in Prague in January in 2011, we hope we will meet again.
Note: Nicky arranged the transport from Prague of Ruth Halova aged 13, together with her sister in July 1939. She has said of Nicky:
'He's the bravest, brightest, kindest, wisest, and at the same time the most modest man of our times'
Ruth Halova visits the children at Kunzak school every year on Nicky's birthday.
The spelling in the letter is as created by Kunzak school.
Kurt Stern an Israeli "child" came from Israel with his children!
Plus Vera Gissing, Ute Klein, Milena Grenfell-Baines, John Fieldsend, Susanne Medas.
Also there were Tania Schnabl (wife of deceased child), and Anita Grosz (daughter of a child).
In the photo, Nicky is under the parachute with the Czech Ambassador, Michael Zantovsky, with his grandson Laurence grinning behind, and the lady in the poncho is Susanna Medas, one of the rescued children.
Mike Holness, Rotary Club of Maidenhead