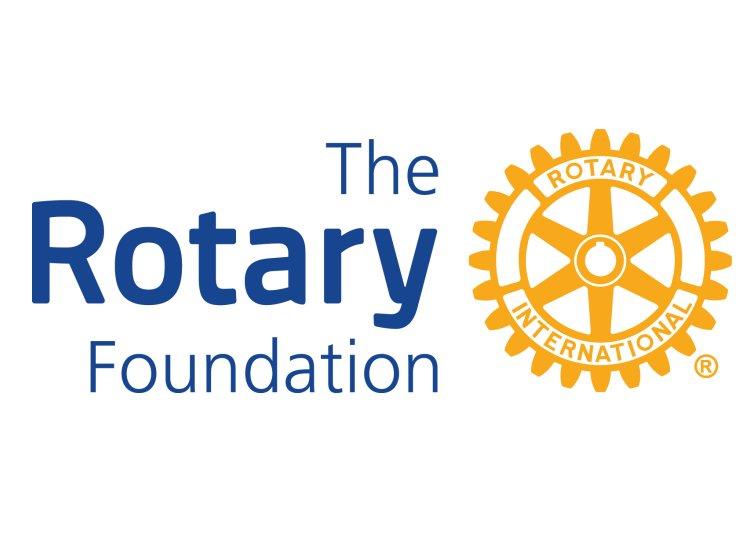 Information from our Charity, The Rotary Foundation
Our Mission...
is to enable Rotarians to advance world understanding, goodwill and peace through the improvement of health, the support of education and the alleviation of poverty.

Or to put it more simply,
to do good in the world
.
As Rotarians, what can we do to help our Rotary Foundation?
By contributing towards the final eradication of polio. The Bill and Melinda Gates Foundation offers each and every club an incentive to make donations to put the final nail into the polio coffin and fulfil our promise to the children and the mothers of the world. If each club pledges to donate £600 over the next two years we will meet the Gates Challenge and help raise over half a billion dollars!. Your club has donated how much?
By getting involved in the Foundation's programmes in order to alleviate poverty, improve health and support education. Actively seek and obtain Humanitarian Grants; seek out those remarkable people in our communities who believe in our dream of a peaceful world and find our first District 1020 Rotary WorldPeace Fellow.
By contributing to our Foundation, Every Rotarian Every Year - $100 or £67; about £6 per month, by direct debit. This is the best way to show you care and show your love for our fellow human beings. For a few pence each week, we can make a huge difference in the world. We can provide clean water, feed the hungry and provide books and medicine for those in need. If you love Rotary, it is obvious and natural to love its Foundation and more importantly love the work we do. To take the next step sign up to become a Sustaining Member of The Rotary Foundation .
Foundation Update
As I write my final newsletter of my term of office as District Rotary Foundation Committee Chair, I thought a resume of our achievements would be appropriate, together with some news.
Polio
In 1988 when 300 children per day were being paralysed by polio, including here in Europe, Rotary promised to rid the world of this dreadful disease. There have been setbacks along the way but over the nearly 30 years we've progressed to nearly completing the job. Just 6 children have contracted the wild polio virus in the six months to 30 June 2017. A fantastic achievement. World Health Organisation requires a period of 3 years with no cases to declare eradication. Rotary is ready with its 'Countdown to History' plan to monitor, inoculate and ultimately celebrate.
Global Grants

Several clubs are involved with larger projects, with a budget of at least $US 30,000 supported by the Rotary Foundation. Braids is working on encouraging school land to be used for growing food in Tanzania; Castle Douglas is introducing special diabetes machines to make it easier for children in Dumfries & Galloway to control their condition themselves; Edinburgh is busy constructing girls toilets at schools in India to encourage better attendance. Currie Balerno is well under way training midwives and supporting fistula repair surgery in Malawi while Whitburn has a project to provide clean water from wells in Sri Lanka. These are just some of the clubs currently undertaking projects.
District Grants
These are available again in the new Rotary year with the application form on the district website and a closing date of 31 July 2017. Please note the new rules designed to spread funding more fairly throughout the district.
Donations to Rotary Foundation
Many clubs make their contributions in the closing days of the year – so we won't have a final figure for the year until well into July. However our clubs are generous – we are now amongst the most generous districts in RIBI – this compares very favourably with the late 90s when I was previously the DRFC – in those days our donations were at the very bottom end of the league table in RIBI. How things have moved on. We also now have more major donors and Bequest Society members than any other district in RIBI outside London. And we'll overtake them soon!
Duke of Edinburgh's Award & Peace
Our flagship Rotary Foundation Centenary project took a while to get off the ground, but with careful planning by Allan Maclaughlan and grant funding from TRF, we supported many disadvantaged youngsters in our district learn peace advocacy skills and make a start on achieving a Duke of Edinburgh's Bronze Award. And who can forget the Centenary Birthday Cake at Harrogate – raising about £250!
Purple for Polio
We've been busy this year planting thousands of purple crocus corms to brighten the communities and raise awareness, selling purple crocus buttonholes, jam and now even a rather delicious blueberry polio ice cream.
Scholars
As always 1020 has played host to several Global Scholars during the year, and at conference. Occasionally I'm asked why they are called global scholars. Easy! Their scholarship is funded by a global grant.
GSE
PDG Andy has just returned from a highly successful GSE to Ohio where our team of 3 spent time learning about their vocations and being involved in cultural activities.
I would like to thank my committee – Jean Best, Ian Geddes, Ken Logan, Allan Ross, Calum Thomson – for all their work during the year and to the 29 clubs who invited me to speak to them during my term. Kate Keter takes over from me as DRFC on 1 July and I wish her well for the next 3 years.
Best wishes, Alasdair Seale
Essential Forms
District Grants Form 2017-18 - Download the form here
District Grants Application and Process - Download here

Gift Aid Form - for sustaining members. See the leaflet here and the form here

/upimages/distreps/1020/447//january Foundation Ne Club Memorandum of Understanding - Clubs should fill in the and send to Kate Keter. View here
Form 4 - Use this form when making a club donation to Foundation. The second page allows you to gift aid for all members.View here
Paul Harris Fellow - Use this form if you are making and application for a Paul Harris Fellow.
Useful links