Technology Tournament
RI DISTRICT 1040 TECHNOLOGY TOURNAMENT

District 1040 Technology Team Chairman
Bob Tunnicliffe - Bob.tunnicliffe@btinternet.com

Document downloads at the bottom of the page
ONE DAY EVENT –
NO PRE-PREPARATION REQUIRED BY TEACHING STAFF
Teams of Four, each school may enter a team of four students into each of the three age categories of:

Foundation: TEAM OF 4 12-14 YEARS KEY STAGE 3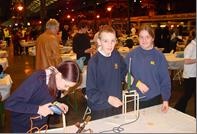 Intermediate: TEAM OF 4 14-16 YEARS KEY STAGE 4


Advanced: TEAM OF 4 16 YEARS + KEY STAGE 5
The object of the tournament is to give students an unseen Design and Technology problem to be completed in a fixed time. The task also conforms to the national curriculum. The problem-solving environment enables students to develop their team building and communication skills. Also the technology tournament is eligible for the Engineering Crest award
The aims and objectives of the TT are:
To develop students` interest in design, construction and technology.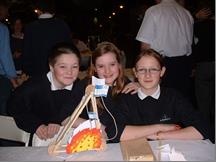 •
To encourage students to develop their team working skills whilst finding and building a solution to a previously unseen task.

•
To encourage groups of neighbouring Rotary clubs to work together within and across districts.
Document downloads
Technology Trifold Flyer .pdf
Planning your first technology tournament .pdf
Technology Tournament Poster .pdf
Crest Awards .pdf

TECHNOLOGY TOURNAMENTS 2016 District 1040

TT's D1040 Groups Date Contact
North
15th Constance Green Hall Harrogate 2nd February 2016 David Russell
9th Catterick Leisure Centre 1st March 2016 John Morton

Southwest
13th Shay Stadium, Halifax 8th March 2016 Ali McGregor
3rd Kirklees College Huddersfield 10th March 2016 David Perkins

East
12th Railway Museum York 15th March 2016 Russ Rollings
8th Whitby Spa Pavilion 3rd March 2016 Fred Payne
7th Scarborough Rugby Club 1st March 2016 Roger Kaye

Dales
11th Gargrave Village Hall 8th March 2016 Arnie Read

Leeds
10th South Leeds Stadium 1st March 2016 Cliff Beddows

Bradford
Uncertain to run in 2016 Leslie Gore

Joint 7
10th Featherstone Rovers FC 1st March 2016 Nick Castle

Inner Nine
10th Frontier Club Batley 1st March 2016 Mike Gill