About Rotary - Service News 2019
Welcome to RotaryGBI Service News. This is the May 2019 edition of Service News, which collates links through to the monthly newsletters provided by the individual national Rotary GBI Service Teams.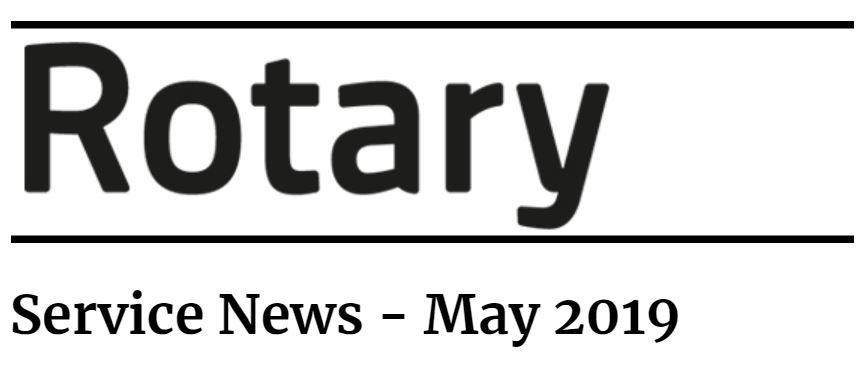 Welcome to RotaryGBI Service News, bringing you the latest updates from the national Rotary in Great Britain and Ireland Service Teams.

This communication will be sent to all members each month, and will contain links through to individual monthly service team newsletters, which are sent to relevant district officers.

This will allow you to access key information across a range of areas in one place. Please note not every service team will necessarily provide a newsletter each month.
Foundation Team

Items include:
Message from Team Leader, Mike Parry as we close in on the end of this Rotary year
Polio update - International PolioPlus Committee Chair Mike McGovern gives us the latest global position
Check out a new fundraiser for End Polio Now created by a group of friends at the Rotary Support Centre.
Home Team

Items include:
It isn't too late to register for the National Rotary KidsOut Day on 12th June
Winners announced for the national Young Photographer and Young Writer competitions
Environmental news including 5 key points to make up the Club Environmental Sustainability Policy
Public Image Team

Items include:
Contactless payments: the fast easy and secure way to collect donations
Check out the winner of the 2018/19 Public Image Award - Kilkenny Rotary's School Bikes Africa project
When was the last time you gave your visual displays a refresh?
Register for an upcoming webinar on Telling the Rotary Story
RIBI Team vacancies 2019/20
We have three opportunities available to join the the RIBI Team 2019/20 and are seeking applications. The positions are:
Humanitarian Service Team Co-Leader (one position)
Rotaract Co-Leader (two positions)
The deadline for applications is Midnight, Friday 31st May 2019.

Further information on the two roles, including role profiles and application forms can be found on the Rotary GBI website.

Applications must be submitted by the above deadline to governance@rotarygbi.org.

Best of luck and we look forward to your applications.