See what fun was had in Bournemouth!
Conference 2012, Bournemouth, 16-18 March
Congratulations to DG Niall and his Conference team for arranging 'one of the best conferences ever' in Bournemouth.
This conference had everything, interest, inovation and inspiration - just the right mix of celebrating District achievements and inspiration for future activities. Inspirational speeches covered subjects such as Lifeboats, Helen and Douglas House, Goodwill & Growth for Africa, PEACH and The Clare Foundation. Rotaractors, Ambassadorial Scholars, the Argentinean GSE team and Interact members joined in the proceedings. On a lighter note, Michael Portillo closed the Saturday morning session with an entertaining talk, and Dr Geoff Mackey brought the house down with his outrageous anecdotes, pictures and videos on Sunday.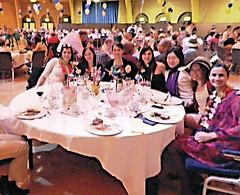 The hugely talented Ambassadorial scholars gave some great presentations at the Saturday afternoon Foundation Rally. See the photostream here
The Saturday evening Beach Party saw some colourful outfits as delegates marvelled at the entertainment and danced the night away to Todd Miller and the Joe Loss Orchestra.
For those who couldn't make it this year, do read the illustrated report from Princes Risborough and make sure you don't miss out on the fun next year! Download here
Sincere thanks to David Cotton (Friday afternoon and Saturday morning) and Brian Jonson (Saturday lunch, Beach Party and Sunday) for the excellent photos in the picture gallery