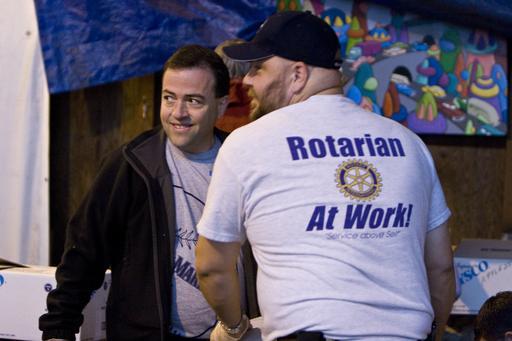 Welcome to D1180 Foundation Web pages. We trust you find them informative and stimulating
WELCOME to D1180 Foundation web pages. We trust you find them informative and

stimulating.
ToClichcCCcccccccccccC
Click here to view the Club Memorandum of Understanding (MOU)
Click here to read or download the Grant Management Manual
"It is said that every minute of every day Rotary will touch the lives of millions somewhere in the world"
For the most part the truth of that statement is attributable to the Humanitarian work that Clubs and Districts carry out around the world, often using grants from The Rotary Foundation (Rotary's own charity). There are 4 words in Foundation's Mission Statement which sum up the core purpose of our charity: 'World Understanding and Peace'; we seek to achieve this through our local, national and international projects. When one group of people reaches out to help another group, we help to build friendships and understanding between nations.
It is a hard truth that, unless we pay into Foundation's Annual Programmes Fund there can be no Grants for our Humanitarian, or funds for our Educational work.
Watch a brief Video to say "thanks for all you do!"
Contribute
Click here to read or download a RFUK Contribution Form

What is your vision for a better world?
The Rotary Foundation enables Rotarians to advance world understanding, goodwill, and peace through the improvement of health, the support of education, and the alleviation of poverty.
Contribute to the Annual Fund
Support Foundation grants and activities worldwide. Eligible for Paul Harris Fellow recognition. Make a one-time gift or enroll in recurring giving.
Your support of the Annual Fund is the key to serving communities worldwide in Rotary's areas of focus, which are peace and conflict prevention/resolution, disease prevention and treatment, water and sanitation, maternal and child health, basic education and literacy, and economic and community development. You can direct your Annual Fund contributions give to one of the areas of focus funds, the World Fund or SHARE, and all contributions are spent wisely on quality Rotary projects.
End Polio Now.
Be a part of history and help Rotary achieve a polio-free world. Eligible for Paul Harris Fellow recognition. Make a one-time gift or enroll in recurring giving.
Learn more
Rotary and its partners are on the brink of eradicating polio, but a strong push is needed now to end this tenacious disease once and for all. Your contributions support immunization campaigns in developing countries where polio continues to infect and paralyze children, robbing them of their futures and compounding the hardships faced by their families. As long as polio threatens even one child anywhere in the world, children everywhere remain at risk. By donating now, you can help Rotary achieve a polio-free world.
Contribute Permanent Fund
Help secure the Foundation of tomorrow. The fund also supports the Rotary Peace Centers. Eligible for Benefactor recognition. Make a one-time gift or enroll in recurring giving.
Learn more
The Permanent Fund is the Foundation's endowment, with gifts held in perpetuity. Spendable earnings from this fund help ensure a strong future for the Foundation by supplementing the Annual Programs Fund and supporting Rotary's highest priorities. Your contributions to the Permanent Fund secure the Foundation's future and enable Rotarians and friends to fulfill their philanthropic goals.

Contribute to Disaster Recovery Funds
Support Rotarys long-term recovery efforts in areas affected by recent disasters.
Your gift to the Foundation's disaster relief and recovery funds will support Rotarian efforts to help those affected by recent events.
Rotarians can make cash contributions to specific projects approved by the Foundation. Your donation, which must be directed to an approved grant number, will be directly applied to the grant and further Rotary's humanitarian work around the world. Further information can be obtained from the District Foundation Grants Committee.