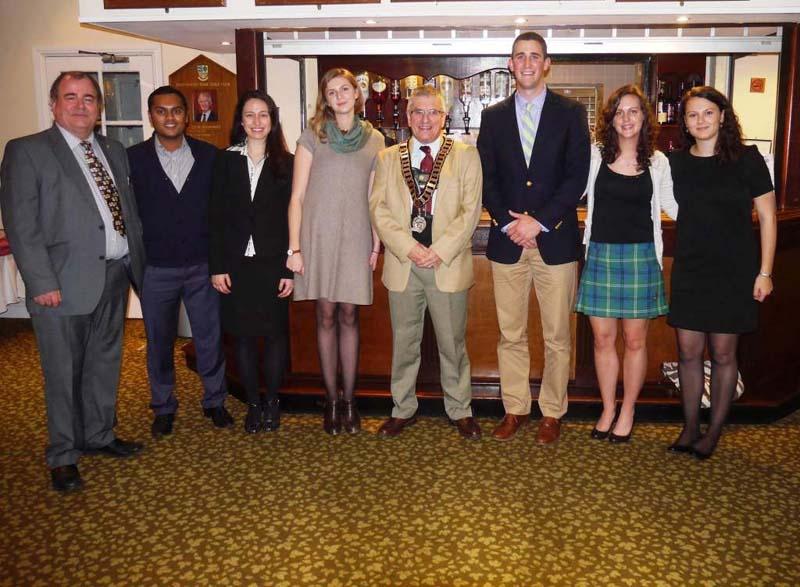 Scholar profiles and speaker booking details
A very warm welcome to our Rotary Scholars for this academic year!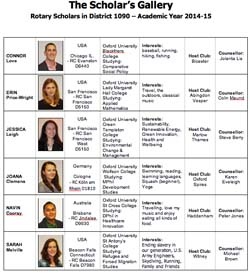 Sadly, this year we have a much reduced number of scholars studying within our District, but if quantity is disappointing, quality definitely is not! These bright young people, all of whom are studying at Oxford University, have a wide range of study interests and will be much in demand! So do book early to ensure a speaker visit at your club.

Details of their profiles may be downloaded here
On Monday October 20th, the annual 'Meet the Scholars' dinner was held at the Badgemore Golf Club organised by the District Scholar's Committee headed by Rotarian David Barnett and with the presence of District Governor Tim Cowling and some 160 District Rotarians.
Our Scholars Erin Price-Wright from San Francisco, USA - Navin Cooray from Brisbane, Australia - Sarah Melville from Connecticut, USA - Connor Love from Chicago, USA - Jessica Leigh from San Francisco, USA - and Joana Clemens from Cologne, Germany all introduced themselves with a short talk about their studies at Oxford University and their future career intentions. All together, a great time was had by all. See Tom Scharff's photos on Flickr
The Scholars are keen to speak to Clubs at their meetings although visits to those with Breakfast and Lunch-Time meetings may be difficult to fit in with the Scholar's academic schedule.
For such visits, they would be brought to the meeting by their Counsellor or his or her representative. These visiting Rotarians should also be treated as a special guest and without charge for any meal costs.
Bookings for the visits are exclusively organised by Ann Barnett who should be contacted at ann.barnett@mac.com and will reply with arrangements after obtaining the agreement of the Scholar.
Arrangement for such visits by contacting the Scholars is absolutely not permitted.

We shall add to the web-site more photos and stories of their activities through the year. Any District Rotarians with pictures and or reports should send them to tom.scharff@hotmail.com for publication as appropriate.
Contact Tom Scharff about this page: