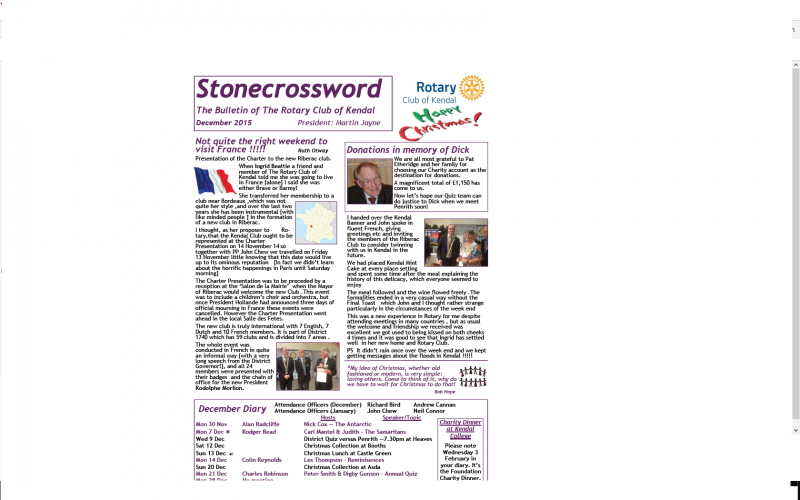 Annual Club Bulletin Competition
Club Bulletin Competition
The winners 2016-2017 are Padiham.
Previous winners of the District Club Bulletin Competition are Kendal (2015-2016), Fleetwood (2014-2015), Kendal (2013-2014), Ulverston (2012-2013) and Furness (2011-2012).
Bulletins come in all shapes and sizes from single A4 sheets without colour to multi-page, full colour jobs, some published weekly, fortnightly or monthly and others on a quarterly basis.
All are eligible to enter, and have an equal chance of winning the District 1190 Club Bulletin Competition, with the trophy being presented at the District Conference in Blackpool.
The most important element on which the winner is selected is content and a little bit of humour will not be out of place.


Judges will be looking for some or all of these elements:
Stimulating member interest in Rotary

Communicating club information, particularly to members who are absent

Good use of photos and images

Information from committees

Providing all members with information about RI and RIBI

Encouraging increased participation by members

Serving as a chronicle and archive of the life of the club
Entry details
If your club produces a bulletin please register your entry (Email: District1190PI@mail.com) with Herbert Chatters, Chairman of the District Public Committee by 1st December 2017.
Send 2 copies (only 1 copy is necessary if you are sending an electronic version) each of 3 bulletins produced since 1st July 2017. Closing date 31 January 2018.