Champion of Change


Peter Croan (Galashiels Rotary Club) has been awarded one of the 12 RIBI
Champions of Change
awards for 2017-18. He was nominated by DG Lindsay for his work in securing medical units for Pakistan (10 former NHS Scotland breast screening trailers sent to Karachi in July/August 2016 and one trailer sent to Dhaka in Bangladesh in Summer 2017).
He received his award in Cardiff on 18 May.
Rotary Young Citizens

At this year's Rotary Young Citizen Awards, two of the awards went to young people nominated by clubs in our district. Joseph Cox was nominated by Leith Rotary Club for taking action to help rough sleepers, and Ryan Montgomery was nominated by Corstorphine Rotary Club for his initiative in setting up Cortorphine Emergency Response.

You can watch the awards below, and find out more about these remarkable young people by clicking "more".

More >
District Young Musician Final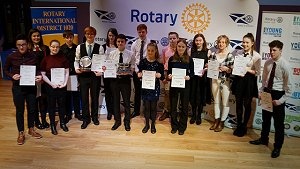 A great day of music making as the District Final of the 2018 Rotary Young Musician of the Year Competition was held at Heriot Watt University, showcasing the incredible musical talent we have in our District.
There were 15 young musicians sponsored by Rotary Clubs across the District from Lockerbie across to Selkirk and up the Edinburgh area.
Selkirk makes the news

A project in the Philippines spearheaded by Selkirk Rotary Club and supported by the Rotary Clubs of Hawick, Langholm, Kelso, Melrose and Galashiels,was recently featured on ITV news. You can watch the item below.

District hosts national Young Musician Final


This year D1020 has the privilege of hosting the final of the RIBI Young Musician of the Year competition. This is the climax of hundreds of competitions, starting with Clubs and going through Area, District and Regional finals to reach this stage.It highlights the amazing quality and variety of musical talent we have in this country.

Sammi Kinghorn named Scottish Sports Personality of the Year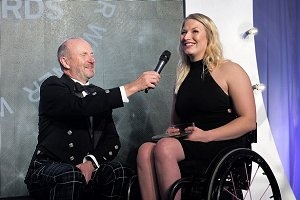 Wheelchair racer and Honorary Rotarian Sammi Kinghorn believes being the first para athlete to be crowned Scottish Sports Personality of the Year will change attitudes for ever.

The award tops a great year for Sammi in which she won two golds and broke a world record at the world championships.

Sammi, from Melrose and an Honorary Member of the Eclub of Southern Scotland, has switched to marathon racing so she can represent Scotland in the Commonwealth Games in Australia in 2018.

She said: "My 100m and 200m sprint events aren't included in the Commonwealth Games so I've decided to switch to the marathon. I'm determined to do my country proud."
She is certainly doing Scotland and Rotary proud.
Champions of Peace at United Nations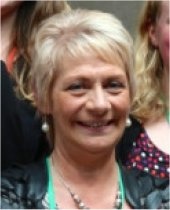 District 1020 Peace Officer Jean Best was one of only six Rotarians and Rotary Peace Fellows around the world to be honoured at this year's Rotary Day at the United Nations in Geneva.

Not only that, but one of the two Peace Fellows honoured, Kiran Sirah, was a member of our GSE team which went to Colombia in 2009. Subsequently he was suggested as a Peace Scholar and sponsored by the Rotary Club of Tranent.

For one District to be associated with two Champions of Peace in a single year is probably unique and our congratulations go to Jean and Kiran on this well-deserved recognition.

You can see both of them at the opening session on UN Web TV below (from 51 minutes), introduced by John Hewko, RI General Secretary.

More >
Purple4Polio crocuses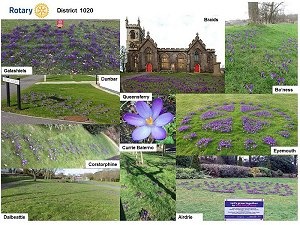 Clubs across D1020 have been planting crocuses as part of the Purple4Polio campain to raise awareness of the fight against polio.
You can see a slideshow of some of them in the Foundation section.
Could you be a Rotarian?
Is Rotary for you? Have a look at this and see. If you think it is, why not contact a local club?
About Rotary District 1020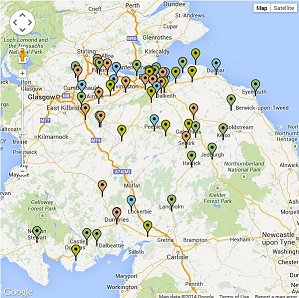 District 1020 covers the south of Scotland from coast to coast and from the Forth to the Borders.
We have around 1700 members in 59 Clubs
Click on the "Clubs" tab above to find out more about them, or find a Club near you by using this postcode search facility
Rotarians are supporting this website by advertising on it
Follow this link to see their advertisements