​History being made at Newquay Rotary Club​
​History being made at Newquay Rotary Club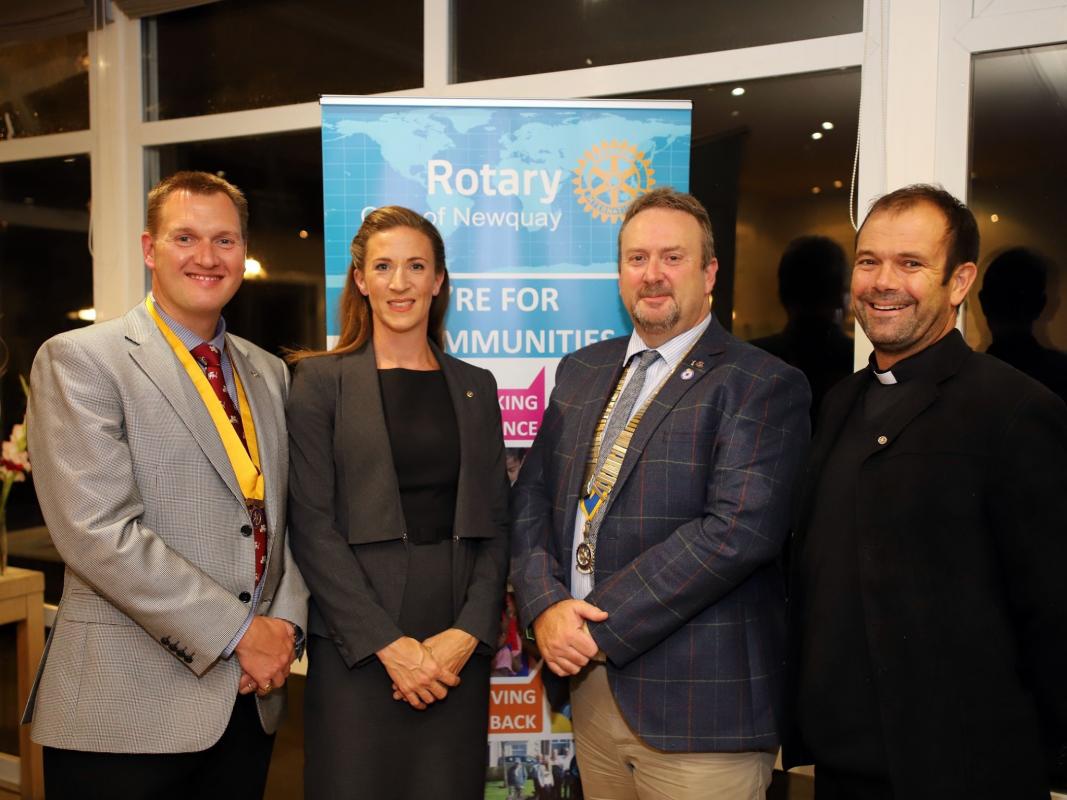 History being made at Newquay Rotary Club
On the evening of Tuesday the 1st of October 2019, the Rotary Club of Newquay met at the Lakeside Restaurant not for just a normal meeting but to celebrate the induction of a new member into Rotary International.
Following a meal the club, which was admitted onto the roll of Rotary International in 1947, embarked on inducting Mrs Ruth Osborne, a Specialist Neurological Physiotherapist, as a Rotarian.
As proposer, Past President Rev Chris McQuillan Wright introduced Ruth to the membership with warm words, describing that he saw the makings of a great Rotarian and commending her to the club.
President Chris Cox, assisted by Past Presidents John Jay and Dave Hobbs, carried out the ceremony and Ruth Osborne was duly elected into membership.
Making history as the first female member of the Rotary Club of Newquay, Rotarian Ruth Osborne gave a short response reflecting on her hopes to become a valued member and spoke of her passion for helping in her community which is why she was attracted to Rotary in the first instance.
President Chris Cox remarked " It is a privilege to induct a new member into Rotary and especially so as the President of the Rotary Club of Newquay. Clubs and Associations have to be more progressive and relevant in this day and age and I am especially pleased to welcome Ruth into the club, not because she is our first female member but because she is part of the future of this great organisation, our next generation of like-minded individuals that have come together under the motto of service above self. I have no doubt that Ruth will make a great Rotarian and be a credit to her family, her fellow members and our community. Her proposer Rev Chris did her a huge honour in proposing her to membership"
For more information about the Rotary Club of Newquay please visit our Facebook page newquayrotary or send an email to membership@newquayrotary.org.uk
Don't forget the Rotary Charity Ball on 30th November 2019 at the Atlantic Hotel, tickets are available at £ 36.00, full details on our Face book page with tickets available from charityball@newquayrotary.org.uk. Our charities for this year include St Francis Home for Animals and Cornwall Blood Bikes.
Photo – L to R: Senior Vice President David Mann, Rotarian Ruth Osborne, President Chris Cox and Past President Rev Chris McQuillan-Wright.