2012/13 What we did
Brief reprts on our activities
What we did in year July 2012 to June 2013
IT was hard hats off to Big Jim Leishman and the Magnificent 007s from Dunfermline Rotary Club on Sunday as they Bonded together to drop 165 feet from the Forth Bridge.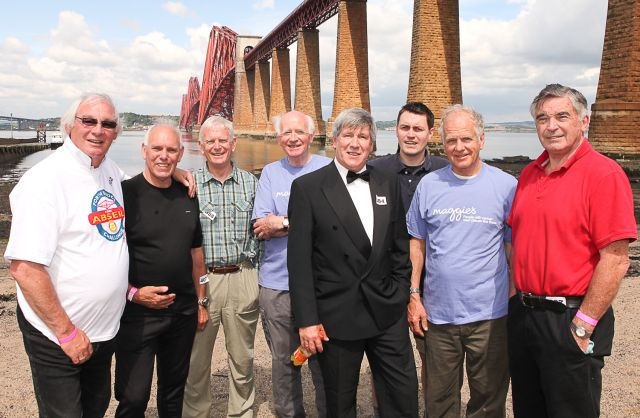 South Queensferry Rotary Clubs world-famouscharity abseil did not prove a bridge too far for the Pars legend and his Rotary companions who immediately began roping in sponsorship pledges for a range of good causes, including Jims own Mary Leishman Foundation and a range of Rotary charities, including the events core beneficiaries: Maggies and Alzheimer Scotland.

The seven-strong Rotary team aggregate age 439 years launched themselves off the approach viaduct of the iconic structure in true James Bond stylenone more so than maiden abseiler Tom Arnott, a fully-paid-up member of the Fear of Heights Club.

Rotary president Bill Runciman, himself an experienced abseiler and mountaineer, said, Tom was star of the day in his dinner jacket. His was a major personal achievement and one which Im sure will be prominent in the family archive. I think we all Bonded and I am so grateful to everyone for their participation. It was good fun. Well worth repeating!

As he came back to earth Tom reflected, My mind is still in the clouds. After considerable persuasion my hand released its vice-like grip on the railings and I was off, with the first part of the drop spend staring at the rope a few inches from my nose.

The sounds of cheers from below gave me the courage to complete the trip down but there was an overwhelming sense of relief on reaching the bottom. The fear I went through is nothing compared to that teenagers with cancer must feel and that is why I did the abseil for Teenage Cancer Scotland.

Enhancement Project

Community and Vocational

As part of the clubs commitment to community the club has purchased 5000 snowdrops to be planted in three locations in the . The bulbs are planted in clusters of 6 to 8 in each hole. We are looking for volunteers from Rotary and the general public to assist with this. An appeal has gone into the Press and Courier this week

The bulbs are "in the green" which means they are ready to flower this year and must be planted as soon as possible after delivery i.e. next week. We intend to plant on

During their month's stay in Scotland we took these children out for the day. They went to Jumping Jacks soft Play area, Elite Falconry and RSPB Bird sanctuary Loch Leven and finished with a Big Mac

Their activities included pond dipping, creepy crawly hunting and flying with eagles and owls.
Their day was organised by PP Alex Elder who was helped on the day by Pres. Bill Runcimap, PP John Anderson and respective wives Valerie, Eileen and Isa.
The children come to Scotland to stay with host familes in a scheme of Chernobyl Lifeline. The local branch is organised by Carol Dean wife of former Rotarian Peter.