Coach trip to Rye and Battle
Tue 17th September 2019 at 08.00 - 19.00
Join us for a day trip on a Brighton & Hove Buses Spirit of Sussex coach to Rye and Battle.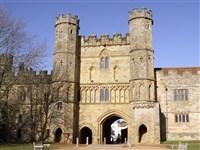 We shall visit Rye in East Sussex in the morning. In the afternoon, we'll go on to Battle, to see the famous Abbey and the Battle of Hastings site.
Rye is a delightfully unspoilt town where twisting ancient streets climb up the hill to the old church and Ypres Tower, with far away views over Romney Marsh. There are interesting shops to browse and excellent cafés and restaurants. Battle, with its abbey, where we shall go in the afternoon, was built by the site of the Battle of Hastings of 1066, which changed the course of English history. The local history museum has the oldest existing effigy of Guy Fawkes (the bonfire must have been too damp for several years running :-).
The cost will be £24 per person, payable in advance to Rotary Club of Brighton (non-refundable), which will make a block booking for all participants.
The coach will pick up passengers from the following locations. N.B., only the first pickup time has been published by the bus company, so use your best judgement for the rest:
Shoreham High Street, by Bruno's, 8 a.m.
Southwick, Emmaus/Pilot
Portslade (Stop K) New Church Road & Boundary Road
Hove Town Hall
Brighton, Pool Valley Coach Station
Brighton Marina, Marine Gate
Rottingdean, opposite White Horse
Saltdean, Coast Road / Longridge Avenue
Peacehaven, Roderick Ave / King & Chasemore
Newhaven, North Lane (Lower Place bus stop, return drop-off will be at Elim Church)
Seaford, Seaford Library bus stop