club news 2019-2020
Gordon Kilby's year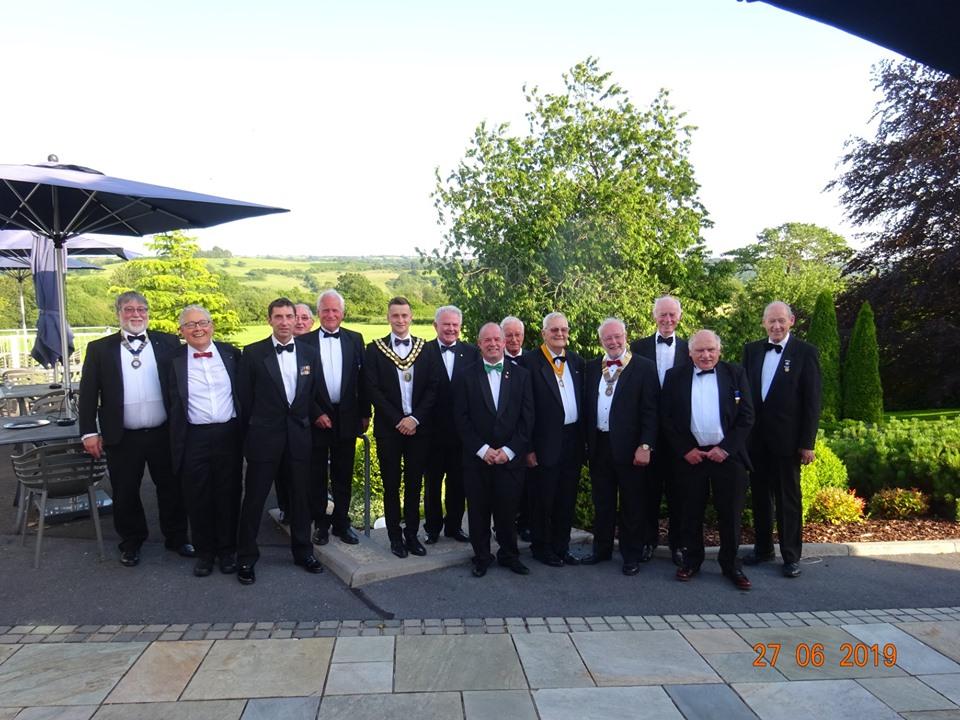 LLANDEILO ROTARY CLUB YOUTH EXCHANGE
Tuesday, 30 July marked a significant date in Llandeilo Rotary Club's history when an evening was held at the Plough Inn, Rhosmaen to mark the occasion of a Rotary Youth Exchange. The Family to Family exchange was between Wales and France. This date coincided with the same date as United Nations Friendship Day.
The two girls Catrin Duff of Wales and Morgane Latapie of France were involved in an exchange visit arranged by Llandeilo Rotary Club; the first of its type ever arranged by the club.
Also representing Rotary were Eric Blackwell and his wife Liz. Eric is the District Youth Exchange Officer for the Rotary District of Southern Wales. Eric remarked that the Llandeilo Club was one of only four clubs in RGB&I (Rotary in Great Britain and Ireland) that undertook a similar exchange during 2019.
The one to one exchange involved a visit to the two countries where each family looked after their guest and took them around the area.
In France Catrin was welcomed into Morgane's home. She improved her French and absorbed the local customs. She was shown the sights and was involved in Festivals, undertook horse riding in the Camargue and visited Marseilles town and the cathedral.
Whilst in Wales Morgane lived with Catrin's family in Llandeilo. She visited nearby Garn Goch, spent a day at the Royal Welsh Show, visited the town of Barmouth and went camping on Cadair Idris.
During their visits each girl made a presentation to the local Rotary Club. Catrin to Rotary Club d'Istres in French and Morgane to Llandeilo Rotary Club in English.
This proved to be a popular evening with over 20 people attending including Rotarians, their wives and guests, Ladies of Inner Wheel and the family of Catrin Duff.
At the end of the evening Rotary banners were exchanged and Eric Blackwell thanked the club for arranging and sponsoring the visits. Kevin Duff, Catrin's Father, thanked the club for arranging the visits and their hospitality.
Rotary organises Camps and Tours for young people from 15 to 25 and Family to Family exchanges for 15 to 17 year olds. A Camp or Tour will have about fourteen young people all the same age and each one will come from a different country. A great way to make friends around the world. Exchanging with a Family helps you to understand another culture and learn or improve your knowledge of a foreign language.
If you are interested in taking part next year visit our website at www.youthexchange.org.uk . It is open for registrations of interest on 1st September 2019.
PHOTO- Left to right Kevin Duff, Richard Hughes (Llandeilo Rotary) Aidan Duff, Catrin Duff,Anne Duff, Morgane Latapie, Gordon Kilby (President of Llandeilo Rotary) and Eric Blackwell (Group Exchange Officer Rotary District).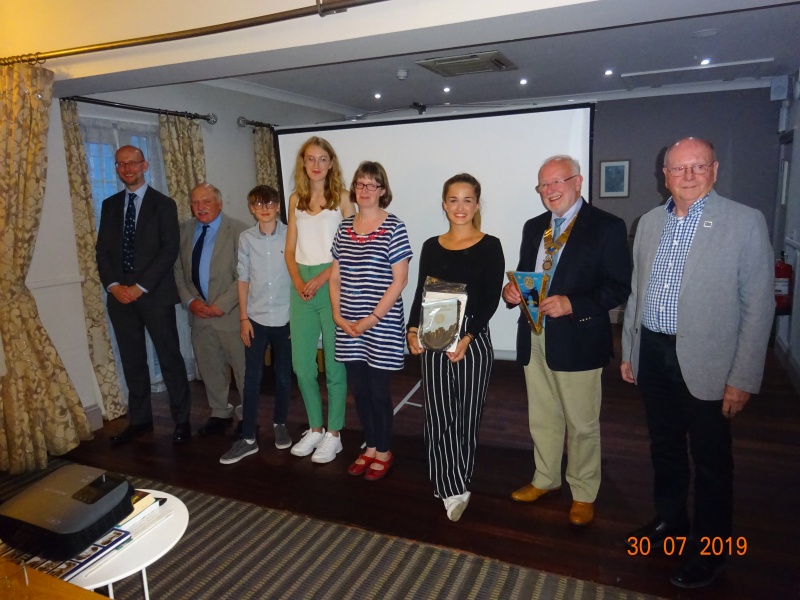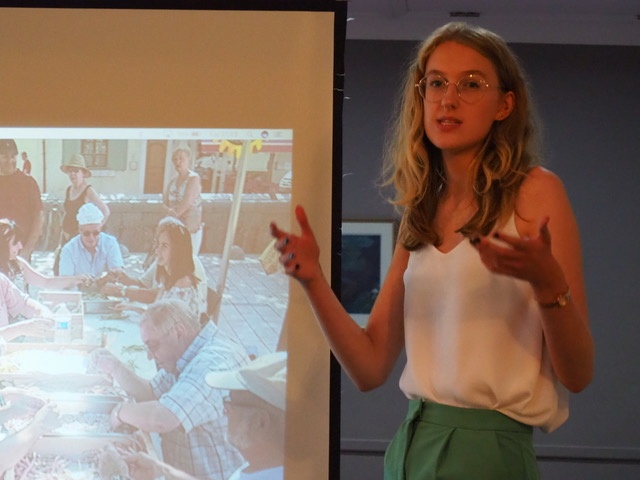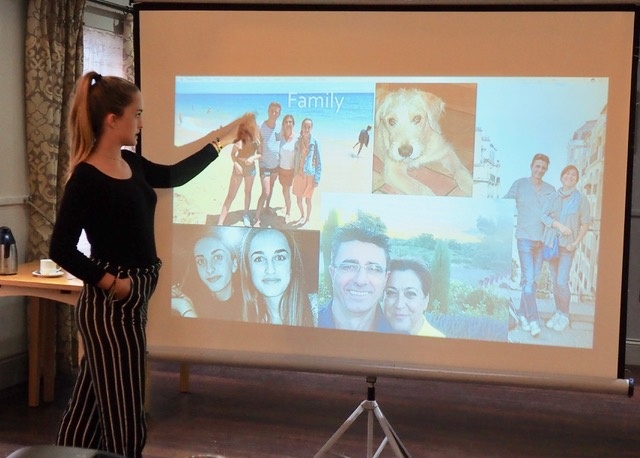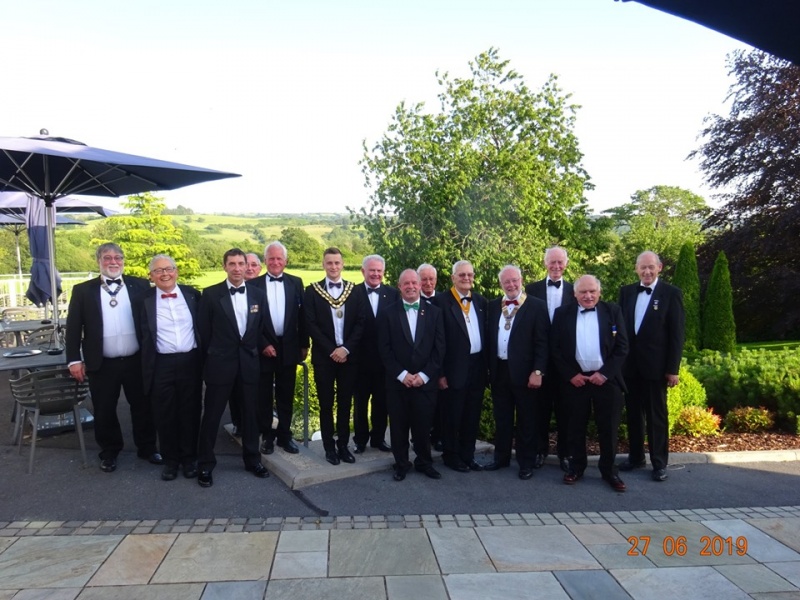 On Thursday, 27th June Colin Jenkins handed over the Presidency of Llandeilo Rotary Club to Gordon Kilby.
The brief ceremony attended by members of the club was followed by an evening meal courtesy of the Plough Inn, Rhosmaen and was well attended by Rotarians and their wives and guests and Ladies of Inner Wheel.
Guests included the Mayor of Llandeilo Fawr Owen James and his wife Jordon, Sonia Beynon President of Inner Wheel,Councillor Edward Thomas and guest speaker Dr Rhys Thomas.
Later that evening a raffle raised £175 for charity. President Gordon then thanked Immediate Past President Colin Jenkins and reminded Colin that although he had been Mayor of Llandeilo Fawr on three occasions he had only been President of the club once so far!
Gordon then outlined his objectives over the coming year and these included the club becoming more involved with local community issues particularly with the parks that the Town Council have been given control of by the County. The issue of club membership with the President targeting one new member every month throughout his year in office.In addition the President wished to have closer links with neighbouring clubs and his Club Calendar was to feature a speaker once a month.
The President got off to an excellent start when he introduced the evening's guest speaker Dr Rhys Thomas who had just become the first new Rotary member.
Rhys introduced his talk entitled "A Life Less Ordinary".This was about his involvement in Sierra Leon in East Africa when the British Army sent in a force to confront the "West Side Boys"who had taken Western hostages.
Rhys expanded his talk to include his 17 years in the army covering many conflicts around the world and his involvement with the Wales Air Ambulance which was founded on the St: David's Day 2001 and which is today considered to be the finest ambulance service in the world.
Senior Vice President Christopher Parish gave the vote of thanks.
PHOTO-Left to right David Tiddy 41 Club, Councillor Edward Thomas, Dr Rhys Thomas, Howard Beynon (Rotary), David Owen (Rotary), Mayor Owen James, Nigel Haines (Rotary), Immediate Past President Colin Jenkins, Ken Griffiths (Rotary), Senior Vice President Christopher Parish, President Gordon Kilby, Michael Taylor (Rotary), Richard Hughes (Rotary) and Kevin Sivyer (Rotary).