A month in the Poundbury Club!
Several events and activities in a short space of time
Just about a full month of activity for the Poundbury Rotary Club and their members.
In order to give a background to the charity that the bike ride to Bayeux is being organised, the club welcomed Mark Carretta from the Dorset and Somerset Air Ambulance to speak about his work as the senior pilot for the Helicopter. Although everyone knows of the Dorset and Somerset Air Ambulance, it was very much an interesting insight to the day to day work of the service. The recently arrived new helicopter has considerably more room than the previous model and allows access for treatment of the person wherever the injury is located. One statistic that surprised the members was the number of callouts there are in a day, averaging three or four, and sometimes more – especially in the summer.
Below is Mak Carretta, senior pilot of the Helicopter.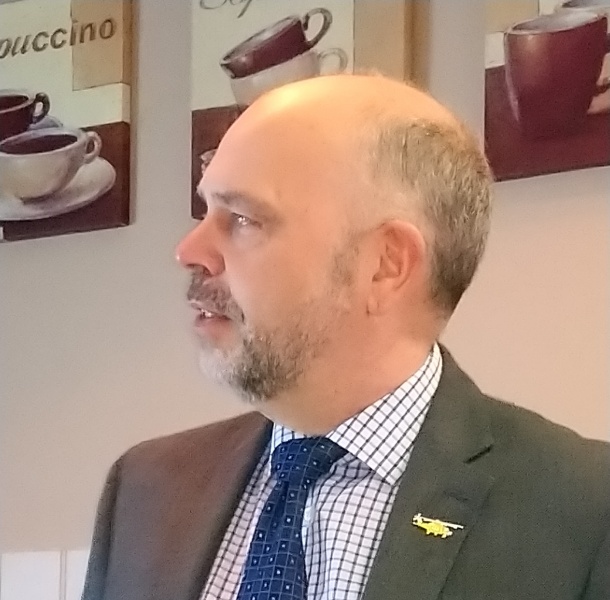 One of the activities, supported by the club, is taking young carers out for a day, or weekend to give them a break from their daily tasks looking after parents or other relatives which denies them a more usual childhood. The club puts £1,500 a year into the venture, and organises the events and outings, working with the appropriate authorities. The club were very pleased to receive a donation from Dorchester Town Council for £500, and, as a surprise at one of the weekly club meetings a £750 donation from Dorchester Round Table. John Palmer of the Round Table was pleased to come along to the club and present the cheque to club member Pauline Camm. Rotarian Pauline looks after the carer's visits on behalf of the Poundbury Rotary Club.
Below is John Palmer presenting the cheque to Pauline Camm of the Poundbury Rotary Club.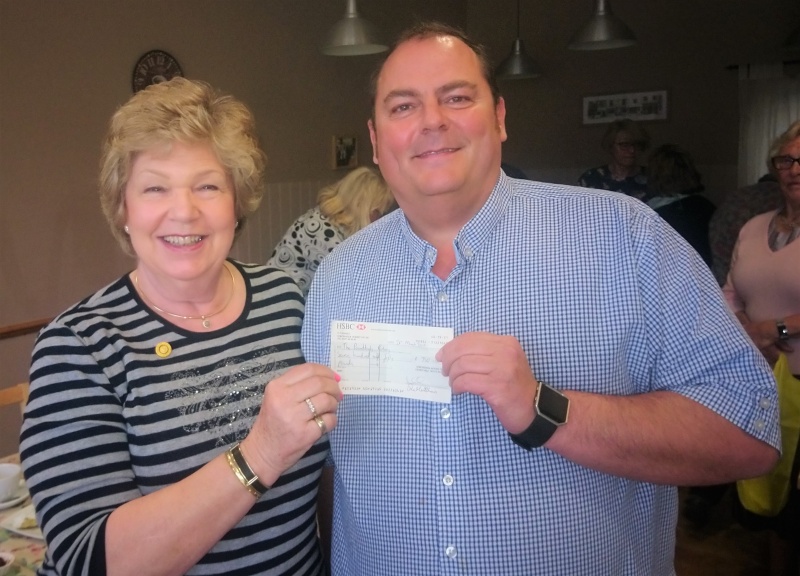 Peter Noble of the Poundbury Rotary Club together with his brother Jerry of the Ipswich Wolsey Rotary Club took an early break to Tenerife, and whilst there decided to visit the Tenerife South Rotary Club. It was an interesting meeting, as the club consists of thirteen different nationalities and whilst they all speak English, conduct the meetings in Spanish which is the local language. By coincidence it was carnival time in Adeje, and one or two of the club members turned up a little ahead of the actual event, as the photo shows!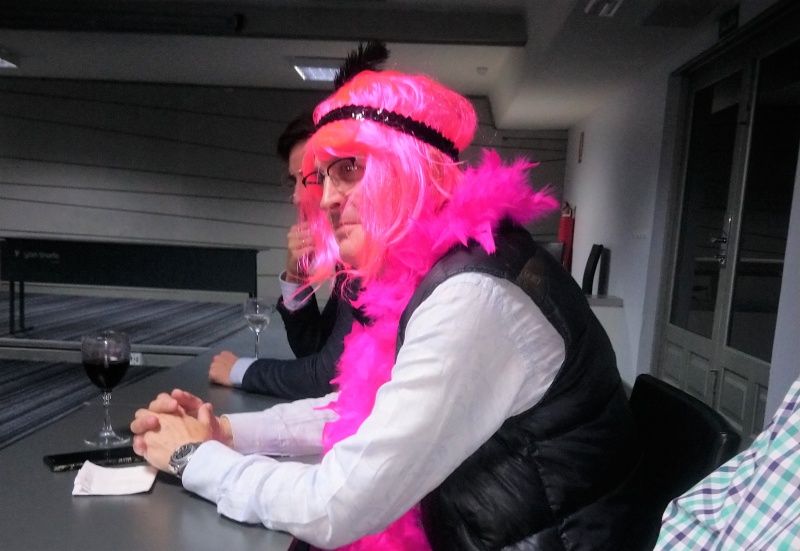 Most recently the club ran a race night at the Brownsword Hall, Poundbury, and had a full night of fun, excitement and winning! Not everyone won, of course…. Organised by Rotarian Mark Parker the event raised over £1,500, much of the proceeds going to assist with the homeless in Dorchester.