Poppy Pledge
The Rotary Club has taken on the challenge of the Poppy Pledge - raising £1918 by planting 1918 trees within East Kilbride.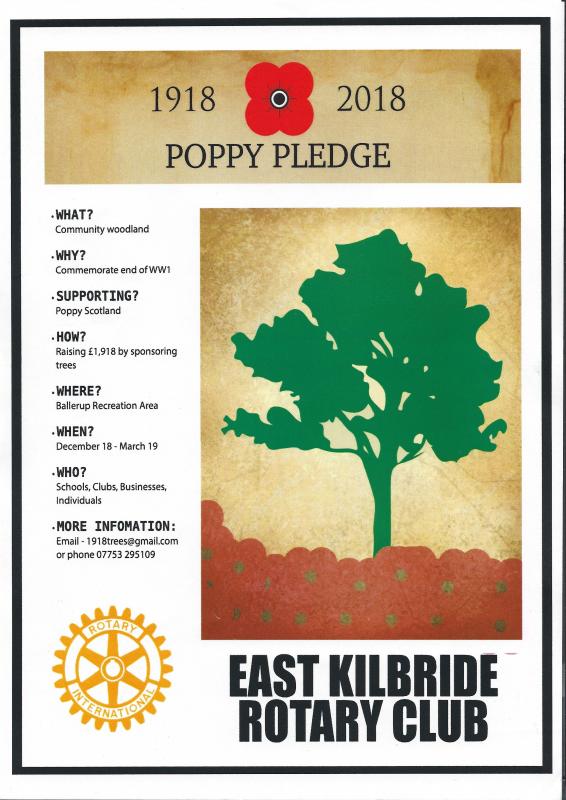 East Kilbride Rotary Club are embarking on a project to commemorate the 100 years since the end of the first World War. The Poppy Pledge, an initiative by Poppy Scotland, encouraged groups and individuals to raise £1,918 to enable Poppy Scotland to provide much needed support as they continue to help many ex service personnel.
The Rotary Club, in conjunction with South Lanarkshire Council, have identified an area of land within the Ballerup Recreation Area which will be planted with 1918 young native saplings 15 – 30 mm high to create an area of diverse, natural woodland and create a more bio-diverse environment. An added bonus of the woodland, once established, will be the ability to capture carbon and reduce CO2build up.
To enable the £1,918 to be raised, the saplings can be purchased (or sponsored) by local businesses, individuals, schools, youth groups etc at the cost of £1 each. The hope is that groups will also assist in the planting of "their" tree(s).
Planting is scheduled to take place late February to early April. The Rotary Club would like to hear from businesses, organisations and residents who are interested in sponsoring trees or who are willing to take part in the planting.