Carpenters Tribute Evening with Laurie Briggs
Fri 29th March 2019 at 19.00 - 22.30
Three course dinner dance at Bradford Golf Club at a cost of £25 per head - menu follows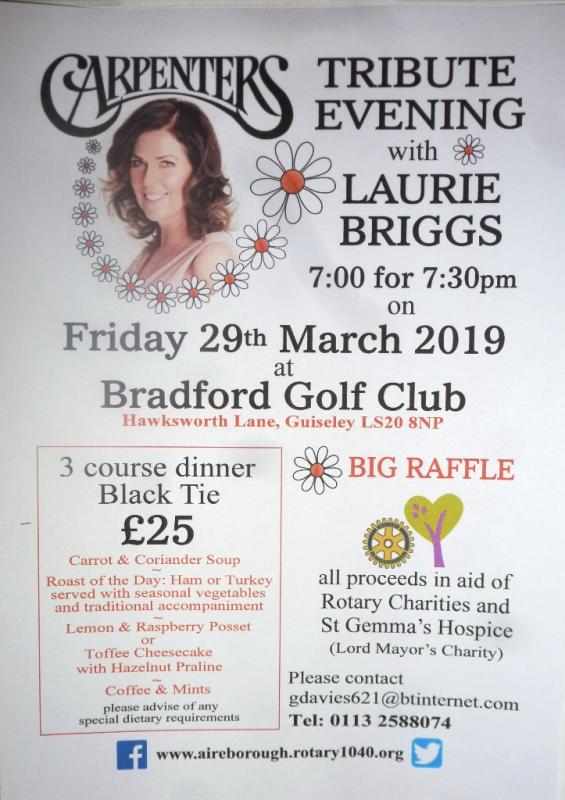 WHEN'S AIREBOROUGH ROTARY'S DAY FOR THE LORD MAYOR'S CHARITY? FRIDAY 29 MARCH
Each year the Lord Mayor of is asked to choose a charity they wish to be supported on One Day during their year of office.
This year St. Gemma's Hospice is the choice of Graham Latty, Local Councillor for Guiseley and Rawdon and the One Day in question for Aireborough Rotary is Friday 29 March. The event is a three course black tie dinner featuring Laurie Briggs in a Carpenter's Tribute Evening.
This will be a three course Dinner Dance at a cost of £25 with the venue Bradford Golf Club LS20 8NP at 7.00 for 7.30 p.m. Dress code is black tie or dark longe suit.
All proceeds will be in aid of St. Gemma's Hospice and Rotary Charities.
To book your place contact gdavies621@btinternet.com or on 0113 2588074.
The menu will be:
Carrot and Coriander Soup
Roast of the Day: Ham or Turkey
served with seasonal vegetables and traditional accompaniment
Lemon and Raspberry Posset or Toffee Cheesecake with Hazelnut Praline
Coffee and Mints
Please advise of any special dietary requirements
www.aireborough.rotary1040.org