CPR & Defibullator Training Session
Thu 21st March 2019 at 18.40 - 21.30
An Heartwize-Rotary CPR & Defibullator Training Evening.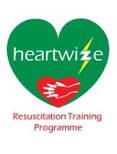 The 1070 District team, led by Rtn John Dehnel, will give a talk and video, followed by hands-on demonstrations and training for every attendee, in groups of 5-6 of participants, each lead by a Trainer.
The Session usually takes 1 to 1.25 hours.
There is an excellent training template which tells you a little more of the format of the evening."Heatwize-Rotary District 1070 Training" go to https://rotary1070.org/community/heartwize-cpr-training/