Recent Presentations
2018-2019
Primary School Quiz 2019
Clackmannanshire's winning Primary School Quiz Team from Strathdevon Primary School went all the way to the Scottish Final held at Stirling University on 22nd of June. We attended the final and made sure that, although they were not winners, they were presented with a well-done certificate.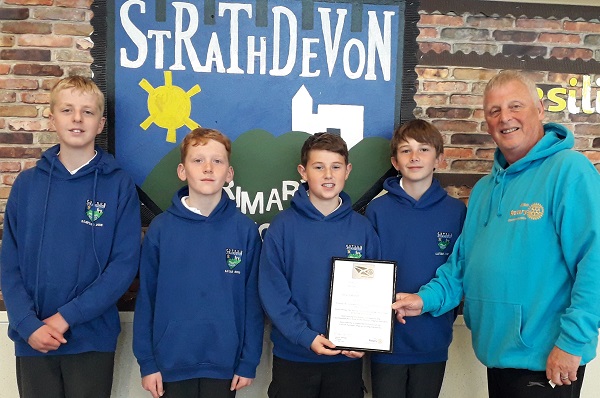 Shelter Box
We took our Shelter Box to Menstrie Gala and erected the tent and displayed the contents to raise awareness of this service (8th June).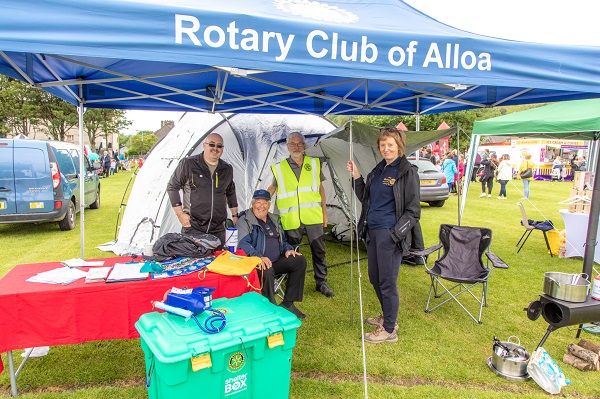 Annual Nebit Hillwalk Challenge 2019
Our annual Nebit Hillwalk Challenge is an opportunity for local community groups to raise money for themselves - with Rotary arranging the event. (2nd June)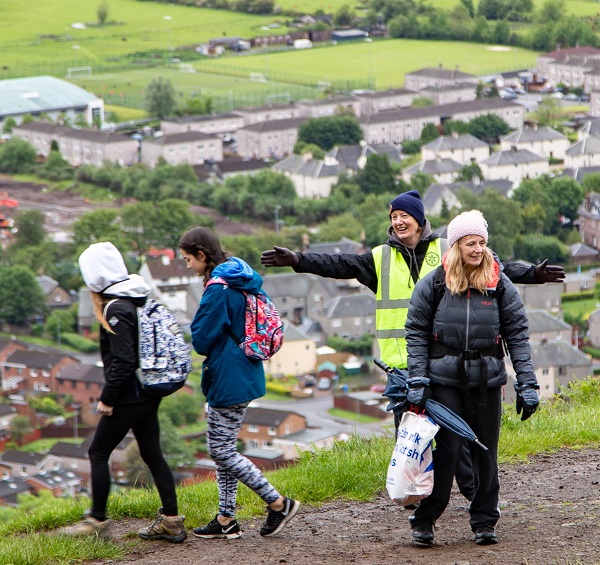 CTSi
Our Club sponsored the local Volunteer Awards run by Clackmannanshire Third Sector Interface. We sponsored "Outstanding Team of the Year" (Charity Shop Team from Home Start) and were given a great platform to tell a packed audience a fair bit about the work of Rotary.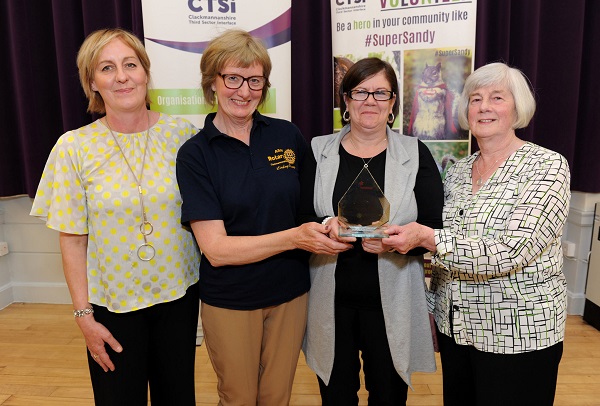 VISIT TO THE ROTARY CLUB OF WARSAW CITY 27/5/19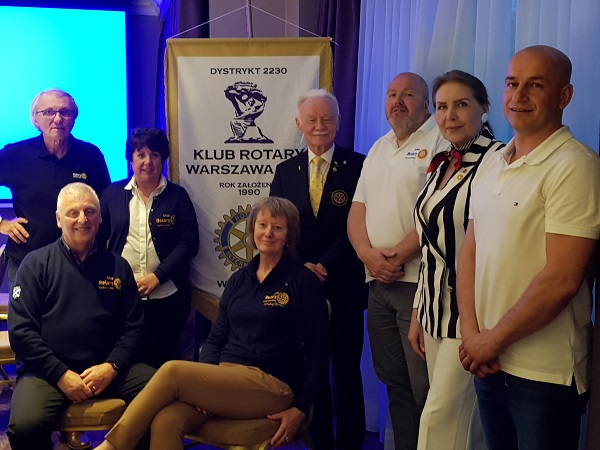 On Monday evening 27th May, four members of the Rotary Club of Alloa, two women and two men, attended a meeting of the Rotary Club of Warsaw City in Poland's capital. The purpose of the visit was to exchange ideas, gain inspiration and promote friendship and understanding. Alloa President, Alistair Spowage gave a short, illustrated presentation about the local club's service projects in our community and also our club's commitment to Rotary International projects. This was reciprocated with information about the many and impressive service projects underway thanks to the efforts of Warsaw City Rotarians.
The visiting Alloa Rotarians had, during their three-day visit, toured the streets, monuments and museums of Warsaw, learning of the city's devastating tragedy and almost complete destruction during World War 2 followed by the deprivations of the Communist years. In particular, the systematic oppression of the Jewish community, first into ghettos, then to the death camp, Treblinka brought home the stark reality of the cruelties of that era.
Past President Mark Krawczynski spoke of his fascinating personal story. Mark's father was a talented young architect committed to rebuilding his beloved, devastated Warsaw. However, in 1959, he fell foul of the Communist authorities and was forced to flee with his wife, and young son Mark, to Australia. There he built a successful career and Mark also became an architect, working on prestigious projects such as the upgrade of the Sydney Opera House. The family always wanted to return to Poland and in 2004, both parents now dead, Mark achieved this and gifted his father's fine drawings of the planned Warsaw restoration to the city. As the Alloa visitors observed, the restoration work is now well advanced, and in such a short period since the destruction, making Warsaw an extremely interesting city to visit today.
In 2012, Mark assembled a talented team of film-makers and secured the services of actor Simon Callow to make a movie, "Out of the Ashes" of his family's personal history in relation to the destruction and rebuilding of Warsaw. The story is poignantly underscored by the music of Warsaw's famous son, Frederic Chopin. A copy was presented to the Rotary Club of Alloa.
The visit was arranged for the club by incoming President Celia Norton. Our picture shows Mark and current Alloa President Alistair Spowage exchanging gifts.
Look aboot ye - Lochies School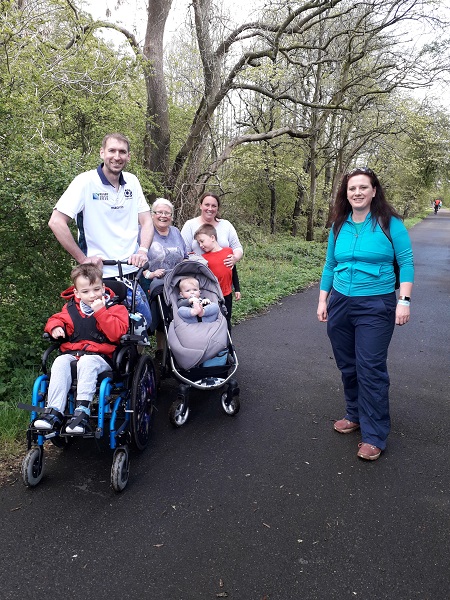 Know your blood pressure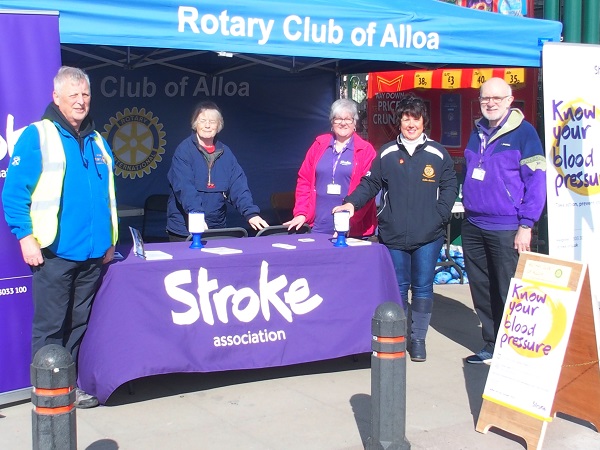 Winners Hillfoots Dirty Bastareax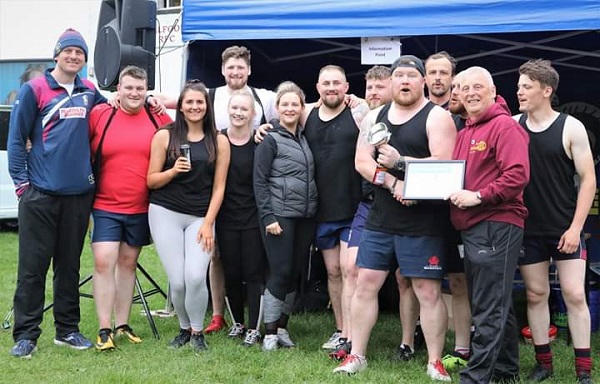 Zac Cameron and Hector Nicholson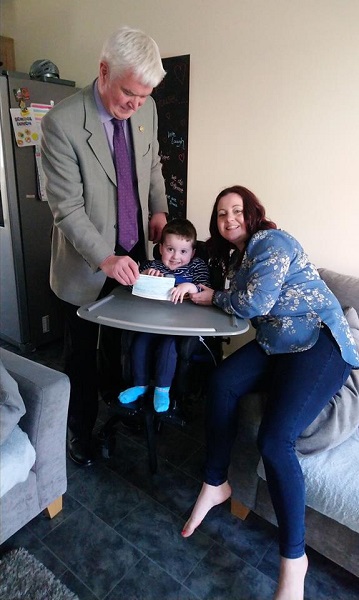 Prostate Scotland Cheque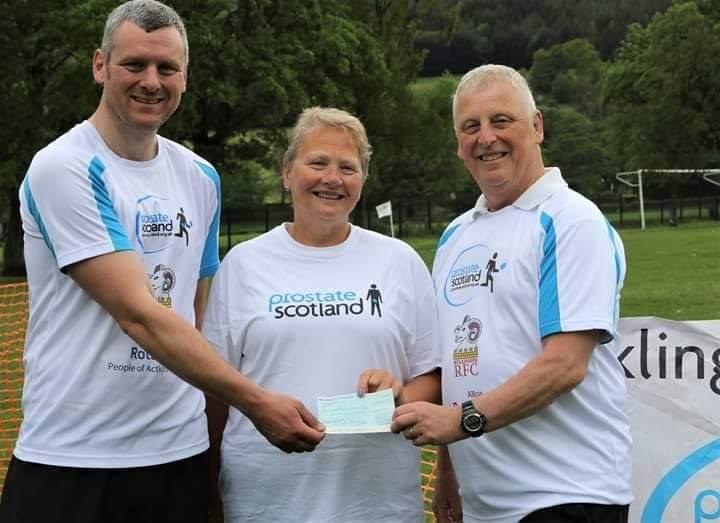 Young Carer Tyreece went to

Rotary club

of Falkirk to do a presentation about his voyage with Ocean Youth Trust Scotland. The Rotary club of Alloa went

along as well to give him a chance to thank them both for funding the life changing voyage that the young carers went on last summer. Tyreece absolutely blew us away with his speech about Young Carers.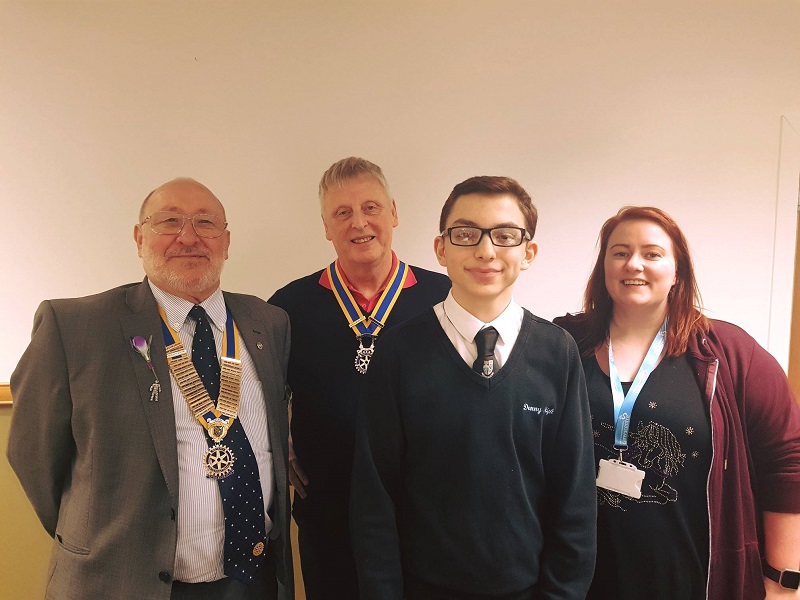 Cheque presentation to Lochies School following our Santa at Sterling collection.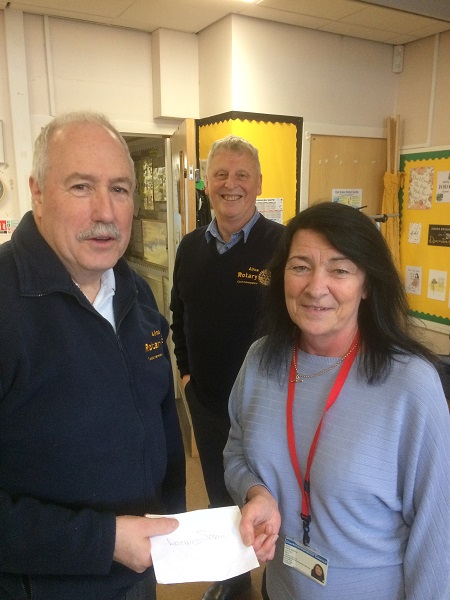 Lochies School Music Therapy session.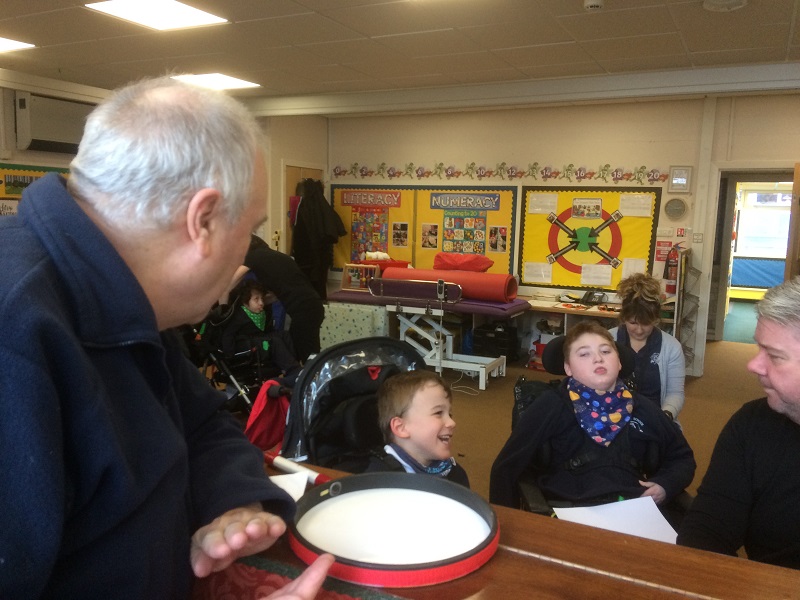 At their evening session on Thursday 14th February, members of Alloa Rotary presented a cheque for £1,000 to Falkirk & Clackmannanshire Young Carers' Project. Jayne Lennox took time out of a busy session with young people in Alva to come along to the Number 5 pub to collect the cheque.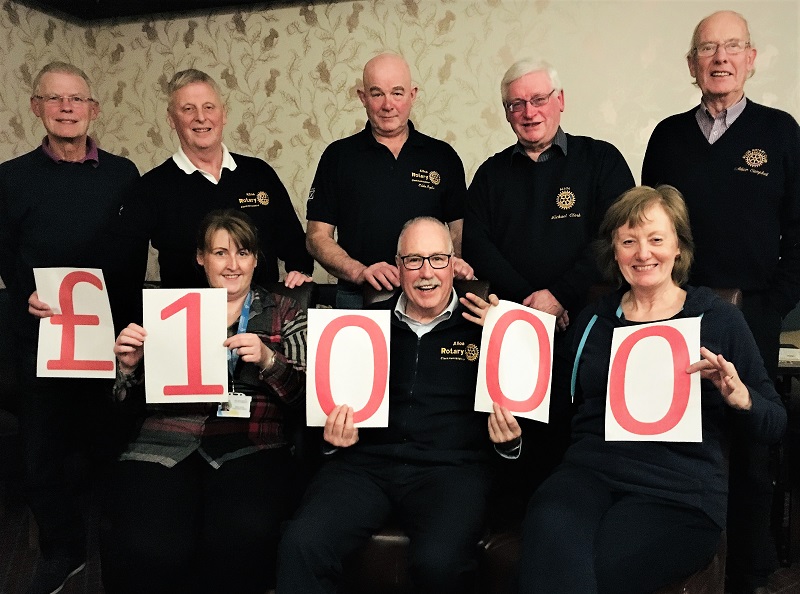 Cheque presentation to CHAS following our Santa at Sterling collection.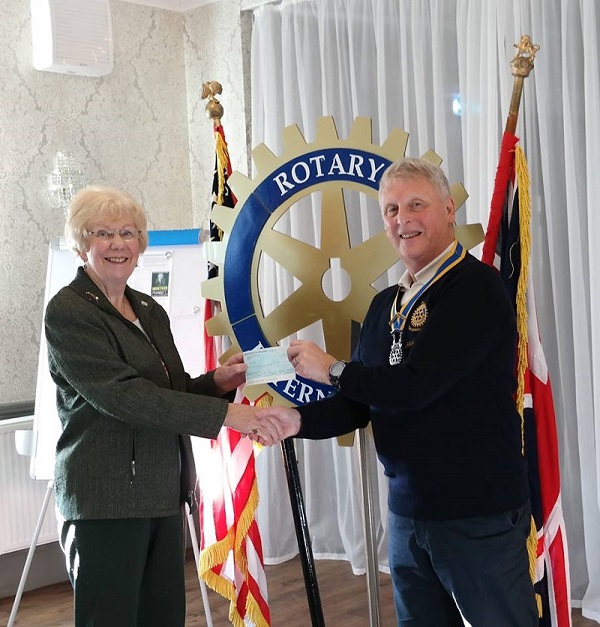 Treasurer Bill and President Nominee Geoff presented Sharon of Clackmannanshire Women's Aid with a cheque for £1,000 - their share of the funds raised at Santa at Sterling (Jan 19)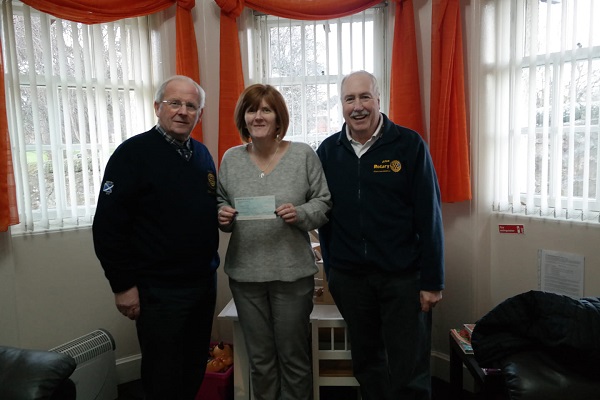 Pupils from Alloa and Alva Academies with their tutors entertained guests at the 2018 Rotary Christmas Lunch.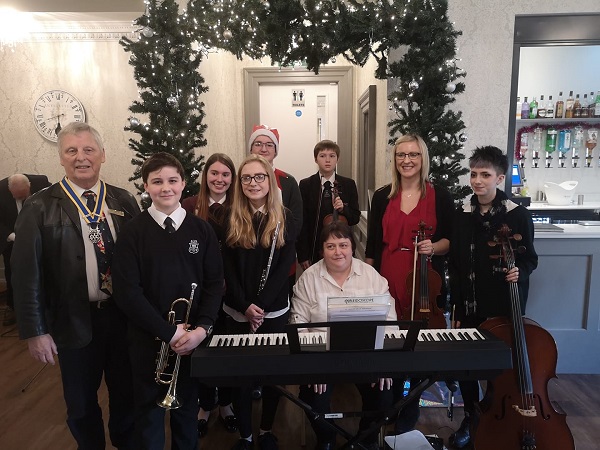 Rotary Santa busy with a visiting family (Dec 18)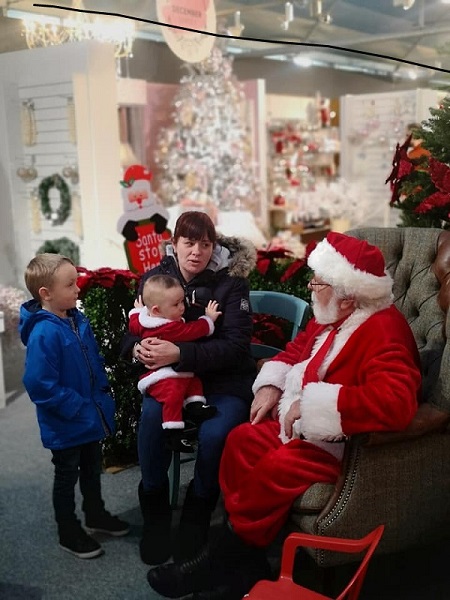 Santa was at Sterling this year again - here with help from "elves" from the 4 beneficiary charities. Here are Jen and Donna from Lochies School. (Dec 18)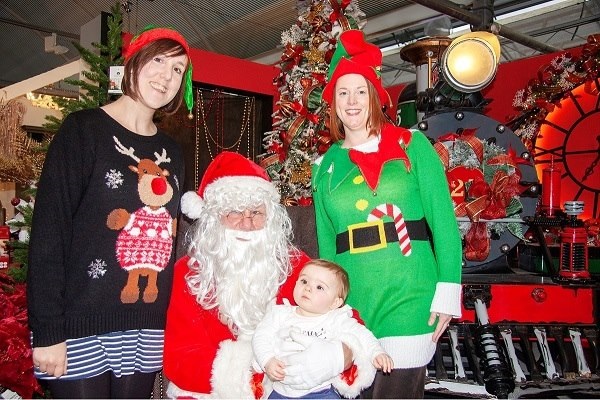 President Elect Celia Norton and Past President Kevin McLeod deliver groceries collected from local businesses and individuals to Home Start Clackmannanshire (Dec 18)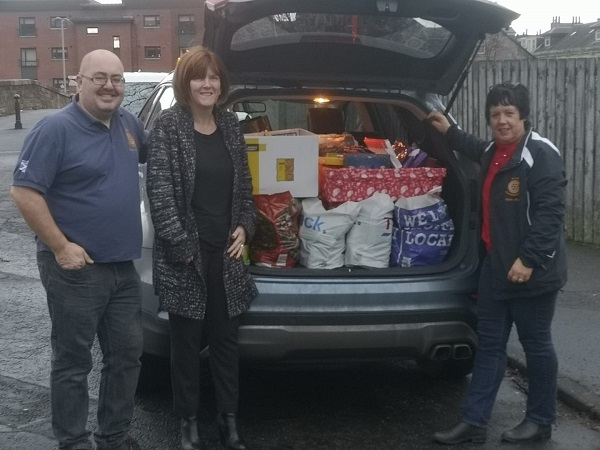 President Elect Celia Norton and Past President Kevin McLeod deliver groceries collected from local businesses and individuals to Clackmannanshire Women's Aid (Dec 18)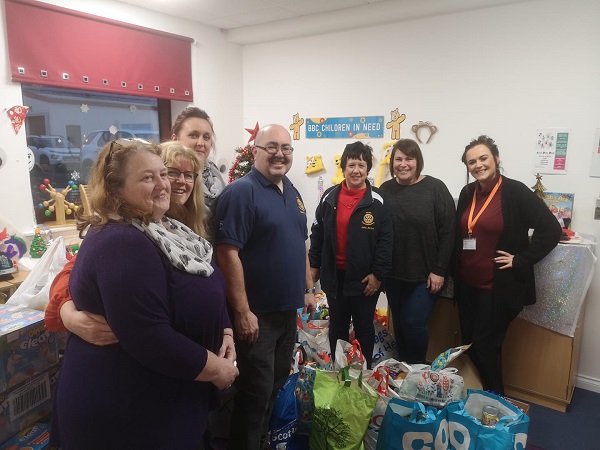 Steve McGuire and Ian Stuart collect a fine contribution of packed shoeboxes from the pupils of Clackmannan Primary School (December 18)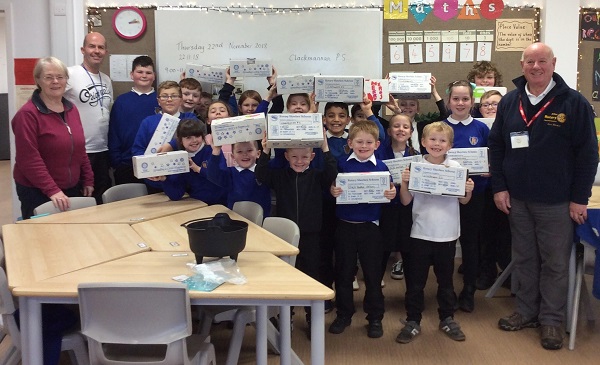 Steve McGuire and Hilary Bayley presented the Rotakids Charter to Dani and Jay from Clackmannan Primary School. (December 18)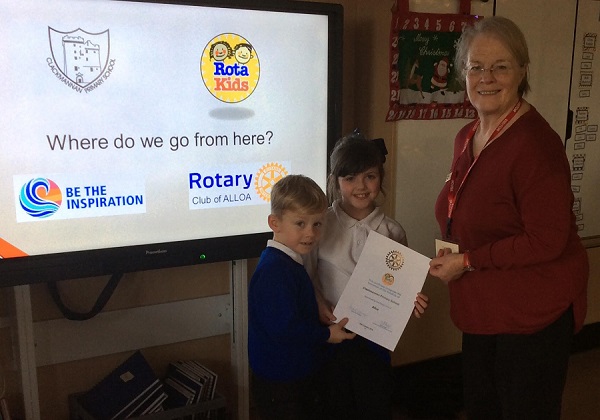 Ochil Mountain Rescue and Shelterbox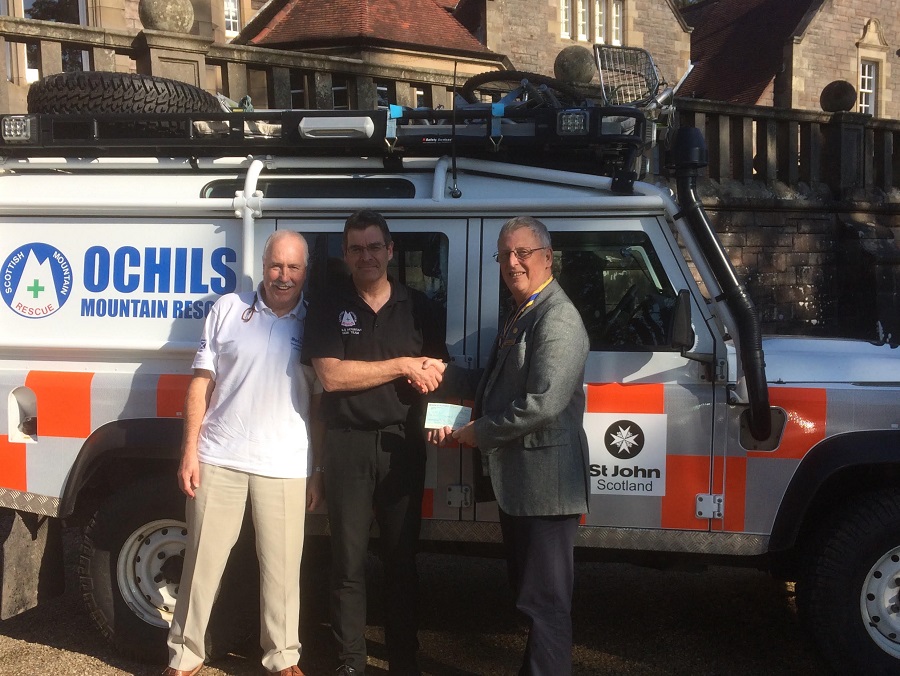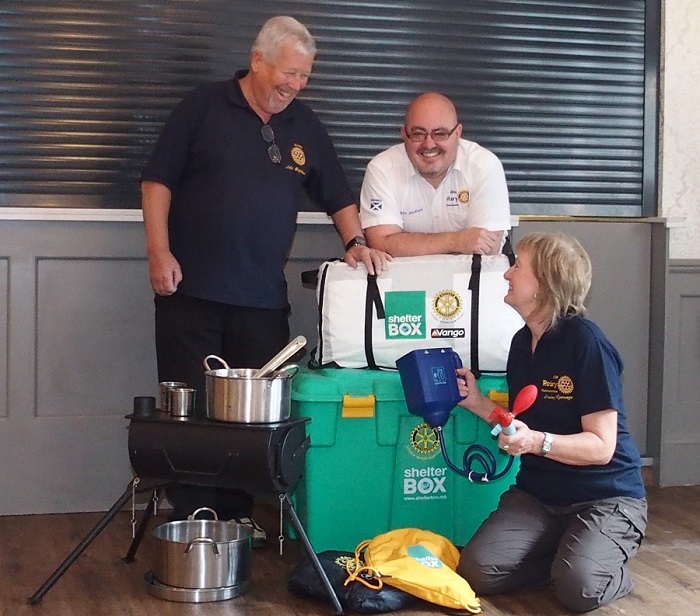 Sunnyside Primary School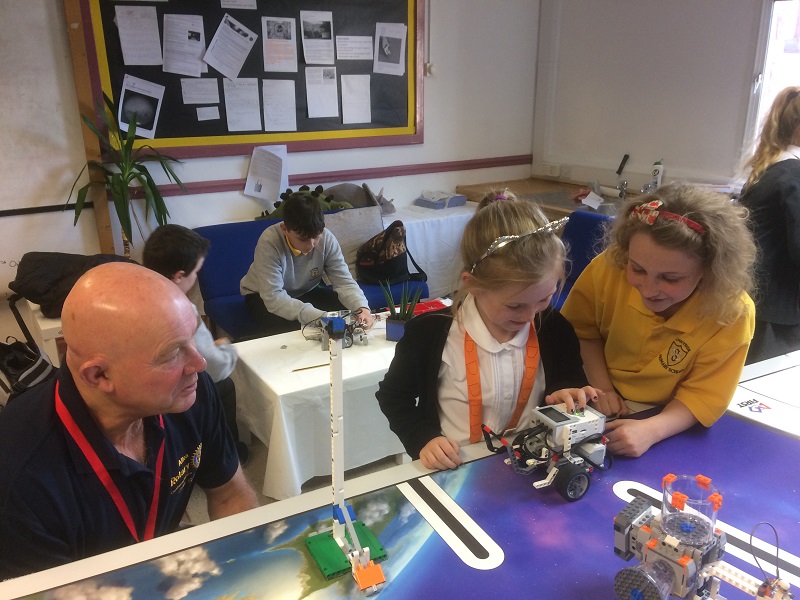 Today, four Alloa Rotarians paid a visit to Sunnyside Primary School, to meet the children who will shortly represent their school at Lego League in Glasgow on 10th December. They call their competition project SOLAR which stands for Sunnyside Oxygen Laboratories And Robotics. Using Lego to build their robotic equipment, they write computer programmes to instruct the machines to carry out tasks. They are working to solve the problem of providing water and oxygen for people working in space. Could the best solution be condensed breath, recycled urine or maybe extracting water from comets or meteors? They are also considering the emotional and mental health issues of space isolation and confined living space.
Their teacher, Mr Mathis, told the Rotarians that the school is to have a visit soon from someone from NASA who will be able to tell the children about his real life experience of solving such problems.
Alloa Rotary presented a cheque for £200 to the robotics club to help with the cost of their travel to the competition and wished them every success.