First round winners
The District skittles competition against Yeovil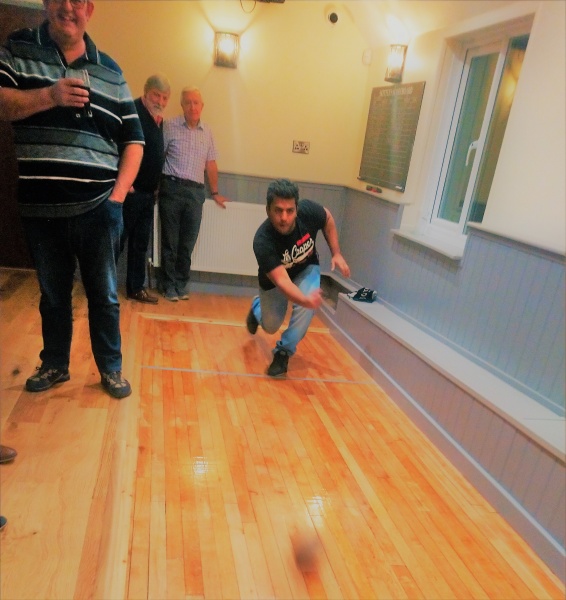 Top, the team from the left: Jeremy, Keith, Rick, Sticker upper Max, Marcus, Sahil, Peter, Howard, Sticker upper Ella, Mark and below is Sahil in action - just like ten pin bowling....

The year of competition across the Rotary District which includes West Dorset, Somerset and parts of Wiltshire, plus Bath, has started with a startling and very clear win by the Rotary Club of Poundbury in the knock out skittles. It may well be that Yeovil were playing below their best, or as is more likely, their luck ran out.
Star player for Poundbury was Keith Taylor, with two 'stick ups' and a total of 53 in the six hands. The team of eight players also had a rising star in the form of Sahil Dalvi, who was only just beaten by two others to gain a fourth place for the team, just three pins below the joint number twos. Not bad considering he had no idea about the game until the night, but he is a ten-pin bowler – so that explains it. Joint second with high scores, were Mark Parker and Marcus Foice. It would be unfair to mention others!
The club look forward to the next round, and eagerly await being told which club they are taking on.
All sorts of sports (and games) are played between Rotary clubs, reinforcing camaraderie amongst members.