21st Sept 2018 Speaker
Heather Alcock, from Voluntary Service Overseas (VSO) was welcomed by Rotarian Ron Gordon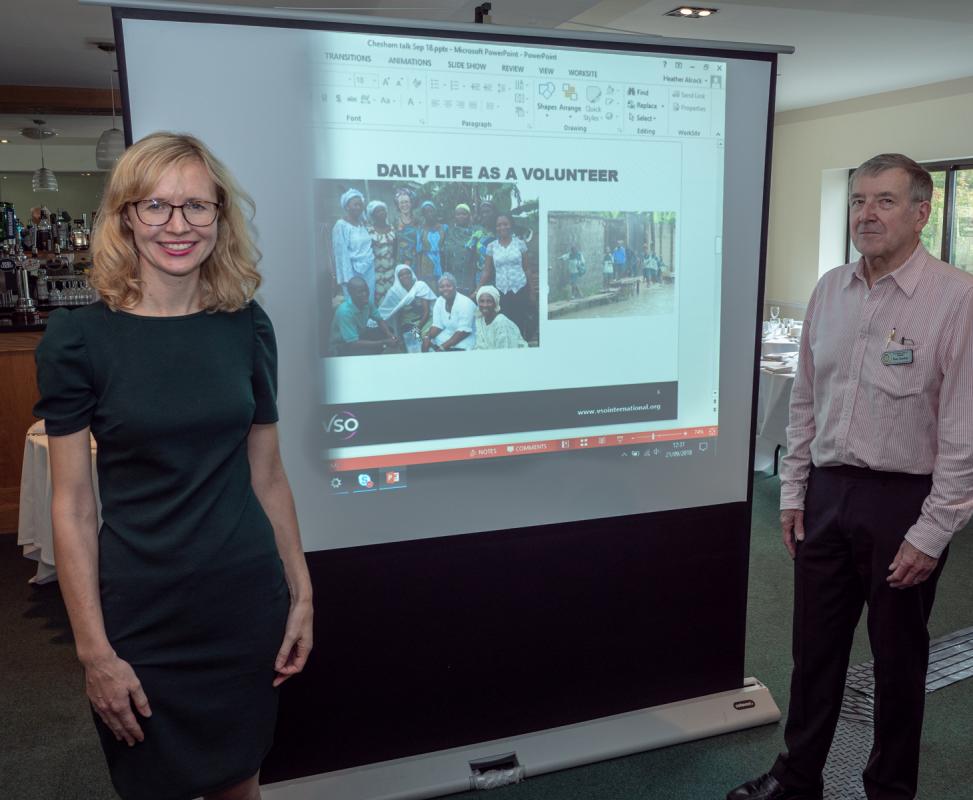 Our Speaker, Heather Alcock, from Voluntary Service Overseas (VSO) was welcomed by Rotarian Ron Gordon, himself a VSO volunteer to Malawi in 1966.
Heather described her personal experience of working as a volunteer in Nigeria, living and working in a deprived community area of Lagos, a massive city of around 20 million people. The incidence of HIV and aids and stigma against people living with and affected by the virus was high, but by providing a catalyst for change and cooperation between the various agencies and persons of influence, she was able to help the organisation better connect people to public services and recruit local volunteers to help people increase adherence to their medication.
VSO volunteering for development is a different way of doing development and meeting global challenges of inequality and natural disaster. In 2018-18 7500 VSO volunteers worked in 24 countries! The projects were as diverse as creating new tablet-based learning systems in Malawi schools, where class sizes of one hundred children are not uncommon, to rolling out a home-based early childhood care and education programme for young Rohingya refugee children in Bangladesh. In India VSO helped 5000 farmers improve their knowledge on good agricultural practices, enabling them to increase productivity, raise communities out of dire poverty and fund towards improvements in education and health.
Rotarians learnt that VSO had developed over the last 60 years. Initially, an organisation which principally sent younger people from the UK, it is now a charity which additionally recruits from the professions, particularly Medical and Educational specialists, from employees within Corporate sponsors as well as international volunteers with skills to develop others to become self-sufficient and transfer knowledge within their community. VSO's ethos is that it brings people together to address marginalisation and poverty – "together, we will leave no one behind"