A Club visit to the Warning Zone
Thu 22nd November 2018 at 18.30 - 20.30
No meal is included this evening - The Warning Zone will have on offer Biscuits and a cupa.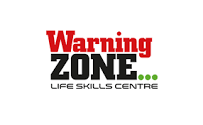 Warning Zone is a Life-Skills Centre and children safeguarding charity.
We deliver life-saving messages to children and young people across Leicester, Leicestershire and Rutland.
Historically, we have worked with Year 6 children (aged 10/11), catching them at a key transition in their life as they venture in to secondary school. At this point they will make new friendship groups and have new experiences. They will also have more independence and will be responsible for their actions, behaviour and the decisions they make – both offline and online.
We aim to reduce the risk of accidental injury and death and also the strain on our emergency services. Eight set-piece scenarios run alongside our E-Safety Zone.
We educate young people on understanding risks and consequences, peer pressure, anti-social behaviour, grooming, cyber-bullying and much more.
As a charity, we rely on donations and individuals who act as volunteer guides.