Demelza House Pumpkin Hunt - Whitstable -OVER £2360 Raised
Fri 26th October 2018 at 09.00 - 14.00
Members will assist Demelza with car parking on the day. Great result for them.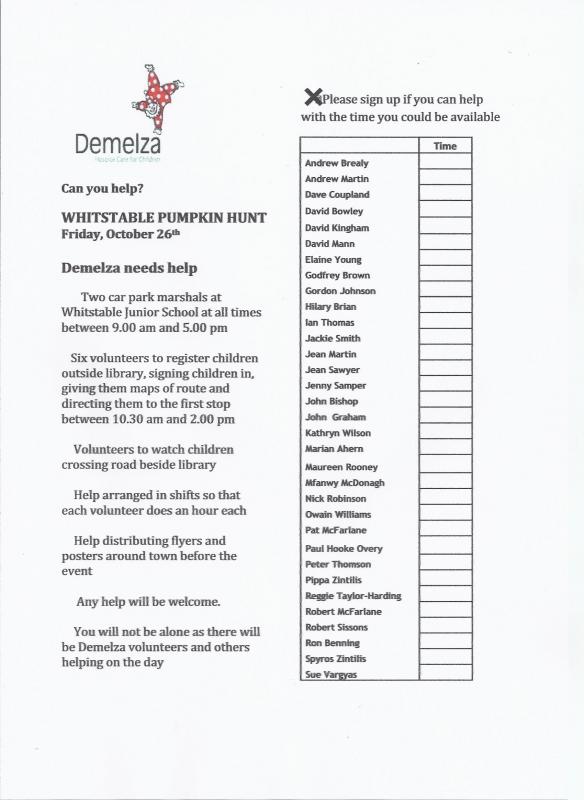 https://www.facebook.com/events/941184196067988 Facebook link
From:
Claire Battersby
Sent:
05 November 2018 09:35
To:
Claire Battersby
Subject:
Swelling Matters Pumpkin Hunt - THANK YOU!!
Apologies for the delay in sending this to you – I wanted to get the final figure before I wrote to you all.
Thank you so much in being part of Whitstable's first ever Pumpkin Hunt! We were overwhelmed by the response from the town, everyone pulled together to make this event a huge success. We had;
- 200 children taking part
- 3 fantastic craft stops
We still have a bit of money to come in from the collection pots on the day (thanks so much to everyone who took one!), but I can confirm that we have raised in excess of £2,360

for Demelza Hospice Care for Children!! This is such an incredible amount for the event's first year and I cannot thank you all enough for your contribution. As a charity, not funded by the NHS, Demelza is reliant on the support of our local community to raise the £10.5 million a year it takes to keep our hospice sites running every year and it is thanks to our local communities that we have been able to do so for 20 years now.
We've had some lovely feedback from parents who brought their children along, including one mother who said ' I took my 4 year old to the above and just wanted to say what a wonderful time he had. All the shopkeepers were very friendly and made the morning very enjoyable. It was evident a lot of hardwork had gone into organising the event and everybody should be congratulated for this.' Thank you so much to you all for being so welcoming, it really meant that the children had a more enjoyable experience.
We've had some fantastic engagement on our social media pages and were able to award some great prizes to 3 very deserving little monsters for their fancy dress (big thank you to Honey Kanes and The Fabric Shop for donating prizes). The photos of the event can be found on our Facebook page so do have a look for yourselves in there.
I do hope you had a good day and found the event a good platform for your business. I do hope you would like to get on board with next year's event!
If you have any feedback (good and bad!!) please do let me know as it'll help us build upon the event for future years.
- Karen, Lianne, Steve and Pauline for their help with the registration & to Pauline for helping at the craft stop at the Umbrella Centre
-Dave Fewkes for the photography
-Our Sponsors – Swelling Matters, Wright and Shadwell and Specsavers Whitstable
-Thanks to Specsavers for the donated canvas bags – they were very useful!
-Lloyds Whitstable for providing volunteers for the charity car park
-Rotary Club of Chestfield for also providing volunteers for the car park
-Whitstable Library for hosting us at the registration point
- All of our participating businesses for making this happen
With many thanks for your support and see you next year.



Claire Battersby

Community Fundraiser – East Kent