Chris Dinwoodie A truly magical evening - visitors welcome
Thu 30th August 2018 at 18.30 - 20.00
Chris will be speaking to us on Thursday 30th August.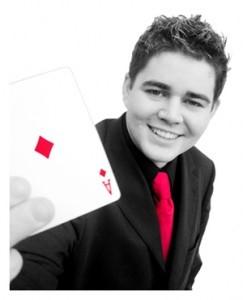 In 2009 Chris Dinwoodie passed his audition for The Magic Circle with a score of over 90% and was thus awarded the degree of Associate of the Inner Magic Circle. He was the first magician to win both of the largest close-ip magic contests in Scotland in the same year, making him The Scottish Table Magic Champion.
He was also the first Scottish magician to win the Scottish Conjurer's Association's Close-up Magic contest 3 years in a row (2007-2009).
He is one of the few full-time professional magicians in the UK specialising in magic for adults.