Speaker Bruce Rollo - Climbing Techniques and Equipment
Tue 4th June 2019 at 19.00 - 20.30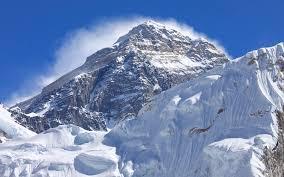 President John Spittal opened proceedings with an announcement that the money raised at Sunday's Prosecco and Pudding Garden Party brought this year's fundraising for End Polio Nowto £2335 – the highest total ever achieved by the Club.
It was agreed £2400 should be donated. With the Bill and Melinda Gates Foundation trebling this, £7200 will be forwarded to fight the disease and enable vital immunisation for thousands more children.
Bruce Rollo, an experienced hillwalker and climber, stepped up (as climbers do…!!) to present a talk on climbing techniques and equipment. He produced an array of gear, from enormous padded walking boots, to crampons, strap-on water feeders and a vicious-looking ice axe. Worryingly, he carried the ice axe over his shoulder for much of the talk, which suggested that members should be extremely careful in their choice of questions!
However, given the events in the Himalayas in the past two weeks, Bruce went on to give salutary information on current issues concerning the many who want to scale Everest.
It is well-known amongst the climbing fraternity that more than 9000 people have reached the summit of the world's highest mountain, while in excess of 300 have died in the attempt.
Hundreds of visitors to the area can wait weeks for a weather window in which is possible to climb the mountain. Around this time of year climatic conditions are normally the most favourable. This was part of the reason 10 climbers died on May 22 this year when some 300 would-be Everest climbers formed an astonishing queue from the summit to many metres down.
Bruce revealed that most of the deaths in such circumstances occur on the route down a Himalayan peak as a result of exhaustion, altitude sickness, lack of oxygen, water and food by that time.
Certainly, he said, it is not generally known that many tour companies now offer Everest climbing expeditions which can cost anywhere between £45,000 and £100,000 per person. Many of such expeditions are poorly equipped and frequently do not have experienced-enough guides. Customers who have forked out that amount of money apparently do not take kindly to being advised that climbing on up is a bad idea and will try to reach the summit at any cost – occasionally at the cost of their lives.
Bruce also told of the difficulties and dangers to be faced elsewhere in the Himalayan range, pointing out that the world's second-highest peak at 8612 metres, K2, is a far more difficult climb than Everest.
It is more remote, has little tourist infrastructure in the area, and does not have the benefit of local guides, like the Sherpas on and around Everest.
There have been only 365 successful ascents and 82 deaths, earning K2 the nickname of "The Savage Mountain".
Although he has not attempted to get to the top of either peak, Bruce has made several climbing visits to the area and noted that it can take some 21 days just to make it on foot from a starting point to walk into the K2 foothills and base camps.
In a vote of thanks, Ranald Barrie echoed the feelings of the assembled company that a description of such first-hand experience was a very different view from reading or watching news reports on events like the recent tragedies.