The Army at Leuchars
Wed 8th August 2018 at 12.50 - 14.00
Regimental Headquarters 71 Engineer Regiment V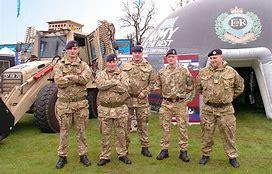 The Rotary club of St Andrews welcomed Martin Kinsey from the Army Station at Leuchars to their lunch time meeting.
Martin, has the key role of supporting staff and their families, in particular when the unit is on duty abroad, such as recently when the Royal Scots Dragoon Guards were in Germany.
Martin, told members that actually, the army, in the form of the Royal Engineers, were the first to use the Tentsmuir area, in the early days of testing static balloons, followed by the 70 years of the RAF.
The site at Leuchars is much larger than the army units based there require but it does provide the space for the intense training which is required to prepare troops for rapid deployment operations. It also enables major training joint operations to take place with many more servicemen and with integrated operations of fixed wing aircraft and helicopters.
Martin explained that the Army were keen to be seen as being integrated in the local community but given their role and numbers of personnel, they may not seem as visible as the RAF. Nevertheless the army expect to have a presence in Leuchars for some time to come.
Rotarian Jack Daniels gave Martin a generous vote of thanks after checking that his misconduct charge of 40 years ago had definitely expired!