Jacqueline Preston. Protect yourself from fraud.
Wed 10th April 2019 at 18.30 - 20.00
Jacqueline Preston and Gillian Potter from Barclay's Bank spoke about protection against online fraud,
At the meeting of the Rotary Club of Furness last night (10th April 2019) at Barrow Golf Club, President Colin Scraggs welcomed guest Alan Heaton, visiting rotarians from the Rotary Club of Furness Peninsula, John McGill and Val Robinson. Last but not least, our guest speaker and colleague from Barclay's Bank to talk to us about protection against online fraud, Jacqueline Preston and Gillian Potter.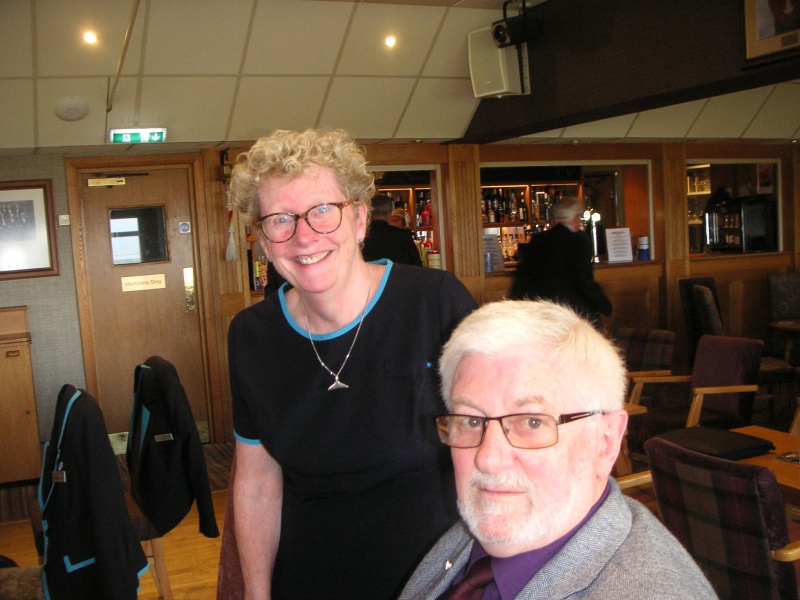 Gillian with Secretary Alan
Firstly Colin invited John McGill to speak about the recent BeWell Fest which he co-ordinated at Millom. He thanked our club for our support for the project, both at Millom, Ulverston and in Barrow. He said it had been a great success and was being looked at as a case study by the Rotary Community Foundation. In all they had 339 visitors dropping into the Millom event and had referred 14 to their GP's , this brought the total number of referrals to 38, that is 38 saved from really serious, even fatal health issues.
It was then our speakers turn to talk to us, Jacqueline introduced herself and colleague Gillian, they were both from Barclay's Bank and the bank had taken an initiative to advise customers and the general public on Digital Safety, tasking their staff to spread the word, hence their visit tonight. In our crowded meeting room, she said she had understood about 10 would be attending and was a bit overwhelmed that almost 3 times that were listening to her! And she admitted it was the first time she had had to speak using a microphone, but it did not seem to faze her, confidently referring to her flip chart which Gillian looked had prepared for the first topic.
Julie admitted the topic of Digital Safety was vast and would tonight focus on Protecting Identity. There were two aspects, Identity Theft – where individuals personal information was stolen and Identity Fraud – personal belongings were stolen.
How to protect ourselves, firstly DO NOT just put personal documents, bank statements, documents with address details into your rubbish bin without first shredding them. A decent shredder will not cost a fortune and may save you a fortune!
Also when you do get bank or credit card statements, CHECK them carefully.
Also beware of individuals making contact and pretending to be legitimate!
But how would we know if we had been targeted, Julie told us some of the signs..
• Not receiving bills or other correspondence you have expected.
• Appearance of a credit card you have NOT applied for.
• Denial of credit.
• Calls from dept collection agencies.
• Entries on your credit card bill or bank account you do not recognise.
• If you are suddenly locked out of your files.
Moving house was a critical time when individuals could become vulnerable to fraudsters, make sure that your mail is re-directed for at least 12 months. It might be pertinent to check your credit rating using an organisation such as Equifax. Also elect for the Mail preference service.
Next Julie moved on to talk about :
• Phishing – Fraud by email
• Vishing - Fraud by voice/telephone
• Smishing - Fraud by Texting
She told us that the Bank will never ask for your sort code or account number over the phone or by email. When you do get such a call simply hang up. Fraudsters will sound very plausible and event invite you to phone them back. BEWARE! Often they fake dial tones etc and if you have such a call, use another phone to check, if the call is on your land line, use your mobile, or double check your phone is ok by phoning a friend. Also use bank contact numbers from your own documents, not those given to you by your caller.
Julie showed us some fake emails, all looked genuine but invited the reader to use a link or open a zip file. Again BEWARE, it could introduce malware etc and lead to passwords, account details being stolen. Banks DO NOT use links. She pointed out that the emails were addressed, Dear Customer, indicating they did not know your name and were PHISHING for it and any other information they could glean.
Passwords and pins, do not use the same ones for more than one account. Use a strong password using a mix of letters, upper and lower case, numbers and other characters. Also it is tempting, but do not write them down. She showed us an amusing video where people, on the street, were asked about their passwords – and amazingly during conversation revealed them!
Identity theft does not just happen to the living! It can happen to those who have just passed away – protective advice can be sought from the Bereavement Register and deceased preference service.
An interesting question was asked about contactless payments, Julie admitted that it was very popular but is was a myth that cards could be cloned by individuals passing or bumping into you. They were limited to £30 transactions and after 5 transactions reverted to chip and pin mode. So if your card was stolen, your account could not be cleaned out.
After several questions all ably answered, Tom Robson gave the vote of thanks.