Poetry Competition
Here are a selection of the poems written to celebrate the Royal Wedding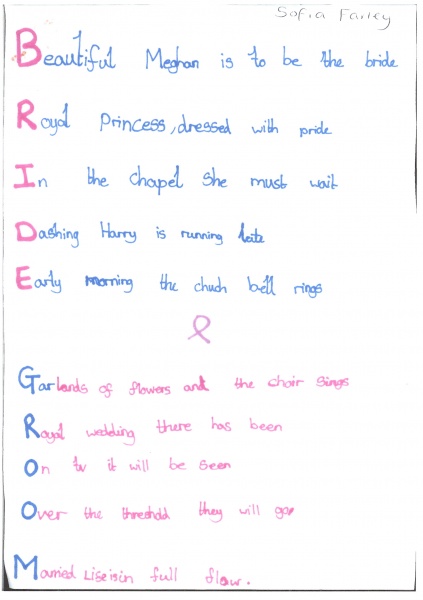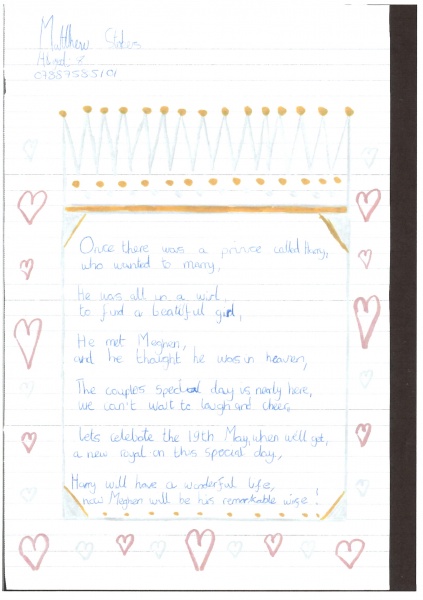 Once In A Lifetime
Him plus her is the flawless equation,
To mark this very special occasion,
When he would expect nothing less,
Than to call her his very stunning princess,
And when times get tough,
Your love will be enough,
To pull you out of the ditch,
And find your perfect pitch.
On this very special day of your wedding,
Happiness and joy you will be spreading,
Whilst the bells up high are loudly chiming,
The audience will applaud with blissful timing.
For May nineteenth the date is set,
and if all goes to plan there will be no fret,
at Windsor Castle you all shall meet,
to experience a moment so remarkably sweet.
The new Mr and Mrs you shall become,
And from this day forth you will never be glum,
We're all wishing you a happy life together,
And hoping your love will last forever and ever!
Libby Bailey-Evans