PLANTING CROCUS BULBS
LEADS TO LONG-TERM PARTNERSHIP
Club Members and Pupils
from Broadmead School
joined forces to plant around 2500 bulbs.
On 2 November 2017, club members and pupils from Broadmead School Pioneer Academy planted around 2500 crocus bulbs at the King George V playing fields in Gloucester Road to raise awareness of Rotary's End Polio Now campaign.
The Mayor of Croydon, Councillor Toni Letts, came along to support and speak with the pupils.
At the end of the planting session the 20 trowels, funded by the Eleanor Shorter Fund, were donated to the school, together with a large number of bulbs for them to plant and nurture within their own grounds. This will give pupils an opportunity to learn about the history of polio throughout the world, dovetailing into various stems of their curriculum, and how Rotary has been working since 1985 to help eradicate this disease.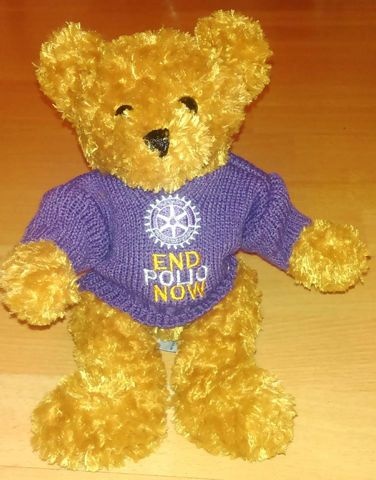 Finally, to mark the day, we presented the school head, Sarah Hunter, with a Rotary teddy bear, smartly kitted out in his End Polio Now jumper.
Working with the children today has created a long term partnership with Broadmead School and the Rotary Club of Croydon looks forward to arranging further joint projects in the future.